Samsung Galaxy S20 Ultra has the most color accurate screen Display Mate has ever tested
Display Mate just published its findings on the Samsung Galaxy S20 Ultra's display and long story short, the new panel set or matched 12 performance records, earning an A+ grade. It received a "visually indistinguishable from perfect" mark on 5 out of the 12 records.
The new display is 14% brighter than that of the Galaxy S10 phones and features a High Brightness Mode that improves screen readability in medium and high ambient light levels. This mode allows the screen to produce between 823 nits and 1,342 nits.
Also, the screen has been tuned to hit the maximum at a lower ambient light level than before, 20,000 lux (outdoors, but not in direct sunlight). Alternatively, Super Dimming Mode can go all the way down to 2 nits while keeping full 24-bit color. This drops to 1 nit for when the Always On Display mode is enabled in the dark.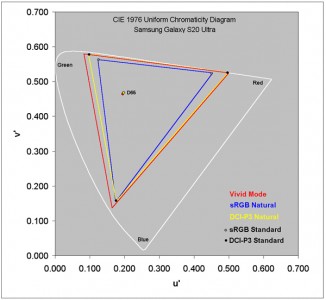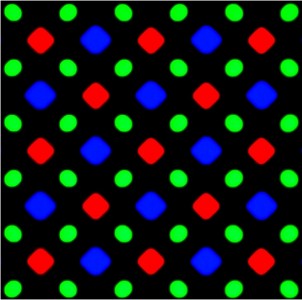 Galaxy S20 Ultra color accuracy • PenTile sub-pixel arrangement
The Dynamic AMOLED 2X panel on the Galaxy S20 Ultra set records with the accuracy of its sRGB and DCI-P3 screen modes. It also set records for absolute color accuracy and contrast and intensity scale accuracy. It's the most color accurate screen that the Display Mate team has measured to date.
One of the major upgrades of the new display is, of course, the 120Hz mode. Besides the higher refresh rate, it also reduces the screen flicker that is experienced by some users.
Follow the Source link for Display Mate's full analysis of the Galaxy S20 Ultra. You may want to read through it, even if you're not interested in the S20 Ultra, as it covers the progress over the last 10 years – from the Nexus One in 2010 (one of the first phones with an OLED display) to the S20 today.
?
The IPS LCD panels Apple used had much higher colour accuracy than OLED panels for many many years. Only once OLED technology had demonstrably matured enough (Galaxy S6) did Apple begin working on models with those panels.
?
"You're using it wrong" - no, that is an inescapable limitation of the current state of AMOLED technology.
ADVERTISEMENTS