The Samsung Galaxy S20 Ultra is getting a new color without straying from its grayscale palette – it will soon be available in White. Cloud White by the looks of it, though these opalescent colors are quite tough to show realistically in a static image. Still, you can see a hint of color at the edge.
The official launch is scheduled for May 1 and may be tied to International Workers' Day celebrations.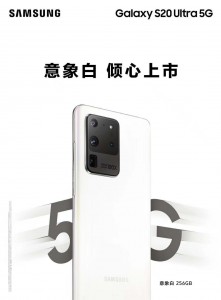 Samsung Galaxy S20 Ultra in Cloud White
Anyway, Ice Universe has been teasing this for nearly a month, but note that the famed leakster previously said that this color is heading to China and hasn't mentioned anything about a wider distribution. That means that the White Galaxy S20 Ultra is definitely debuting in China first. And we think it may be tied to carrier exclusivity.
The white paint job is pretty rare in the S20 series as a whole, you can only find it in a few places, e.g. Switzerland (where it is exclusive to Swisscom) and soon Verizon, which will have exclusivity in the US. South Korea is the exception, Samsung.com offers the White models too.
?
You are proper old fashioned, which I like :)
?
SORRY to say but Sanung S20 series is a catastrophic failure according to Samsung themselves Terrible sales The Chinese OEMS are coming......!!!! Too hot on heels...................
R
" What are your alternatives to YouTube, Cloud storage, Navigation and Payments App? " YouTube: Internet browser or Newpipe app. Cloud storage: My high capacity MicroSD card with a backup on my SSD. Navigation: Internet browser or any ...
ADVERTISEMENTS