Snapdragon 875 in Galaxy S21 benchmarked, but the Exynos 2100 might be the one to have
Samsung is expected to introduce its Galaxy S21 lineup in January, and as usual, the phones will arrive with Snapdragon 875 or Exynos 2100 chipset, depending on the market. The variant with Qualcomm's platform appeared on Geekbench and reached a 3,319 multi-core score, but according to leaksters, this is not nearly enough - the Exynos 2100 version will be able to reach nearly 4,000.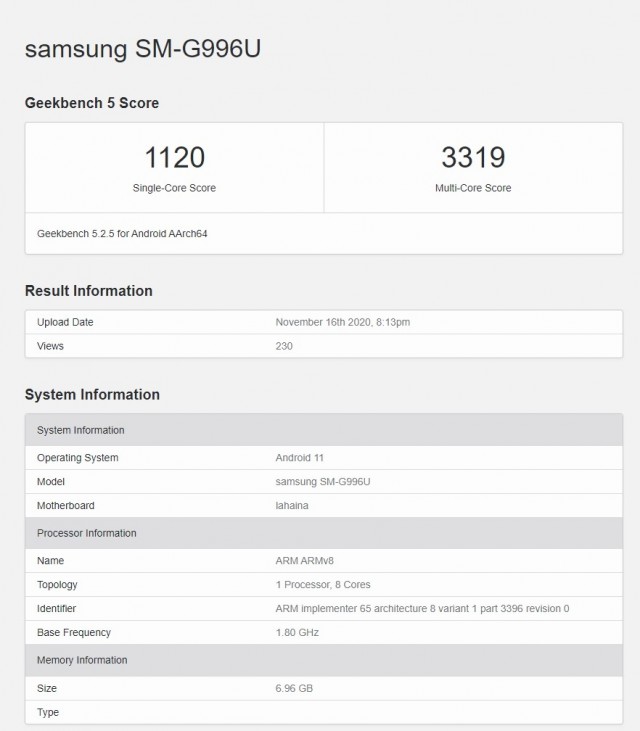 Samsung Galaxy S21 phone on Geekbench
Over the past few years the Snapdragon variant of the Galaxy S flagships available in China, South Korea and the US offered better power management, which lead some users of the global Exynos version frustrated.
However, according to reliable leakster Ice Universe, it will be different this time with the Exynos 2100's CPU outperforming the Snapdragon 875's processor across the board. The two chipsets will have identical CPU architecture but the prime X1 core will reach 2.91 GHz in the Exynos 2100 while staying at 2.84 GHz in the SD875. The trio of Cortex-A78 units will differ even more significantly - 2.81 GHz vs 2.42 GHz.
The four power-efficent Cortex-A55 cores will reach 1.8 GHz in SD875 versus 2.21 GHz in the Exynos. He says that will help push the multi-core score of the Samsung chipset to 4,000 points.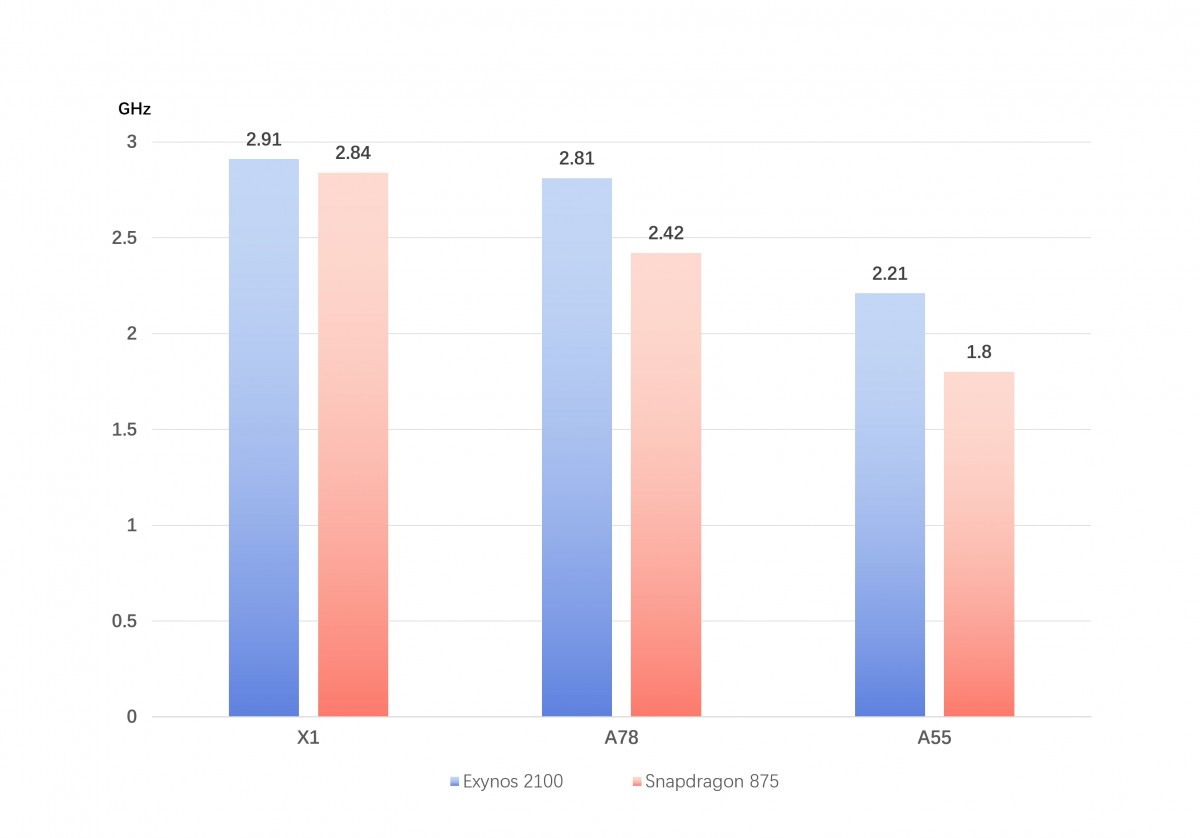 Of course that's only part of the chipset with the GPUs yet to be detailed along with features such as video encoding and decoding capabilities. Most importantly we are yet to see how they perform in real life as poor heat management can easily overshadow higher performance potential. We'll know for sure in two months' time.
M
??? Go and read my comment on page 3. 'Linus's measurement wasnt soc powerdraw, it was total powerdraw from the wall. Go watch it again. Anandtech writer estimated 20-24 as his best guess. M1 in laptops where soc powerdraw is easy to mea...
S
You said 15w, now 10w? Hypocrite in a nutshell
M
Come on, you dont need to stoop to name calling just because you couldnt get proof. But then again, i didnt expect much from you. So after fake, unfair, optimization, now its crappy? Lolol. Do tell me what 'optimization' did apple do ...
ADVERTISEMENT