Samsung Galaxy S21 spotted at Geekbench - it's not using the Exynos 1000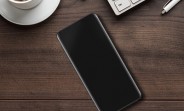 Unconfirmed reports claim that the Exynos 1000 will be faster than the Snapdragon 875, but we can't just assume that this will be the chipset used in the next Galaxy S flagships. Those early reports were based on Geekbench results that were pulled from the database before we could confirm they are legitimate.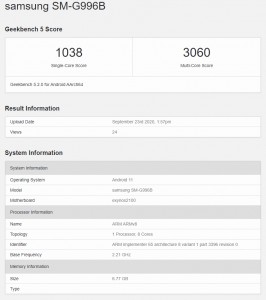 Geekbench 5 result for SM-G966B, presumably the Galaxy S21+
Well, now there is a Geekbench result from what should be the Samsung Galaxy S21+ and the scores are tangibly lower. Notice that the score page for the SM-G996B (likely the euro version of the S21+) lists the chipset as "Exynos 2100", which appears to be an entirely different chip.
Here's how it compares against the rumored scores of the Exynos 1000 and Snapdragon 875.
GeekBench 5.1 (multi-core)
Higher is better
Exynos 1000 (unconfirmed)
4250
Mi 11 (Snapdragon 875, unconfirmed)
4113
Snapdragon 875 (unconfirmed)
4090
S21+ (Exynos 2100, unconfirmed)
3060
Galaxy S20+ (official)
2703
GeekBench 5.1 (single-core)
Higher is better
Exynos 1000 (unconfirmed)
1302
Snapdragon 875 (unconfirmed)
1159
Mi 11 (Snapdragon 875, unconfirmed)
1102
S21+ (Exynos 2100, unconfirmed)
1038
Galaxy S20+ (official)
886
The phone should have 8 GB of RAM as the 6.77 GB figure likely omits the memory reserved for the GPU. This matches the RAM capacity of the current Galaxy S20+ with 4G connectivity (the 5G models have 12 GB).
The 2.21 GHz clock speed should be for the small CPU cluster – for some reason Geekbench always reports the small cluster. For comparison, the four A55 cores in the Exynos 990 run at 2.0 GHz, so we can expect a small overclock for all cores. What those cores may be is unclear (the Exynos 1000 is said to feature the new Cortex-X1 core).
Also, the Galaxy S21+ unit (if this is indeed one) is running Android 11, no surprise here. By the way, this model's battery leaked earlier today – it has 4,800 mAh capacity, a 300 mAh bump over the S20+.
F
People are funny ... keep getting into the names s21 s30 blablabla. I don't care what the f** it is called. Call it S*pid if they wish. It is about the chips guys! Jesus I thought people are tech sophisticated enough in 2020 to focus...
M
I agree with this person
?
The 2100 seemingly still has performance gains over the 990, I am still under the guise that the 1000 will likely be used in the Ultra model, we will likely see a more power efficient 2100 using only A78, A55 and a Mali G78, yes it might not be as po...