This article is outdated. We have already published a full review.
Camera
The Samsung Galaxy S4 comes with a 13MP main camera and a 2MP secondary camera, both of which can be used at the same time.
The camera interface is a departure from the previous versions, which were based on the Galaxy S II interface. This one is based on the Galaxy Camera interface instead.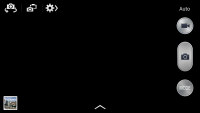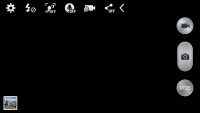 The Galaxy S4 camera UI takes after the Galaxy Camera
That means there are two virtual shutter keys (still and video) on the right, plus a mode button. Modes are picked from a carousel with descriptive images and text. At the bottom there's an up arrow for color effects - the cool thing is that all effects do a live preview, Samsung is really showing off the chipset's processing power here.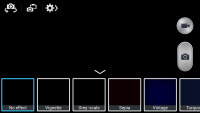 There's live preview for color effects
In the upper left corner, there are a couple of quick settings plus an arrow to reveal more options. One of the more prominent settings here is the dual shot mode, which snaps a photo with both cameras and presents them picture-in-picture style (think video call). You can move and resize the image from the front-facing camera that's taking a photo of you.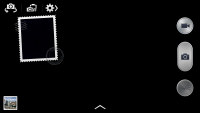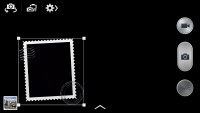 Adjusting the position and size of the picture-in-picture image from the front-facing camera
As for the different camera modes, it's a collection of some of the best camera features on current flagships.
One of the rarest modes is 360 photo. That's basically the same as Photo Sphere - it creates a spherical panorama like you see in Google Street View. Nexus devices aside, the LG Optimus G Pro has such a mode. There's a regular panorama mode as well.
Then there's Sound & shot - it snaps a photo and records a few seconds of background audio, which really gives photos an ambience. If you prefer to have motion in your shots instead of audio, you can create cinemagraphs with the Cine Photo mode.
There's also the Eraser mode, which snaps a burst of photos and automatically detects moving objects and removes them. This is great for popular tourists attractions as it's quite difficult to get a photo of those without at least one person walking into your shot. This is similar to Scalado based tech in Nokia Lumia phones and the HTC One.
Another mode is called Drama, which is basically the same as the HTC One's Sequence shot. It takes multiple photos of a moving subject and creates multiple "clones" of it.
HDR mode is available under the name Rich tone and there is a dedicated Sports mode and Night mode. You can enable auto night mode detection if you don't want to toggle it manually.
The familiar Best Photo and Best Face are, of course, available. They snap multiple photos and pick out the best one. In the case of Best Face, each face can be adjusted individually. So is Beauty Face, which attempts automatic photo retouching to remove "facial imperfections".
The Samsung Galaxy S4 unit we're using for this preview hasn't got its hardware and software finalized, so we'll leave the image quality discussion for the review. Still, we snapped a few comparison shots between the Galaxy S4 and the Sony Xperia Z to give you a feel for the image quality.







Samsung Galaxy S4 camera samples
We also shot sample videos with the Galaxy S4 and the Xperia Z. The third clip shows the dual recording video mode.