This article is outdated. We have already published a full review.
S Apps and other cool apps
The Samsung Galaxy S4 comes with a number of advanced features and apps that are exclusive for now, but will make their way to older devices via updates.
One of the coolest apps is called Group Play. It shares various multimedia across multiple devices in the same room but unlike DLNA it's interactive.
One use case is to play a music track on the Samsung Galaxy S4 and use multiple phones as speakers. You can pick the role of each phone (e.g. left channel, right, all the way up to surround sound). This way you can control the music from one phone but use the loudspeakers of all.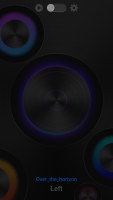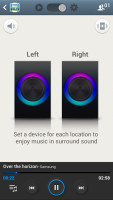 Multiple phones turn into a multi-channel audio system
Of course, the other phones will need to support Group Play - the phones communicate over Wi-Fi (your Galaxy S4 becomes a hotspot that others connect to) and the pairing is done via NFC.
More useful are the options to share a picture or a document - you can have the same picture appear on everyone's phone and you can draw over it if you need to highlight a certain element of the image.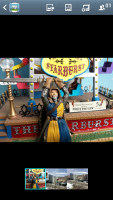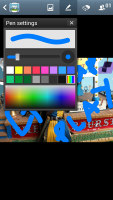 Sharing a photo and drawing over it
Finally, perhaps the coolest feature of Group Play is that it allows for multiplayer games to be played on several phones simultaneously. Of course, only supported games work - there was a poker and puzzle games preloaded on our unit with Asphalt7 and Gun Bros offered as other games that support Group Play multiplayer.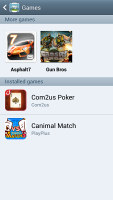 Group Play enables multiplayer games
Moving on, there's S-Link, another way to share content between devices. Unlike Group Play, S-Link is intended for personal use. You can link the phone to a computer that is synced with Dropbox, SkyDrive or SugarSync and remotely access content on that device.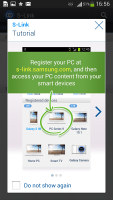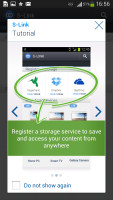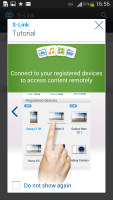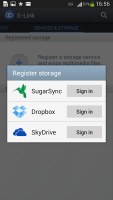 S Link lets you access content from your computer remotely
Then there's S Voice - it has all the features we're already familiar with, but also comes with a car mode that simplifies the interface and makes text bigger. S Voice can be used to initiate a call, dictate text, play music, open an app, change a setting, make a memo (including voice memo), add a reminder, schedule an event, set an alarm or timer, check the weather, do a search on the internet, look for local listings (e.g. nearby restaurants) and even get an answer to a question.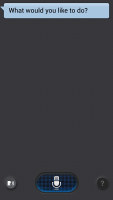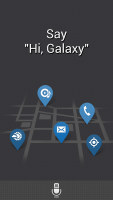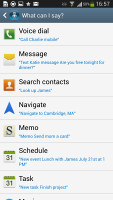 S Voice has a car mode, plenty of features
S Voice does duplicate parts of Google Now, but it adds a lot of new functionality (it even has more features than Siri). Some of these features are available outside of S Voice too, so you can set the Galaxy S4 to answer a call or snooze an alarm by voice commands even when S Voice isn't running. The problem with S Voice is not nearly as fast or as accurate at recognizing your speech input as Now.
S Translator will help travelers - it can translate between two languages using either typed text or by using speech recognition. It can read out the resulting translation too, if you don't thing your Korean accent can cut it. S Translator supports all the widely-spoken languages - English, Chinese, Spanish, Portuguese, French, German, Italian, Japanese and, of course, Korean.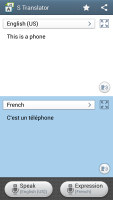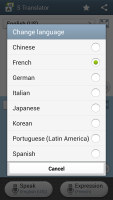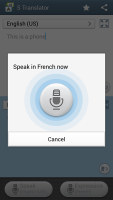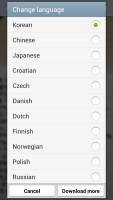 S Translator can be invaluable when traveling
This app can work together with Photo Reader, which employs Optical Character Recognition so you can just snap a photo of the text instead of having to type it in (which can be quite a challenge, imagine typing Chinese if you've never studied it).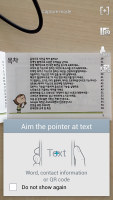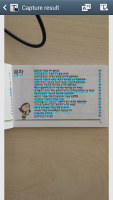 Photo Reader can read the text for you and sent it to S Translator
On our Samsung Galaxy S4 unit, the Cento OnTV was the one that works with the built-in IR emitter on the top of the phone. The app starts out by asking your zip code and pulls up a number of TV service providers in that area.
This is so that the app can show you a TV guide with shows currently on or upcoming on the channels offered by the service provider. You can read a description of the show, check out its popularity in up/down votes (and vote yourself, of course) and comments. You can also set a reminder for a show.
Anyway, the key element of the app is the IR remote control functionality. The app can control TVs, DVD and Blu-ray players, streaming media players and air conditioners. Devices are organized by rooms.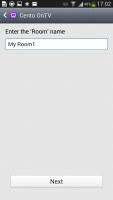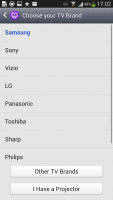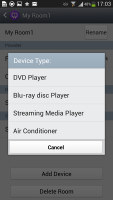 Adding a new room and a new device
One thing we really liked about the app is that it knows some home setups are messy - some let you change channels with the TV remote, others require you to use the set-top box remote for that. Same for the audio, you might be using the TV to output the sound or an AV receiver. The app will ask about your setup and present a unified remote control interface even if you have multiple hardware remotes to control all the devices.