First look
Samsung Galaxy S4 Active preview: First look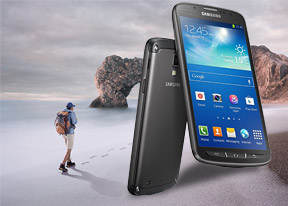 Samsung I9295 Galaxy S4 Active 360-degree spin
The Samsung Galaxy S4 Active has a slightly larger footprint than the regular Galaxy S4, and it's also more than a millimeter thicker and 21g heavier. The extra heft comes from the water-proofing and the different plastic used and certainly adds to the solid feel of the device, but does make the smartphone a bit harder to carry around.
Compared to the Sony Xperia Z, the Galaxy S4 Active has virtually identical footprint and weight, but again, it's notably thicker. Whether or not the added flexibility of a removable battery and a microSD card slot are worth it, is a question everyone should answer for themselves.
Design and handling
The basic floor plan of the Samsung Galaxy S4 Active is that of the regular Galaxy S4 - the thin bezels around the screen are mostly the same (a hair thicker) - but there are design cues taken from the Xcover phones. The most obvious difference between an Active and a regular Galaxy S4 is the bold Orange color (there are also Urban Grey and Dive Blue versions), which goes well with the Active's adventurous spirit.





Samsung Galaxy S4 and S4 Active side by side
Then there are the physical buttons on the front (which are more reliable when wet than capacitive buttons) and the new finish on the rear. It's a diamond-patterned plastic not unlike the one of the Xcover phones, plus some screw caps to really drive home the point of it being a rugged device.
We have to say we quite like the Galaxy S4 Activ's looks - it's different from the S III based design that has turned Samsung's lineup into a clone army and we prefer this finish over the hyperglazed plastic of the regular S4. Also, some people just prefer hardware buttons over capacitive keys, especially when the bezels are so thin, increasing the chance of accidental taps on the capacitive controls.
In terms of handling, the Galaxy S4 Active is roughly similar to the regular S4. The extra thickness and weight are noticeable, but don't impede one-handed operation too badly. It's not as sleek as the Sony Xperia Z, but that one clearly rated elegance higher than rugged appearance.



Samsung Galaxy S4 Active in the hand
We prefer the patterned plastic on the back of the Active for aesthetic reasons, but practical ones too. That glossy plastic offers little grip as it is, it will be as slippery as an eel when wet (which it better not be as it could damage the internals). The Samsung Galaxy S4 Active offers more grip, wet or dry. We just wish Samsung made the sides of the phone ribbed like the Xcover, which made for a rock solid grip.