If you're looking to for a surefire conversation-starter when you pop out your phone, the recently-leaked Samsung Galaxy S4 Active is setting up to be a serious contender, as not only is it the new waterproof version of Samsung's immensely successful flagship, but it comes in a nifty teal paintjob as well.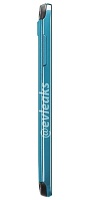 The S4 Active is rumored to sport all the features of the regular S4, but is set to come with an alternative body that gives you IP57 dust and water resistance certification.
The Active is surely Samsung's latest attempt to cater to even wider markets based on the success of rival flagships, such as Sony's Xperia Z, which also sports a waterproof construction.
l
i will be waiting about this phone on indonesia... coz i am really need this
D
wowww, i am waiting active version!!!
D
oh.. another samsung expertise... https://www.youtube.com/watch?v=U5WKzJOOTrE .. just watch ...
ADVERTISEMENTS