Samsung Galaxy S4 gets priced in the UK, will cost you £529 SIM-free

Samsung's recently launched fourth-generation Galaxy S smartphone has been the talk of the town for its powerful specifications and amazing features. At the official announcement, Samsung Mobile chief JK Shin, mentioned the availability of the smartphone but did not mention anything about the pricing of their latest flagship.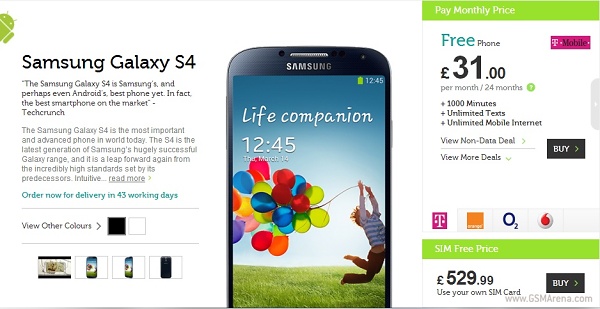 The pricing of the Samsung Galaxy S4 is no longer a mystery as the device is said to cost $579 for the 16GB model in US. Now, the pricing of the latest Galaxy S smartphone in UK has been revealed by an online listing and the smartphone will cost you £529 (about $800) for the 16 GB SIM-free model.
Furthermore, Samsung Galaxy S4 is available for free from T-Mobile, Orange, O2 and Vodafone on £31 per month plan and needless to say, a two year contract.
As we already showed you yesterday, the Galaxy S4 is currently priced at €660 over at Amazon DE, and similar pre-order prices are popping up across Europe.
Surprisingly, the pricing of the Galaxy S4 smartphone is identical to that of the iPhone 5 in UK. The demand for the latest flagship device from the South Korean manufacturer is on a rise and it will be interesting to see if the smartphone can outperform its predecessor in terms of sales figures.
Thanks Ravi, for sending this in!
D
It is now £574.99 from the same company!Gone up slightly!
D
@DMoose, The US price is before tax. If you want to compare the US and UK prices directly you need to remove the tax from the UK pricing. Which gives you $671 for UK and $579 for US (or in pounds £441 vs £380). @Vello, Maybe you ca...
D
Why are we in the UK being done out of £147.20 compared to what the americans are paying for it. hell its no wonder were all getting out of this country, they think were stupid and obviously rich. I was going to get this phone but im not now.
ADVERTISEMENTS