Double or nothing
Samsung I9500 Galaxy S4 vs Samsung I9505 Galaxy S4: Double or nothing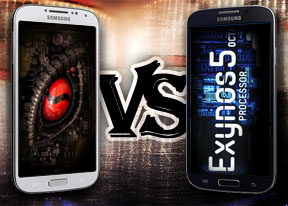 Performance
Both versions of Samsung's Android flagship for 2013 breeze through not only the heavily TouchWiz-coated Android, but also through any application or game you throw at them.
Samsung's Exynos 5 Octachipset utilizes ARM's big.LITTLE chipset architecture. It mates a set of four low-power Cortex-A7 cores with a set of four beefier Cortex-A15 cores to provide better balance between power consumption and performance. In the case of the Exynos 5 Octa, quad 1.2GHz Cortex-A7 cores take care of trivial UI tasks, as well as calls and messaging. When demand for performance increases, the four 1.6GHz Cortex-A15 cores step up to the job at hand.
In comparison, the Snapdragon 600 that's in control under the hood of the Galaxy S4 GT-I9505 relies purely on the quad-core 1.9GHz Krait 300 CPU inside to be power efficient when there's not much to be done, and performance-oriented when there is. It's clocked considerably higher than the Cortex-A15s, which usually means more power consumption, but also more power.
However, the CPUs aren't the only difference between the two chipsets - the GPUs are different models, too. The Adreno 320 clocked at 450MHz is the graphics guru in the Snapdragon 600, while the tri-core 533MHz PowerVR SGX544 GPU is in charge of graphics on board the Exynos chipset. If the latter sounds familiar, that's because it's not exactly new, but the extra core and clock speed should give it an edge over its Adreno counterpart.
Before we begin with the benchmarks, it should be noted that while technically true, the Galaxy S4 GT-I9500 isn't exactly an octa-core device in the sense that only a set of four cores is working at any single time. This means that when things get really hairy, the Cortex-A7 doesn't provide any additional computational power to the Cortex-A15.
Both versions of the Galaxy S4 smoke the competition out of the water in the BenchmarkPi test. Interestingly, there isn't a winner among them, as they both score the same score.
Benchmark Pi
Lower is better
Samsung Galaxy S4 (Octa)
132
Samsung Galaxy S4 (S600)
132
LG Optimus G Pro
147
HTC One
151
Sony Xperia Z
264
HTC Butterfly
266
Oppo Find 5
267
HTC One X+
280
LG Optimus G
285
Samsung Galaxy Note II
305
HTC One X (Tegra 3)
330
LG Optimus 4X HD
350
Samsung Galaxy S III
359
Meizu MX 4-core
362
Nexus 4
431
Linpack measures the speed of how fast an Android device can solve a standard calculation in MFLOPS (millions of floating point operations per second). Here, the more powerful Cortex-A15 cores take the edge on the Krait 300, but only by a narrow margin.
Linpack
Higher is better
Samsung Galaxy S4 (Octa)
791
Samsung Galaxy S4 (S600)
788
LG Optimus G Pro
743
HTC One
646
Sony Xperia Z
630
HTC Butterfly
624
LG Optimus G
608
Oppo Find 5
593
Samsung Galaxy Note II
214.3
Nexus 4
213.5
Meizu MX 4-core
189.1
HTC One X+
177.7
Samsung Galaxy S III
175.5
HTC One X
160.9
LG Optimus 4X HD
141.5
Geekbench 2 is a cross-platform benchmark, which measures both CPU and memory performance. It allows us to compare the Galaxy Samsung Galaxy S4 against the iPhone 5, but our main focus here is how the Octa and Snapdragon 600 versions differ, and the former takes this one as well with almost 100 score points.
Geekbench 2
Higher is better
Samsung Galaxy S4 (Octa)
3324
Samsung Galaxy S4 (S600)
3227
LG Optimus G Pro
3040
HTC One
2708
Sony Xperia Z
2173
HTC Butterfly
2143
Samsung Galaxy S III
1845
LG Optimus G
1723
LG Optimus 4X HD
1661
iPhone 5
1601
Moving on to compound benchmarks, AnTuTu and Quadrant put the Galaxy Samsung Galaxy S4 with Exynos on top - the octa-core version is once again slightly faster.
AnTuTu
Higher is better
Samsung Galaxy S4 (Octa)
26275
Samsung Galaxy S4 (S600)
24716
HTC One
22678
Sony Xperia Z
20794
LG Optimus G Pro
20056
HTC Butterfly
19513
Samsung Galaxy S III
15547
Oppo Find 5
15167
Quadrant
Higher is better
Samsung Galaxy S4 (Octa)
12446
Samsung Galaxy S4 (S600)
12376
LG Optimus G Pro
12105
HTC One
11746
Sony Xperia Z
8075
HTC One X+
7632
LG Optimus G
7439
Oppo Find 5
7111
HTC One X
5952
Samsung Galaxy Note II
5916
Samsung Galaxy S III
5450
Meizu MX 4-core
5170
Nexus 4
4567
Now let's look at the GPU benchmarks. We ran GLBenchmark 2.7 in 1080p off-screen mode, which is also the native screen resolution for the flagships. The Galaxy Samsung Galaxy S4 (S600) came out ahead of the HTC One here, which leads us to suspect that the GPU has been overclocked, just like the CPU. The S4 (Octa) was a couple of frames faster.
GLBenchmark 2.7 Egypt (1080p off-screen)
Higher is better
Samsung Galaxy S4 (Octa)
43
Samsung Galaxy S4 (S600)
41
HTC One
37
Oppo Find 5
32
Google Nexus 4
32
Sony Xperia Z
31
Sony Xperia ZL
31
Sony Xperia SP
31
Apple iPhone 5
30
LG Optimus G Pro
30
LG Optimus G
21
Samsung Galaxy Note II
17
HTC One X
11
Epic Citadel
Higher is better
Samsung Galaxy S4 (Octa)
59.8
Samsung Galaxy S4 (S600)
57.1
HTC One
56.4
Sony Xperia Z
55.6
LG Optimus G Pro
54.2
Nexus 4
53.9
Asus Padfone 2
53.4
LG Optimus G
52.6
Samsung Galaxy S III
41.3
Oppo Find 5
38.6
When it comes to JavaScript performance both Galaxy S4 variants are in a class of their own. HTML5 performance is fast as well, but as Vellamo points out, it still needs some work as far as compatibility with the latest standard is concerned. Nevertheless, the difference between the two remains negligible.
SunSpider
Lower is better
Samsung Galaxy S4 (Octa)
804
Samsung Galaxy S4 (S600)
810
Samsung Ativ S
891
Apple iPhone 5
915
Nokia Lumia 920
910
Samsung Galaxy Note II
972
HTC One X+
1001
LG Optimus G Pro
1011
Motorola RAZR i XT890
1059
HTC One
1124
Samsung Galaxy S III
1192
Meizu MX 4-core
1312
Sony Xperia Z
1336
LG Optimus G
1353
HTC Butterfly
1433
Nexus 4
1971
Oppo Find 5
2045
Vellamo
Higher is better
Samsung Galaxy Note II
2418
HTC One
2382
Sony Xperia Z
2189
HTC One X (Tegra 3)
2078
Samsung Galaxy S4 (S600)
2060
Samsung Galaxy S4 (Octa)
2056
HTC Butterfly
1866
Oppo Find 5
1658
Samsung Galaxy S III
1641
LG Optimus 4X HD
1568
LG Optimus G
1522
Meizu MX 4-core
1468
Nexus 4
1310
As far as synthethic benchmarks are concerned there isn't too much of a difference between the Octa and Snapdragon 600 versions of Samsung's best droid yet. We suspect this is on purpose - Samsung wanted to guarantee that devs can expect the exact same level of performance form the Galaxy S4, regardless of which version the user has. And they've done an excellent job. But this isn't the best that Cortex-A15 in the Exynos chipset is capable of - we might have to wait until the Galaxy Note III to get a true feel for its performance.