In its usual fashion, IHS iSupply has posted its virtual teardown of the Galaxy S4 revealing an estimate of its bill of materials (BOM). The company believes that the materials for the HSPA+ version of the Galaxy S4 costs $236, which when added to the manufacturing cost, give a total production cost of $244.
This marks a 15% increase, or $30.40, over the BOM of the Samsung Galaxy S III, which is due to the costlier Super AMOLED FullHD display, additional sensors and the Exynos Octa CPU of the S4.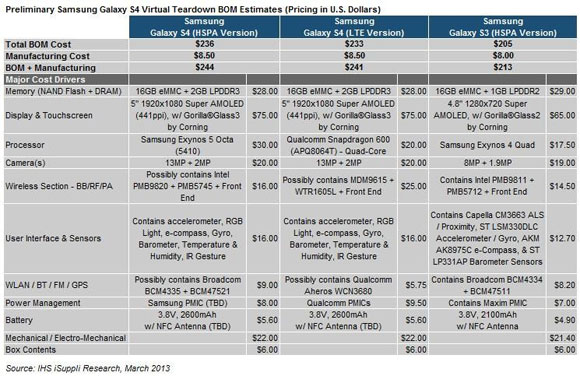 As you can see from the table above, the Galaxy S4's new Super AMOLED FullHD display and touch-screen are estimated to cost $75.00 - $10 more than the 720p Super AMOLED display of the Galaxy S III. As for the new Exynos 5410 Octa chipset with quad-core Cortex-A15 and Cortex-A7 CPUs, IHS iSuppli estimates it to cost Samsung $30.00 to make. That's almost double the price of the quad-core Cortex-A9 Exynos 4410 chipset that powers the Galaxy S III carries ($17.50).
The materials for the LTE variation of the Samsung Galaxy S4 are $3 cheaper than the HSPA+ version, at $233 BOM and $241 with manufacturing included. The reason is the Snapdragon 600 ticking inside that Galaxy S4 version, which only costs Samsung $20.00 a pop.
Interestingly, the Galaxy S4's 13MP and 2MP camera bundle adds just $1 on top of the 8MP + 1.9MP combo of the Galaxy S III, which was estimated to cost $19.00 back in September last year. You should keep in mind that manufacturing expenses don't include additional charges such as licensing and royalties.
The Galaxy S4 will be available at the end of April and we already got the first hints of its pricing. In the UK, the phone will cost £529, while in rest of Europe it's expected to be priced around the €600-700 range. In the US, as Samsung's own giveaway terms and conditions reveal, the S4 is expected to sell for about $579
N
Guys, what is the profit for a well known pair of jeans, or shoes, or whatever? And what`s the selling price? That is a lot more outrageous than this. Do think of all the R&D that goes into a product before it`s released.
D
Manufacturing cost is just $244 but they are charging almost $700. What are they? some kind of modern bandits,depredators or plunderer??!!
ADVERTISEMENTS