Little droid that could
Samsung Galaxy S4 mini review: Little droid that could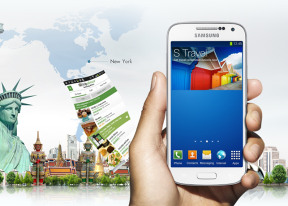 Display
The Samsung Galaxy S4 mini uses a 4.3" Super AMOLED screen of qHD resolution (960 x 540 pixels). The pixel density clocks in at 256ppi, which is quite good, and what's even better is that it's an RGB matrix, not a Pentile screen.
It uses a layout similar to that of the Galaxy Note II with three subpixels per pixel, where the blue sub-pixel is twice as large as the red and green ones. That's a clever way to extend the life of the screen, without sacrificing anything in terms of sharpness.
Of course, you can find sharper 720p screens in these parts of the market now, but you'll need to live without the benefits of the AMOLED technology.



The Galaxy S4 mini qHD Super AMOLED screen
All things considered, the Galaxy S4 mini display offers above average image quality for a midrange device. Colors a punchy, blacks are as deep as AMOLED gets them and the viewing angles are extremely wide.
Display test
50% brightness
100% brightness
Black, cd/m2
White, cd/m2
Contrast ratio
Black, cd/m2
White, cd/m2
Contrast ratio
Samsung I9195 Galaxy S4 mini
0
166
∞
0
396
∞
HTC One
0.13
205
1580
0.42
647
1541
HTC Butterfly
0.14
173
1200
0.45
501
1104
Samsung I9505 Galaxy S4
0
201
∞
0
404
∞
Samsung I9300 Galaxy S III
0
174
∞
0
330
∞
Sony Xperia Z
-
-
-
0.70
492
705
Oppo Find 5
0.17
176
1123
0.51
565
1107
Samsung N7100 Galaxy Note II
0
215
∞
0
402
∞
LG Optimus G Pro
-
-
-
0.41
611
1489
Nokia Lumia 920
-
-
-
0.48
513
1065
LG Optimus G
0.14
197
1445
0.33
417
1438
Apple iPhone 5
0.13
200
1490
0.48
640
1320
Sunlight legibility is very good and pretty close to the Galaxy S4 and other Galaxy flagship scores.
Sunlight contrast ratio
Nokia 808 PureView
4.698
Apple iPhone 5
3.997
Samsung I9300 Galaxy S III
3.419
Samsung Galaxy S4
3.352
Samsung Omnia W
3.301
Samsung Galaxy S
3.155
Samsung Galaxy S4 mini
3.127
Nokia N9
3.069
Samsung Galaxy Note
2.970
HTC One S
2.901
Samsung Galaxy S II
2.832
Samsung Galaxy S II Plus
2.801
Huawei Ascend P1
2.655
Nokia Lumia 900
2.562
HTC One
2.504
Sony Xperia Z
2.462
Samsung Galaxy S III mini
2.422
Motorola RAZR i
2.366
Samsung Galaxy Note II
2.307
Apple iPhone 4S
2.269
HTC One X
2.158
Nokia N8
2.144
Nokia Lumia 1020
2.103
Oppo Find 5
2.088
BlackBerry Z10
2.051
Apple iPhone 4
2.016
Sony Ericsson Xperia ray
1.955
Samsung Galaxy Camera
1.938
HTC Butterfly
1.873
Sony Xperia V
1.792
Sony Xperia U
1.758
LG Optimus 4X HD
1.691
HTC One V
1.685
LG Optimus Vu
1.680
HTC Desire V
1.646
LG Optimus G Pro
1.552
LG Optimus 3D
1.542
Nokia Asha 302
1.537
Nokia Lumia 610
1.432
Gigabyte GSmart G1355
1.361
HTC Desire C
1.300
LG Optimus L7
1.269
LG Optimus L9
1.227
Meizu MX
1.221
Sony Xperia E dual
1.203
Samsung Galaxy Pocket
1.180
Sony Xperia tipo
1.166
Samsung Galaxy mini 2
1.114
We also put the Samsung Galaxy S4 mini screen under our microscope to show you its peculiar display matrix.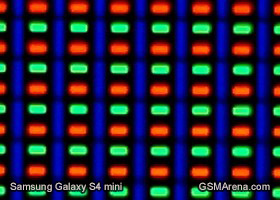 The screen matrix for the Galaxy S4 mini
Battery life
Our battery test showed that the Samsung Galaxy S4 mini offers remarkable endurance on the individual tasks in our battery life test, but the higher than average drain in stand-by mode prevented it from getting an impressive overall endurance rating. Even so it did more than well and if Samsung improves the stand-by time with future firmware updates, it might be one of the longest-lasting smartphones on the market.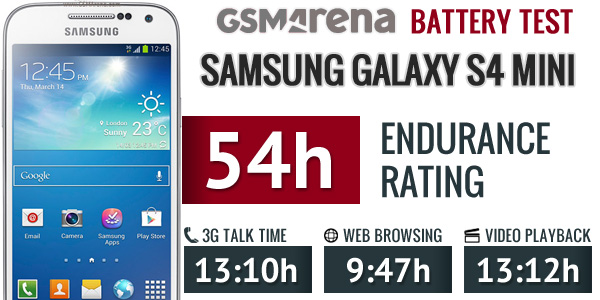 A 54h rating means you can expect the phone to typically last this amount of time on a single charge if you stick to our test regiment of using the phone for an hour of calling, an hour of video watching and an hour of web browsing a day and then leaving it on stand-by during the rest of the time. Of course, your mileage will vary depending on your usage pattern and network environment but still, it's our standardized way of producing comparable results across smartphones by different manufacturers.