An internal Samsung KNOX document has revealed the company's update plans for some of its smartphones. The document in question shows a list of devices that are bound to get Samsung's security app pre-installed on them and the Galaxy S4 mini and Galaxy Mega are to do so once they get updated to Android 4.4 KitKat.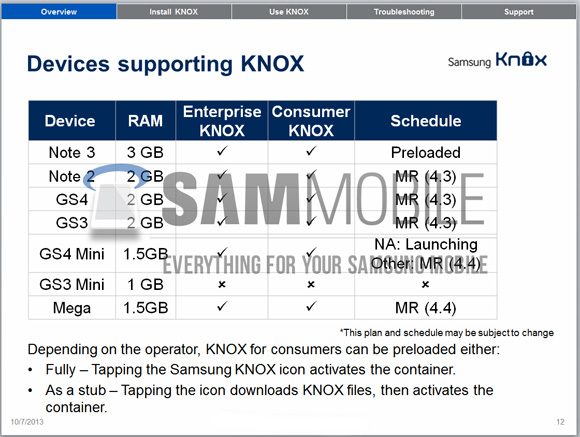 The document doesn't specify which Galaxy Mega (the Mega 5.8 or Mega 6.3) will get the update, so we assume both will do so.
The Samsung Galaxy Note 3 also has the KNOX software preinstalled, but it's undoubtedly going to get Android 4.4 KitKat update in the future. It's also logical for the Galaxy S4 to be treated to the latest Android update, too. Samsung hasn't outed any official information regarding its update plans for the Galaxy Note 2 and Galaxy S III.
According to an internal source who came in touch with SamMobile, Samsung KNOX will come pre-installed on all of the aforementioned devices after their upcoming updates. Chinese variants of said phones will have a KNOX installer leaving users the choice whether or not to download the files needed for the full installation.
r
pls update galaxy mega 5.8 kitkat 4.4
S
I update my phone software
T
I loved my Samsung Galaxy Mega 6.3, and glad to hear that android update 4.4 will coming soon. I hoped this new updated will get better performance than old android OS. Thanks! Samsung...