Advanced fence-sitting
Samsung Galaxy S4 vs Galaxy S III: Advanced fence-sitting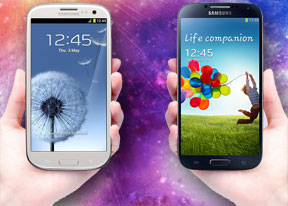 Display
One of the most notable upgrades brought by the Samsung Galaxy S4 is the screen. The Super AMOLED panel is every bit as great as its specs sheet suggests. It offers virtually limitless contrast, vibrant colors and is as sharp as it gets.
The diagonal has been increased from 4.8" to 5", and while this isn't a huge difference by any standard more is always better when talking screen estate (as long as you find the balance with the size of the actual device, of course). The resolution has been bumped from 720 x 1280 pixels to 1080 x 1920 pixels, bringing the pixel density to around 441, a massive improvement over the 306ppi density of the Galaxy S III screen.




The Galaxy S4 and Galaxy S III screens
Both screens employ Pentile matrices but at such high densities the dreaded crosshatch pattern isn't really an issue. In fact the Samsung flagship is probably the one to befit the most of the new 1080p trend, as individual pixels are impossible to spot on the Galaxy S4 despite the two-subpixels-per-pixel screen. It's not they were prominent on the Galaxy S III either, but if you looked from very closely you could see some dottiness. So at this point one of the main arguments against the AMOLED technology has been eradicated.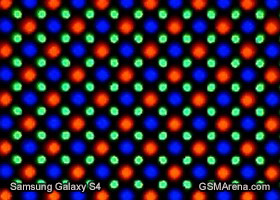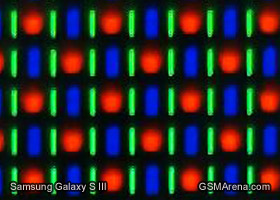 Samsung Galaxy S4 vs Galaxy S III screens under a microscope
More impressively, the other shortcoming of the AMOLED panels, their oversaturated colors, have been taken care of as well. Samsung lets you select between four display modes for your Galaxy S4, including a dedicated Adobe RGB mode, which provides very accurate color reproduction. Naturally, those that are fond of the extra punchy colors can also opt for one of the livelier options, so the Galaxy S4 screen really brings the best of both worlds.
We also noticed that the screen on the Galaxy S4 is slightly brighter than that of its predecessor. Keep in mind that you need to disable the auto adjust screen tone option to get the maximum brightness.
Display test
50% brightness
100% brightness
Black, cd/m2
White, cd/m2
Contrast ratio
Black, cd/m2
White, cd/m2
Contrast ratio
HTC One
0.13
205
1580
0.42
647
1541
HTC Butterfly
0.14
173
1200
0.45
501
1104
Samsung I9505 Galaxy S4
0
201
∞
0
404
∞
Samsung I9300 Galaxy S III
0
174
∞
0
330
∞
Sony Xperia Z
-
-
-
0.70
492
705
Oppo Find 5
0.17
176
1123
0.51
565
1107
Samsung N7100 Galaxy Note II
0
215
∞
0
402
∞
LG Optimus G Pro
-
-
-
0.41
611
1489
Nokia Lumia 920
-
-
-
0.48
513
1065
LG Optimus G
0.14
197
1445
0.33
417
1438
Apple iPhone 5
0.13
200
1490
0.48
640
1320
Viewing angles on the Galaxy S4 are superb as expected. In direct sunlight the contrast is a little lower than that of the Galaxy S III but not by much so you're getting more or less the same sunlight legibility. Perhaps, the new Gorilla Glass causes a dash of extra reflections and offsets the brightness advantage of the new Samsung flagship.
Sunlight contrast ratio
Nokia 808 PureView
4.698
Apple iPhone 5
3.997
Samsung I9300 Galaxy S III
3.419
Samsung I9500 Galaxy S4
3.352
Samsung Omnia W
3.301
Samsung Galaxy S
3.155
Nokia N9
3.069
Samsung Galaxy Note
2.970
HTC One S
2.901
Samsung Galaxy S II
2.832
Samsung Galaxy S II Plus
2.801
Huawei Ascend P1
2.655
Nokia Lumia 900
2.562
HTC One
2.504
Sony Xperia Z
2.462
Samsung Galaxy S III mini
2.422
Motorola RAZR i
2.366
Samsung Galaxy Note II
2.307
Apple iPhone 4S
2.269
HTC One X
2.158
Nokia N8
2.144
Oppo Find 5
2.088
BlackBerry Z10
2.051
Apple iPhone 4
2.016
Sony Ericsson Xperia ray
1.955
Samsung Galaxy Camera
1.938
HTC Butterfly
1.873
Sony Xperia V
1.792
Sony Xperia U
1.758
LG Optimus 4X HD
1.691
HTC One V
1.685
LG Optimus Vu
1.680
HTC Desire V
1.646
LG Optimus G Pro
1.552
LG Optimus 3D
1.542
Nokia Asha 302
1.537
Nokia Lumia 610
1.432
Gigabyte GSmart G1355
1.361
HTC Desire C
1.300
LG Optimus L7
1.269
LG Optimus L9
1.227
Meizu MX
1.221
Sony Xperia E dual
1.203
Samsung Galaxy Pocket
1.180
Sony Xperia tipo
1.166
Samsung Galaxy mini 2
1.114
You can find more about our display testing process here.
Battery life
The latest Samsung flagship brings a notable upgrade in the battery department. The Galaxy S4 has a 2600 mAh battery versus a 2100 mAh unit on the Galaxy S III. We were curious to see how that balances with the brighter and larger screen of higher resolution and the new chipset, which while built on a new 28nm process is still supposedly drawing more power than the Exynos 4412 inside the Galaxy S III.
As it turns out the extra battery supply more than makes up for the extra power demands of the Galaxy S4 and the new Samsung flagship posted some impressive numbers in our test.
Not quite surprisingly, the Galaxy S4 managed to better the achievement of its predecessor in the talk time test quite significantly. With the screen switched off and the chipset not having much to do the Galaxy S4 reached an impressive 13h 53min versus the 10h 15min of the Galaxy S III.
Talk time
Motorola RAZR MAXX (ICS)
21:18
LG Optimus G Pro
20:45
Motorola DROID RAZR MAXX
20:24
Motorola RAZR i
20:07
Samsung Galaxy Note II N7100
16:57
Sony Xperia Z
16:03
LG Optimus G
15:30
Nokia Lumia 620
14:17
Oppo Find 5
14:17
Google Nexus 4
14:17
Samsung Galaxy S4
13:53
HTC One
13:38
HTC One X+
13:31
Samsung Galaxy Grand Duos
12:45
Huawei Ascend P1
12:30
HTC Butterfly
12:18
Samsung Galaxy Note
12:14
Samsung I8530 Galaxy Beam
11:58
Samsung Galaxy Premier
11:30
Asus Padfone 2
11:20
HTC Droid DNA
11:07
HTC Windows Phone 8X
11:07
Samsung Wave 3 S8600
11:07
Samsung I9105 Galaxy S II Plus
11:06
HTC Desire X
11:03
HTC One X (AT&T, LTE)
10:35
Samsung I9300 Galaxy S III
10:20
Samsung I9300 Galaxy S III (JB)
10:15
Samsung Galaxy Xcover 2
10:03
HTC One V
10:00
Meizu MX 4-core
10:00
Samsung Galaxy Express
10:00
HTC One X
9:57
HTC One S
9:42
Samsung I9103 Galaxy R
9:40
HTC Sensation XL
9:30
Nokia Lumia 810
9:05
Nokia Lumia 710
9:05
Acer CloudMobile S500
9:05
Motorola Atrix HD
9:04
HTC Vivid
9:02
Nokia Lumia 920
8:56
Nokia Lumia 610
8:51
HTC Rhyme
8:48
Apple iPhone 5
8:42
LG Optimus 3D Max P720
8:42
Sony Ericsson Xperia neo V
8:41
Meizu MX
8:39
Samsung Galaxy S II
8:35
Samsung Galaxy S Duos
8:28
Nokia Lumia 800
8:25
Samsung Galaxy Nexus
8:23
Nokia Lumia 510
8:22
BlackBerry Z10
8:20
HTC Desire V
8:20
Samsung Captivate Glide
8:20
Sony Xperia T
8:15
HTC Rezound (LTE)
8:10
Samsung Galaxy Note (LTE)
8:02
LG Optimus Vu
7:57
LG Optimus 4X HD
7:41
Apple iPhone 4S
7:41
Samsung i937 Focus S
7:25
HTC Evo 4G LTE (LTE)
7:21
Samsung Galaxy S Blaze 4G
7:14
Nokia Lumia 820
7:09
Sony Xperia acro S
7:09
Samsung Rugby Smart I847
7:09
Sony Ericsson Xperia Pro
6:57
Nokia N9
6:57
HTC Radar
6:53
Samsung Galaxy Ace Duos
6:53
BlackBerry Curve 9380
6:52
Sony Xperia E dual
6:42
Samsung Galaxy S III mini
6:22
Samsung Galaxy Pocket
5:54
Nokia Lumia 900 for AT&T (LTE)
5:53
Sony Xperia ion LTE
5:52
Sony Xperia P
5:33
Nokia 808 PureView
5:16
LG Nitro HD (LTE)
5:16
HTC Titan II (LTE)
5:10
BlackBerry Bold 9790
5:00
Pantech Burst
4:46
The web browsing test is a completely different affair and with Super AMOLED screens not being the best suited for the predominantly white web pages browsing we were worried that the extra screen estate and resolution might take its toll on the Galaxy S4 performance here. As it turned out however, the optimizations Samsung made allowed its new flagship to better the achievement of its predecessor by the amazing 2h 15 min. The 8h 42min overall result is not drastically lower than that of the current leader in our charts, HTC One.
Web browsing
HTC One
9:58
Apple iPhone 5
9:56
Motorola RAZR MAXX (ICS)
9:12
Apple iPad mini
9:05
Samsung Galaxy Note II N7100
8:48
Samsung Galaxy S4
8:42
Nokia Lumia 810
8:20
Asus Padfone 2
8:20
Nokia Lumia 610
8:01
HTC One X+
7:56
Sony Xperia E dual
7:42
Samsung Galaxy S III mini
7:38
Motorola DROID RAZR MAXX
7:23
HTC Radar
7:17
Samsung Galaxy Grand Duos
7:09
Samsung Galaxy Express
7:09
Motorola RAZR i
7:06
Apple iPhone 4S
6:56
HTC One V
6:49
LG Optimus G Pro
6:40
Samsung I9105 Galaxy S II Plus
6:40
HTC Droid DNA
6:40
Samsung Galaxy Premier
6:40
Motorola Atrix HD
6:40
BlackBerry Curve 9380
6:40
Sony Xperia Z
6:37
Samsung Galaxy Xcover 2
6:35
BlackBerry Z10
6:27
Samsung I9300 Galaxy S III (JB)
6:27
HTC Butterfly
6:24
Samsung i937 Focus S
6:15
Nokia Lumia 510
6:13
HTC Windows Phone 8X
6:01
Sony Xperia ion LTE
5:56
Samsung Rugby Smart I847
5:53
Pantech Burst
5:51
Samsung Galaxy S Blaze 4G
5:45
HTC Desire V
5:44
HTC Evo 4G LTE
5:41
Nokia Lumia 920
5:40
Samsung Wave 3 S8600
5:34
Oppo Find 5
5:33
Sony Xperia T
5:33
Samsung Captivate Glide
5:33
Samsung I8530 Galaxy Beam
5:28
Samsung Galaxy Note LTE
5:24
Samsung Galaxy S Duos
5:23
HTC Sensation XL
5:20
Meizu MX 4-core
5:19
Samsung I9300 Galaxy S III
5:17
Sony Xperia acro S
5:16
HTC Rezound
5:16
HTC Desire X
5:16
LG Optimus G
5:15
HTC Rhyme
5:08
Samsung I9103 Galaxy R
5:07
HTC One X (AT&T)
5:03
Sony Ericsson Xperia Pro
4:50
LG Optimus Vu
4:49
HTC Vivid
4:46
Samsung Galaxy Ace Duos
4:45
Meizu MX
4:35
Google Nexus 4
4:34
Nokia N9
4:33
Acer CloudMobile S500
4:32
Nokia Lumia 820
4:24
Samsung Galaxy S II
4:24
Sony Ericsson Xperia neo V
4:20
HTC One X
4:18
Nokia 808 PureView
4:14
LG Optimus 3D Max P720
4:10
Nokia Lumia 900 for AT&T
4:10
Nokia Lumia 800
4:07
HTC Titan II (LTE)
4:05
HTC One S
4:03
BlackBerry Bold 9790
4:02
LG Nitro HD
4:00
LG Optimus 4X HD
3:59
Sony Xperia P
3:59
Nokia Lumia 710
3:51
Nokia Lumia 620
3:50
Samsung Galaxy Pocket
3:47
Samsung Galaxy Note
3:35
Huawei Ascend P1
3:23
Samsung Galaxy Nexus
3:01
The video playback test plays more to the AMOLED displays' strengths, so seeing another great score by the Samsung Galaxy S4 was more or less expected. The Samsung flagship managed to beat the endurance of its rival by just under 50 minutes, lasting for 10h 16min.
Video playback
Motorola RAZR MAXX (ICS)
16:35
Motorola DROID RAZR MAXX
14:17
Apple iPad mini
12:51
Samsung Galaxy Premier
12:51
Samsung Galaxy Note II N7100
11:27
Samsung Galaxy S4
10:16
Apple iPhone 5
10:12
HTC One
10:02
Samsung I9300 Galaxy S III
10:01
Samsung Galaxy Express
10:00
Samsung I9105 Galaxy S II Plus
10:00
Nokia 808 PureView
9:53
Samsung I8530 Galaxy Beam
9:42
Samsung Rugby Smart I847
9:34
HTC One S
9:28
Samsung I9300 Galaxy S III (JB)
9:27
Apple iPhone 4S
9:24
HTC Evo 4G LTE
9:07
BlackBerry Z10
8:44
LG Optimus G Pro
8:40
Nokia N9
8:40
HTC Butterfly
8:28
Samsung Galaxy Note
8:25
Samsung Galaxy Grand Duos
8:11
HTC One X+
8:11
Motorola RAZR i
8:11
Samsung Galaxy S II
8:00
Samsung i937 Focus S
7:55
Samsung Wave 3 S8600
7:52
Samsung Galaxy S III mini
7:46
Sony Ericsson Xperia neo V
7:45
Asus Padfone 2
7:38
Huawei Ascend P1
7:38
Samsung Galaxy S Blaze 4G
7:33
HTC Droid DNA
7:30
Samsung Galaxy Note LTE
7:30
Samsung Galaxy Xcover 2
7:30
Nokia Lumia 610
7:23
LG Optimus G
7:16
Meizu MX 4-core
6:33
Nokia Lumia 620
6:32
HTC Windows Phone 8X
6:27
Sony Xperia E dual
6:27
Nokia Lumia 810
6:27
HTC Desire V
6:26
HTC One X (AT&T)
6:26
Nokia Lumia 820
6:25
Samsung Galaxy Ace Duos
6:25
Nokia Lumia 510
6:23
LG Optimus Vu
6:23
Samsung I9103 Galaxy R
6:21
Nokia Lumia 920
6:19
HTC Sensation XL
6:12
Samsung Galaxy Pocket
6:06
Samsung Captivate Glide
6:04
Sony Xperia ion LTE
6:03
Samsung Galaxy Nexus
6:02
Sony Xperia T
6:01
Motorola Atrix HD
6:01
HTC Vivid
6:00
HTC Radar
5:54
Nokia Lumia 800
5:52
HTC Titan II
5:50
BlackBerry Bold 9790
5:47
HTC One X
5:45
Sony Ericsson Xperia Pro
5:44
Sony Xperia Z
5:39
Sony Xperia acro S
5:38
HTC Desire X
5:38
Pantech Burst
5:38
Meizu MX
5:27
HTC Rhyme
5:23
HTC One V
5:20
Acer CloudMobile S500
5:18
Oppo Find 5
5:18
Nokia Lumia 900 for AT&T
5:18
BlackBerry Curve 9380
5:09
HTC Rezound
5:03
Google Nexus 4
4:55
Samsung Galaxy S Duos
4:30
Sony Xperia P
4:30
LG Nitro HD
4:17
LG Optimus 4X HD
4:14
LG Optimus 3D Max P720
3:28
Nokia Lumia 710
3:27
When you add the endurance of all these tests together and factor in the stand-by efficiency, the Galaxy S4 got an endurance score of 63h. This means that you'd need to charge the smartphone once every 63h if you use it for an hour of talk time, an hour of video playback and an hour of web browsing per day. The score compares really favorably to the Galaxy S III 50 h endurance rating, suggesting that those that value battery backup highly have quite good reason to upgrade.