Advanced fence-sitting
Samsung Galaxy S4 vs Galaxy S III: Advanced fence-sitting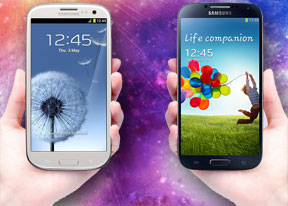 Synthetic benchmarks
Update, May 9: We added the I9500 Galaxy S4 benchmarks.
As you have probably heard by now, the Samsung Galaxy S4 is available in two configurations. The first one is powered by an eight-core Exynos 5 Octa chipset, which offers two groups of four cores - one of the power-saving Cortex-A7 variety clocked at 1.2 GHz and the other of the extra powerful Cortex-A15 architecture running at 1.6GHz.
Unfortunately that chipset proved quite hard to manufacture, so the majority of the first batch of Galaxy S4 units will be powered by the Snapdragon 600 chipset, just like our test unit. The Qualcomm-made SoC boasts four Krait 300 cores clocked at 1.9GHz, 2GB of RAM and Adreno 320 GPU.
Standing in the opposing corner is the Exynos 4 Quad chipset, which while good for its time is clearly showing its age now. It features four Cortex-A9 cores running at 1.4GHz, 1GB of RAM (on the most popular international non-LTE version) and the Mali-400MP GPU.
As you can see, in addition to the difference in CPU generations, there's also a notable difference in their clock speed. The GPUs are also fairly incomparable due to their generational difference.
Let's now see the margin of the victory that the Samsung Galaxy S4 is going to achieve here. We started with BenchmarkPi, which is a single-threaded CPU benchmark. The Galaxy S4 beat the achievement of its predecessor by more than two and a half times.
Benchmark Pi
Lower is better
Samsung Galaxy S4 (Octa)
132
Samsung Galaxy S4 (S600)
132
LG Optimus G Pro
147
HTC One
151
Sony Xperia Z
264
HTC Butterfly
266
Oppo Find 5
267
HTC One X+
280
LG Optimus G
285
Samsung Galaxy Note II
305
HTC One X (Tegra 3)
330
LG Optimus 4X HD
350
Samsung Galaxy S III
359
Meizu MX 4-core
362
Nexus 4
431
We then came to a couple multi-threaded computing tests, which should test the overall power of the CPU. The Galaxy S4 basically killed its opponent in Linpack, beating its score by more than four times, while the difference in Geekbench 2 stood at just 75%.
Linpack
Higher is better
Samsung Galaxy S4 (Octa)
791
Samsung Galaxy S4 (S600)
788
LG Optimus G Pro
743
HTC One
646
Sony Xperia Z
630
HTC Butterfly
624
LG Optimus G
608
Oppo Find 5
593
Samsung Galaxy Note II
214.3
Nexus 4
213.5
Meizu MX 4-core
189.1
HTC One X+
177.7
Samsung Galaxy S III
175.5
HTC One X
160.9
LG Optimus 4X HD
141.5
Geekbench 2
Higher is better
Samsung Galaxy S4 (Octa)
3324
Samsung Galaxy S4 (S600)
3227
LG Optimus G Pro
3040
HTC One
2708
Sony Xperia Z
2173
HTC Butterfly
2143
Samsung Galaxy S III
1845
LG Optimus G
1723
LG Optimus 4X HD
1661
iPhone 5
1601
AnTuTu and Quadrant test the whole system - CPU, GPU, RAM, storage. The Galaxy S III managed to keep relatively close to its successor in the first trial (and by that we mean it lost by less than two times), but was blown out of the water in the second.
AnTuTu
Higher is better
Samsung Galaxy S4 (Octa)
26275
Samsung Galaxy S4 (S600)
24716
HTC One
22678
Sony Xperia Z
20794
LG Optimus G Pro
20056
HTC Butterfly
19513
Samsung Galaxy S III
15547
Oppo Find 5
15167
Quadrant
Higher is better
Samsung Galaxy S4 (Octa)
12446
Samsung Galaxy S4 (S600)
12376
LG Optimus G Pro
12105
HTC One
11746
Sony Xperia Z
8075
HTC One X+
7632
LG Optimus G
7439
Oppo Find 5
7111
HTC One X
5952
Samsung Galaxy Note II
5916
Samsung Galaxy S III
5450
Meizu MX 4-core
5170
Nexus 4
4567
The Galaxy S4 continued to make its predecessor feel ancient, when it came to GPU prowess. In GLBenchmark 2.7 Egypt (the 1080p off-screen test) the difference between the two is almost three-fold, 40-something fps against just 15fps. The difference in the Unreal Engine-based Epic Citadel is pretty major too.
GLBenchmark 2.7 Egypt (1080p off-screen)
Higher is better
Samsung Galaxy S4 (Octa)
43
Samsung Galaxy S4 (S600)
41
HTC One
37
Oppo Find 5
32
Google Nexus 4
32
Sony Xperia Z
31
Sony Xperia ZL
31
Sony Xperia SP
31
Apple iPhone 5
30
LG Optimus G Pro
30
LG Optimus G
21
Samsung Galaxy Note II
17
HTC One X
11
Epic Citadel
Higher is better
Samsung Galaxy S4 (Octa)
59.8
Samsung Galaxy S4 (S600)
57.1
HTC One
56.4
Sony Xperia Z
55.6
LG Optimus G Pro
54.2
Nexus 4
53.9
Asus Padfone 2
53.4
LG Optimus G
52.6
Samsung Galaxy S III
41.3
Oppo Find 5
38.6
It's time to test out web browser performance. Both phones are running the stock Android web browser, but we should keep in mind the differences in TouchWiz and Android versions.
The superior CPU performance of the S4 gives it an advantage in JavaScript performance over the S III. In fact, the S4 is one of the fastest phones we've tested.
SunSpider
Lower is better
Samsung Galaxy S4 (Octa)
804
Samsung Galaxy S4 (S600)
810
Samsung Ativ S
891
Apple iPhone 5
915
Nokia Lumia 920
910
Samsung Galaxy Note II
972
HTC One X+
1001
LG Optimus G Pro
1011
Motorola RAZR i XT890
1059
HTC One
1124
Samsung Galaxy S III
1192
Meizu MX 4-core
1312
Sony Xperia Z
1336
LG Optimus G
1353
HTC Butterfly
1433
Nexus 4
1971
Oppo Find 5
2045
The HTML5 benchmark, Vellamo, also puts the two phones relatively close together, although the Galaxy S4 far superior CPU earns it a bigger lead here.
Vellamo
Higher is better
Samsung Galaxy Note II
2418
HTC One
2382
Sony Xperia Z
2189
HTC One X (Tegra 3)
2078
Samsung Galaxy S4 (S600)
2060
Samsung Galaxy S4 (Octa)
2056
HTC Butterfly
1866
Oppo Find 5
1658
Samsung Galaxy S III
1641
LG Optimus 4X HD
1568
LG Optimus G
1522
Meizu MX 4-core
1468
Nexus 4
1310
Unsurprisingly, The Galaxy S4 is far ahead of its predecessor in terms of pure computing power. The Exynos 4 Quad is simply no match for the Snapdragon 600 or the Exynos 5 Octa, often losing the benchmark battles by a huge margin.
Still, it's worth keeping in mind that synthethic benchmarks show just raw performance, and both phones still offer buttery smooth experience in both user interface and apps or games. The Galaxy S4 does have an advantage as far as heavier games and general loading times are concerned, but it will matter mostly to very heavy users.