Advanced fence-sitting
Samsung Galaxy S4 vs Galaxy S III: Advanced fence-sitting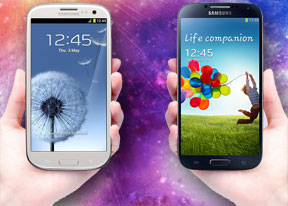 Camera features
The Samsung Galaxy S4 features a 13MP camera that captures photos of up to 4128 x 3096 pixels. There's a 2MP camera on the front and they can snap a photo or record video simultaneously.
The Samsung Galaxy S III uses an 8MP camera sensor capable of snapping stills of up to 3264 x 2448 pixels. There is a front-facing 1.9MP camera too, but both can't be used simultaneously.
The Samsung Galaxy S4 camera interface builds on the Galaxy Camera UI. Its most advanced features are available on a carousel with descriptive images and text and once you're used to them you can switch to a grid, so each shooting mode is only a couple of taps away.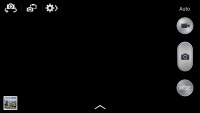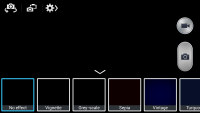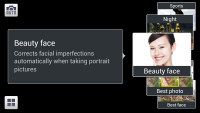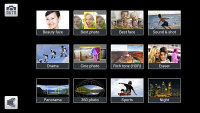 Samsung Galaxy S4 camera interface
Color effects are hidden at the bottom of the screen and they all get a simultaneous live preview to help you choose. Additional settings are available in the upper left, though you'd rarely use those. We're not very happy about Samsung unifying the still and video camera UIs though - if you're shooting 4:3 photos (which you should if you want the full 13MP resolution), you have to frame your videos on a 4:3 viewfinder that expands to 16:9 only after you hit record.
The Galaxy S III uses the old TouchWiz camera interface, which consists of two shortcut bars on each side of the viewfinder.
On the right bar you get the still camera / camcorder switch, a virtual shutter key and the gallery shortcut (which is a thumbnail of the last photo taken).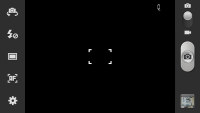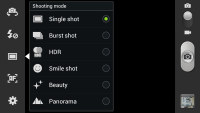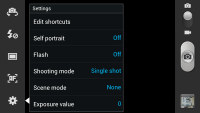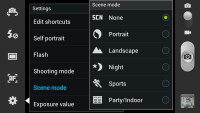 Samsung Galaxy S III camera UI
On the left you get several controls and the good news is that you can pick any four shortcuts to put there - you can easily have all frequently used features just a tap away. The fifth shortcut always points to Settings.
One cool extra about the Galaxy S4 UI, which Galaxy S III lacks, is that it allows you to set the role of the volume rocker - it can be a still camera shutter key, video camera shutter key or zoom lever. Also the S4 skips the lockscreen when you hit the Home key if the currently running app is the camera, which is great for shooting sprees.
Both Galaxy S III and Galaxy S4 offer camera shortcuts on their lockscreens.
The Galaxy S4 has a number of useful shooting modes not present in the Galaxy S III - 360 panorama, 360 photo (Photo Sphere), plus object removal, cinemagrams, Sound & shot (still image plus background audio from the scene), and Drama (takes several shots of a moving object and combines them in a single photo).
The dual-shot mode is pretty sweet as it solves the problem of who gets left out of the group photo (or video). You can move the inlaid picture and resize it, which is great if you need to move it out of the way of a specific object. You can see the image moving when shooting a video too, which is pretty cool. There are several different styles for the inlaid picture.
Those are the exclusive features available only in the Galaxy S4, though we are sure the 360 photo (Photo Sphere) will become available on the Galaxy S III as well after the Android 4.2 update.
Both Galaxy smartphones have a few shooting modes in common - HDR photo, Burst Mode, Beauty Face, and Best Face.
The Galaxy S4 video camera doesn't have as many fancy shooting modes as the still camera, but dual shot is available and you can do slow-motion and time lapse videos. Slow-motion videos can go up to 8x slow down, but resolution drops to 800 x 450 and framerate to 15fps. Time lapse videos can speed things up to 8x, with resolution and framerate remaining at 1080p @ 30fps (time lapse actually requires less processing power than regular video capture).
The Galaxy S III camcorder interface is almost the same as the still camera's - you get the same customizable panel on the left for four shortcuts and a settings button. It is also capable of capturing 1080p @ 30fps, but can't do slow-motion and time-lapse videos.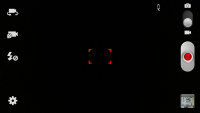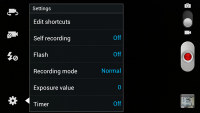 Samsung Galaxy S III camcorder UI
Touch focus is available on both smartphones before and during video recording and you can switch back to continuous autofocus if you prefer. You can capture full res (cropped to 16:9 aspect) photos during recording as well.