Screen comparison
2013 is the year of the 1080p Android flagships and the Samsung Galaxy S4 and HTC One are two of the most prominent members. The Galaxy S4 goes for a bigger 5" Super AMOLED screen, while the One sports a smaller 4.7" Super LCD3.




The screens of the Galaxy S4 and HTC One are pretty awesome
The pixel densities of both are ridiculously high (441ppi for the S4, 469ppi for the One), but honestly anything over 400ppi looks the same. One thing is for sure though, there is a difference between the 400+ppi screens and the 300+ppi screens of the last generation, though it's not a Retina-scale revolution.
Still, it should be noted that the Super AMOLED on the Galaxy S4 uses a PenTile matrix, which means there are fewer sub-pixels in total (two per pixel instead of three). The high pixel density and the odd arrangement of the subpixels does a great job at hiding that, though. So, while the 306ppi Super AMOLED on the Galaxy S III showed some jaggies up close, this one doesn't.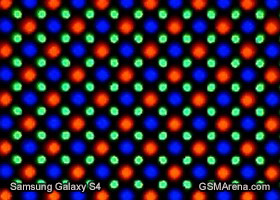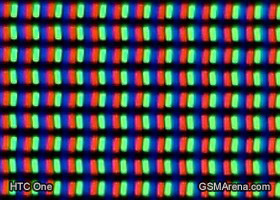 Samsung Galaxy S4 and HTC One screens up close
Many people complain about the oversaturated colors of AMOLED screens (while others prefer them), but Samsung quells such complaints with the special Adobe RGB mode for the display, which greatly improves color accuracy.
Excellent viewing angles and contrast are typical advantages of AMOLEDs and the Galaxy S4 screen is a great example.
The HTC One's screen on the other hand is very much in the running for the best LCD - it has great colors and impressive contrast and viewing angles. There's a slight contrast loss at very wide angles, but you'll probably never notice. Black levels are good and the maximum brightness goes up pretty high.
Display test
50% brightness
100% brightness
Black, cd/m2
White, cd/m2
Contrast ratio
Black, cd/m2
White, cd/m2
Contrast ratio
HTC One
0.13
205
1580
0.42
647
1541
HTC Butterfly
0.14
173
1200
0.45
501
1104
Samsung I9505 Galaxy S4
0
201
∞
0
404
∞
Samsung I9300 Galaxy S III
0
174
∞
0
330
∞
Sony Xperia Z
-
-
-
0.70
492
705
Oppo Find 5
0.17
176
1123
0.51
565
1107
Samsung N7100 Galaxy Note II
0
215
∞
0
402
∞
LG Optimus G Pro
-
-
-
0.41
611
1489
Nokia Lumia 920
-
-
-
0.48
513
1065
LG Optimus G
0.14
197
1445
0.33
417
1438
Apple iPhone 5
0.13
200
1490
0.48
640
1320
Where the One runs into a problem is sunlight legibility - it's good, but not great. It's comparable to that of a Sony Xperia Z and noticeably better than that of the HTC Butterfly. However, the Galaxy S4 screen is just less reflective, giving it better sunlight legibility even if the maximum brightness is lower.
Sunlight contrast ratio
Nokia 808 PureView
4.698
Apple iPhone 5
3.997
Samsung I9300 Galaxy S III
3.419
Samsung Galaxy S4
3.352
Samsung Omnia W
3.301
Samsung Galaxy S
3.155
Nokia N9
3.069
Samsung Galaxy Note
2.970
HTC One S
2.901
Samsung Galaxy S II
2.832
Samsung Galaxy S II Plus
2.801
Huawei Ascend P1
2.655
Nokia Lumia 900
2.562
HTC One
2.504
Sony Xperia Z
2.462
Samsung Galaxy S III mini
2.422
Motorola RAZR i
2.366
Samsung Galaxy Note II
2.307
Apple iPhone 4S
2.269
HTC One X
2.158
Nokia N8
2.144
Oppo Find 5
2.088
BlackBerry Z10
2.051
Apple iPhone 4
2.016
Sony Ericsson Xperia ray
1.955
Samsung Galaxy Camera
1.938
HTC Butterfly
1.873
Sony Xperia V
1.792
Sony Xperia U
1.758
LG Optimus 4X HD
1.691
HTC One V
1.685
LG Optimus Vu
1.680
HTC Desire V
1.646
LG Optimus G Pro
1.552
LG Optimus 3D
1.542
Nokia Asha 302
1.537
Nokia Lumia 610
1.432
Gigabyte GSmart G1355
1.361
HTC Desire C
1.300
LG Optimus L7
1.269
LG Optimus L9
1.227
Meizu MX
1.221
Sony Xperia E dual
1.203
Samsung Galaxy Pocket
1.180
Sony Xperia tipo
1.166
Samsung Galaxy mini 2
1.114
One nice thing about having Android 4.2 and an AMOLED screen is that you can download a Daydream for the Galaxy S4 that shows a simple clock on a black background and you can run this overnight without losing too much battery.
Winner: Samsung Galaxy S4. The Samsung flagship takes this one, as its screen is bigger, with better sunlight legibility, while still offering you the option to have accurate colors thanks to Adobe RGB mode. The HTC One screen is impressive, too, but the higher pixel density can't really make up for the lower native contrast and slightly inferior sunlight legibility.
Battery life
It doesn't matter how cool the screen is or how powerful the processor is if your battery is dead. Both phones pack batteries of over 2,000mAh and a Qualcomm Snapdragon chipset, which usually means efficient standby.
The Samsung Galaxy S4 has a slight advantage in battery capacity - 2,600mAh over 2,300mAh - but its chipset is overclocked so we'll see how that balances out. Also, the screen types will make a difference, LCD usually does well on the web browsing test, while AMOLED typically does better in the video test.
Update, May 10: We ran a new battery test on the Samung Galaxy S4 and updated this page with the results. While before the update, the S4 and HTC One were matched in talk time, now the S4 jumps 4 hours ahead. It's among the longest lasting phones when it comes to talking. The HTC One is pretty good too - we doubt anyone will talk for over 13 hours on a single charge - but the S4 will give you more talk time if you forgot to charge the battery.
Talk time
Motorola RAZR MAXX (ICS)
21:18
LG Optimus G Pro
20:45
Motorola DROID RAZR MAXX
20:24
Motorola RAZR i
20:07
Sony Xperia SP
19:49
Samsung Galaxy S4 (S600)
18:03
Samsung Galaxy Note II N7100
16:57
Sony Xperia Z
16:03
LG Optimus G
15:30
Sony Xperia ZL
15:22
Nokia Lumia 720
15:17
Nokia Lumia 620
14:17
Oppo Find 5
14:17
Google Nexus 4
14:17
HTC One
13:38
HTC One X+
13:31
Nokia Lumia 520
13:33
Samsung Galaxy Grand Duos
12:45
Huawei Ascend P1
12:30
HTC Butterfly
12:18
Samsung Galaxy Note
12:14
Samsung I8530 Galaxy Beam
11:58
Samsung Galaxy Premier
11:30
Asus Padfone 2
11:20
HTC Droid DNA
11:07
HTC Windows Phone 8X
11:07
Samsung Wave 3 S8600
11:07
Samsung I9105 Galaxy S II Plus
11:06
HTC Desire X
11:03
HTC One X (AT&T, LTE)
10:35
Samsung I9300 Galaxy S III
10:20
Samsung I9300 Galaxy S III (JB)
10:15
Samsung Galaxy Xcover 2
10:03
HTC One V
10:00
Meizu MX 4-core
10:00
Samsung Galaxy Express
10:00
HTC One X
9:57
HTC One S
9:42
Samsung I9103 Galaxy R
9:40
HTC Sensation XL
9:30
Nokia Lumia 810
9:05
Nokia Lumia 710
9:05
Acer CloudMobile S500
9:05
Motorola Atrix HD
9:04
HTC Vivid
9:02
Nokia Lumia 920
8:56
Nokia Lumia 610
8:51
HTC Rhyme
8:48
Apple iPhone 5
8:42
LG Optimus 3D Max P720
8:42
Sony Ericsson Xperia neo V
8:41
Meizu MX
8:39
Samsung Galaxy S II
8:35
Samsung Galaxy S Duos
8:28
Nokia Lumia 800
8:25
Samsung Galaxy Nexus
8:23
Nokia Lumia 510
8:22
BlackBerry Z10
8:20
HTC Desire V
8:20
Samsung Captivate Glide
8:20
Sony Xperia T
8:15
HTC Rezound (LTE)
8:10
Samsung Galaxy Note (LTE)
8:02
LG Optimus Vu
7:57
LG Optimus 4X HD
7:41
Apple iPhone 4S
7:41
Samsung i937 Focus S
7:25
HTC Evo 4G LTE (LTE)
7:21
Samsung Galaxy S Blaze 4G
7:14
Nokia Lumia 820
7:09
Sony Xperia acro S
7:09
Samsung Rugby Smart I847
7:09
Sony Ericsson Xperia Pro
6:57
Nokia N9
6:57
HTC Radar
6:53
Samsung Galaxy Ace Duos
6:53
BlackBerry Curve 9380
6:52
Sony Xperia E dual
6:42
Samsung Galaxy S III mini
6:22
Samsung Galaxy Pocket
5:54
Nokia Lumia 900 for AT&T (LTE)
5:53
Sony Xperia ion LTE
5:52
Sony Xperia P
5:33
Nokia 808 PureView
5:16
LG Nitro HD (LTE)
5:16
HTC Titan II (LTE)
5:10
BlackBerry Bold 9790
5:00
Pantech Burst
4:46
The HTC One topped our web browsing chart by beating the Apple iPhone 5 by a hair. It's also the top droid in this test by about 50 minutes. The Galaxy S4 lagged behind in this test by about an hour, but after the update the gap got even bigger. The One can last nearly an hour and forty minutes longer, which is a significant win.
Web browsing
HTC One
9:58
Apple iPhone 5
9:56
Motorola RAZR MAXX (ICS)
9:12
Apple iPad mini
9:05
Samsung Galaxy Note II N7100
8:48
Nokia Lumia 810
8:20
Asus Padfone 2
8:20
Nokia Lumia 610
8:01
HTC One X+
7:56
Sony Xperia E dual
7:42
Samsung Galaxy S III mini
7:38
Nokia Lumia 720
7:37
Samsung Galaxy S4 (S600)
7:24
Motorola DROID RAZR MAXX
7:23
HTC Radar
7:17
Nokia Lumia 520
7:15
Samsung Galaxy Grand Duos
7:09
Samsung Galaxy Express
7:09
Motorola RAZR i
7:06
Apple iPhone 4S
6:56
HTC One V
6:49
LG Optimus G Pro
6:40
Samsung I9105 Galaxy S II Plus
6:40
HTC Droid DNA
6:40
Samsung Galaxy Premier
6:40
Motorola Atrix HD
6:40
BlackBerry Curve 9380
6:40
Sony Xperia Z
6:37
Samsung Galaxy Xcover 2
6:35
BlackBerry Z10
6:27
Samsung I9300 Galaxy S III (JB)
6:27
HTC Butterfly
6:24
Sony Xperia SP
6:18
Samsung i937 Focus S
6:15
Nokia Lumia 510
6:13
Sony Xperia ZL
6:04
HTC Windows Phone 8X
6:01
Sony Xperia ion LTE
5:56
Samsung Rugby Smart I847
5:53
Pantech Burst
5:51
Samsung Galaxy S Blaze 4G
5:45
HTC Desire V
5:44
HTC Evo 4G LTE
5:41
Nokia Lumia 920
5:40
Samsung Wave 3 S8600
5:34
Oppo Find 5
5:33
Sony Xperia T
5:33
Samsung Captivate Glide
5:33
Samsung I8530 Galaxy Beam
5:28
Samsung Galaxy Note LTE
5:24
Samsung Galaxy S Duos
5:23
HTC Sensation XL
5:20
Meizu MX 4-core
5:19
Samsung I9300 Galaxy S III
5:17
Sony Xperia acro S
5:16
HTC Rezound
5:16
HTC Desire X
5:16
LG Optimus G
5:15
HTC Rhyme
5:08
Samsung I9103 Galaxy R
5:07
HTC One X (AT&T)
5:03
Sony Ericsson Xperia Pro
4:50
LG Optimus Vu
4:49
HTC Vivid
4:46
Samsung Galaxy Ace Duos
4:45
Meizu MX
4:35
Google Nexus 4
4:34
Nokia N9
4:33
Acer CloudMobile S500
4:32
Nokia Lumia 820
4:24
Samsung Galaxy S II
4:24
Sony Ericsson Xperia neo V
4:20
HTC One X
4:18
Nokia 808 PureView
4:14
LG Optimus 3D Max P720
4:10
Nokia Lumia 900 for AT&T
4:10
Nokia Lumia 800
4:07
HTC Titan II (LTE)
4:05
HTC One S
4:03
BlackBerry Bold 9790
4:02
LG Nitro HD
4:00
LG Optimus 4X HD
3:59
Sony Xperia P
3:59
Nokia Lumia 710
3:51
Nokia Lumia 620
3:50
Samsung Galaxy Pocket
3:47
Samsung Galaxy Note
3:35
Huawei Ascend P1
3:23
Samsung Galaxy Nexus
3:01
At video playback, both phones do very well with times just over 10 hours. Pre-update, the Galaxy S4 had a small advantage (15 minutes or so), but after the update it added 2 hours and 15 minutes to that lead. The HTC One shows a good improvement over the Butterfly (up by an hour and a half), while the Galaxy S4 climed closer to the top (and beat its predecessor, which had a smaller, lower-res screen, by a nice margin).
Video playback
Motorola RAZR MAXX (ICS)
16:35
Motorola DROID RAZR MAXX
14:17
Apple iPad mini
12:51
Samsung Galaxy Premier
12:51
Samsung Galaxy Note II N7100
11:27
Samsung Galaxy S4
10:16
Apple iPhone 5
10:12
HTC One
10:02
Samsung I9300 Galaxy S III
10:01
Samsung Galaxy Express
10:00
Samsung I9105 Galaxy S II Plus
10:00
Nokia 808 PureView
9:53
Samsung I8530 Galaxy Beam
9:42
Samsung Rugby Smart I847
9:34
HTC One S
9:28
Samsung I9300 Galaxy S III (JB)
9:27
Apple iPhone 4S
9:24
HTC Evo 4G LTE
9:07
BlackBerry Z10
8:44
LG Optimus G Pro
8:40
Nokia N9
8:40
HTC Butterfly
8:28
Samsung Galaxy Note
8:25
Samsung Galaxy Grand Duos
8:11
HTC One X+
8:11
Motorola RAZR i
8:11
Samsung Galaxy S II
8:00
Samsung i937 Focus S
7:55
Samsung Wave 3 S8600
7:52
Samsung Galaxy S III mini
7:46
Sony Ericsson Xperia neo V
7:45
Asus Padfone 2
7:38
Huawei Ascend P1
7:38
Samsung Galaxy S Blaze 4G
7:33
HTC Droid DNA
7:30
Samsung Galaxy Note LTE
7:30
Samsung Galaxy Xcover 2
7:30
Nokia Lumia 610
7:23
LG Optimus G
7:16
Meizu MX 4-core
6:33
Nokia Lumia 620
6:32
HTC Windows Phone 8X
6:27
Sony Xperia E dual
6:27
Nokia Lumia 810
6:27
HTC Desire V
6:26
HTC One X (AT&T)
6:26
Nokia Lumia 820
6:25
Samsung Galaxy Ace Duos
6:25
Nokia Lumia 510
6:23
LG Optimus Vu
6:23
Samsung I9103 Galaxy R
6:21
Nokia Lumia 920
6:19
HTC Sensation XL
6:12
Samsung Galaxy Pocket
6:06
Samsung Captivate Glide
6:04
Sony Xperia ion LTE
6:03
Samsung Galaxy Nexus
6:02
Sony Xperia T
6:01
Motorola Atrix HD
6:01
HTC Vivid
6:00
HTC Radar
5:54
Nokia Lumia 800
5:52
HTC Titan II
5:50
BlackBerry Bold 9790
5:47
HTC One X
5:45
Sony Ericsson Xperia Pro
5:44
Sony Xperia Z
5:39
Sony Xperia acro S
5:38
HTC Desire X
5:38
Pantech Burst
5:38
Meizu MX
5:27
HTC Rhyme
5:23
HTC One V
5:20
Acer CloudMobile S500
5:18
Oppo Find 5
5:18
Nokia Lumia 900 for AT&T
5:18
BlackBerry Curve 9380
5:09
HTC Rezound
5:03
Google Nexus 4
4:55
Samsung Galaxy S Duos
4:30
Sony Xperia P
4:30
LG Nitro HD
4:17
LG Optimus 4X HD
4:14
LG Optimus 3D Max P720
3:28
Nokia Lumia 710
3:27
We crunched the numbers and calculated an overall battery rating of 69 hours for the Samsung Galaxy S4. The HTC One scored just 48 hours. That number shows how long a full battery charge will last if you do an hour of calls, web browsing and watch an hour of video each day.
In the individual tests, the Galaxy S4 beat the HTC One in two out of three by several hours, but crucially lost the web browsing test. We suspect users do more web browsing than watching videos, so that one loss keeps the S4 from total domination.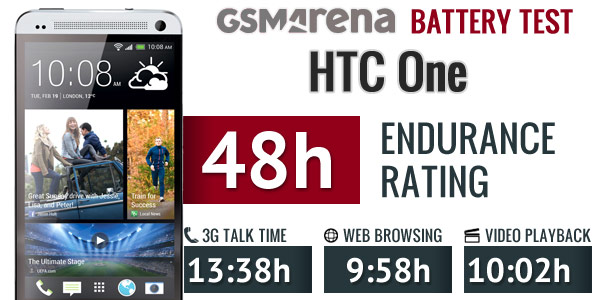 Even so, the Galaxy S4 has plenty of juice for browsing throughout the day and savings in the other categories will allow it to stay ahead of the HTC One in a mixed usage scenario (no one uses their phone just for browsing). The relatively low standby power usage of the S4 means that lighter users will go longer with the S4 (which loses less charge during the night). Keep in mind too that the battery is easily accessible and Samsung will be selling a dedicated charger for a spare battery.
Still, the HTC One might appeal to heavy browsers, especially if they lower the brightness at less than 50% (the One screen is brighter than that of the Galaxy S4).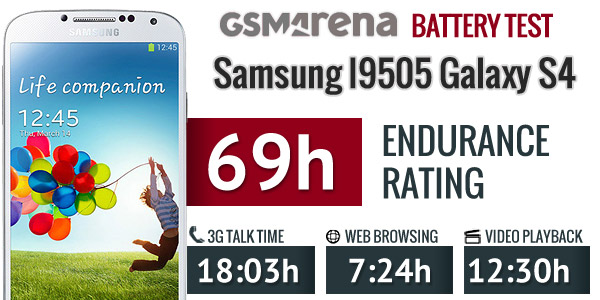 Winner: Samsung Galaxy S4. After the update the gap between the two phones widened in favor of the S4. The HTC One offers good battery life too, but you'll have to charge it more often than the S4.