When worlds collide
Samsung Galaxy S4 vs. Sony Xperia Z: When worlds collide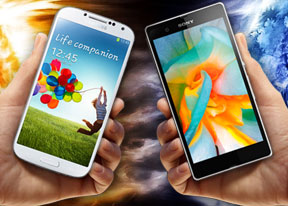 Introduction
If you've been paying attention - and we know you have - there's no way you couldn't have noticed that for a good ten days or so we've all been on and on about two phones. Now, we're about to make it three but don't expect anything radically different.
No sharp turns ahead, at least for another while. Android is where all the worthwhile action is these days. Just out of a clash with the HTC One, the Samsung Galaxy S4 is about to fight it out with another spotlight-stealer. To be fair, and respectful of chronology, it's the Sony Xperia Z that has been waiting to finally meet its match.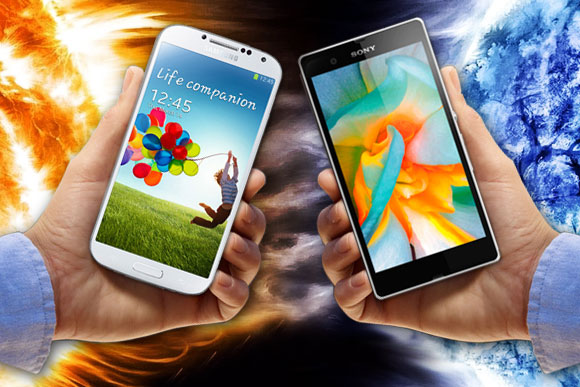 OK, occasions like this are an invitation to dwell on the inevitable. When two impressive smartphones in the Sony Xperia Z and the Samsung Galaxy S4 are about to cross paths, it's not just a sequence of events - it's fate.
But will the Xperia Z meet its nemesis, or is Sony's headstart to the market too much for Samsung to handle? Well, that would be the question on the minds of Samsung and Sony shareholders. We users, on the other hand, should be interested in what each of them has in there "for me"?
Sony Xperia Z over Samsung Galaxy S4
IP57 dust and water protection
Glass-covered body looks way superior
FM radio
HDR video
Already available, slightly cheaper
TV-out via MHL link works with most of the available MHL HDMI cables
Samsung Galaxy S4 over Sony Xperia Z
Screen has superior color reproduction, contrast and viewing angles, works with gloves and air gestures
Newer chipset with higher clock speed
Dual-video recording, can shoot 9.6MP stills while recording video, 60MP panoramas
Infra-red blaster
Android 4.2.2 out of box
Multi-window multitasking
Additional sensors (barometer, thermometer, hygroscope)
Air gestures; Smart stay, Smart pause, Smart scroll
The Xperia Z is clearly a smartphone made to not just compete, but to win. The Galaxy S4 builds on a generations known for amazing screen quality, standard-setting performance, the latest version of the OS available and features unseen before.





Samsung Galaxy S4 and Sony Xperia Z live photos
Completely different ideas stand behind the Sony Xperia Z and the Samsung Galaxy S4, but what they have in common is equally important. These two are definitely in the running for best smartphone of the year, and we'll start with what makes them stand apart in terms of design and build.
X
Galaxy s4 awesome speaker quality, powerful sound ring. Xperia my favorit to with galaxy s4.
V
Your s4 will log and hang man compare to xperia z , your s4 wll stock up