When worlds collide
Samsung Galaxy S4 vs. Sony Xperia Z: When worlds collide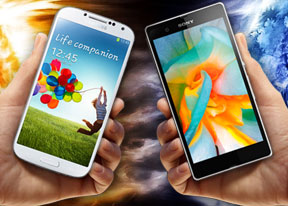 Synthetic benchmarks
Update, May 9: We added the Samsung I9500 Galaxy S4 (the Exynos 5 Octa one) to the benchmarks.
The Xperia Z and the Samsung I9505 Galaxy S4 are powered by Qualcomm chips: the difference between the regular Krait cores inside the S4 Pro (powering the Sony smartphone) and the Krait 300 of the Snapdragon 600 (in the Galaxy S4) are minor but all in favor of the later.
Most importantly, the S4 Pro packs four Krait cores, clocked at 1.5GHz, while the slightly updated Krait 300 cores can run at 1.9GHz in the Samsung Galaxy S4. In addition Krait 300 features a hardware data prefetcher that gets data from the smartphone memory and puts it in the much faster L2 cache before the CPU explicitly asks for it, thus improving the performance even at the same clock speed. There are a number of other changes, but there's no need to get too technical here.
Both smartphones are using 2GB of RAM and Adreno 320 GPU. The GPU clock speed is undisclosed but we suspect it's higher in the Galaxy S4 than the Xperia Z.
We're also including the Samsung I9500 Galaxy S4 in the tests - that's the one using the Exynos 5 Octa chipset, with four Cortex-A15 cores at 1.6GHz cores (well, also four Cortex-A7s but those are for light loads and will not be used during the benchmarks), 2GB of RAM and PowerVR SGX544MP3 GPU.
The first batch of benchmarks tests CPU performance - first of a single core (Benchmark Pi) and then the full multithreaded performance (Linpack and Geekbench). The Galaxy S4 narrowly takes the single-threaded performance and gets a more comfortable lead in the multi-threaded tests.
Benchmark Pi
Lower is better
Samsung Galaxy S4 (Octa)
132
Samsung Galaxy S4 (S600)
132
LG Optimus G Pro
147
HTC One
151
Sony Xperia Z
264
HTC Butterfly
266
Oppo Find 5
267
HTC One X+
280
LG Optimus G
285
Samsung Galaxy Note II
305
HTC One X (Tegra 3)
330
LG Optimus 4X HD
350
Samsung Galaxy S III
359
Meizu MX 4-core
362
Nexus 4
431
Linpack
Higher is better
Samsung Galaxy S4 (Octa)
791
Samsung Galaxy S4 (S600)
788
LG Optimus G Pro
743
HTC One
646
Sony Xperia Z
630
HTC Butterfly
624
LG Optimus G
608
Oppo Find 5
593
Samsung Galaxy Note II
214.3
Nexus 4
213.5
Meizu MX 4-core
189.1
HTC One X+
177.7
Samsung Galaxy S III
175.5
HTC One X
160.9
LG Optimus 4X HD
141.5
Geekbench 2
Higher is better
Samsung Galaxy S4 (Octa)
3324
Samsung Galaxy S4 (S600)
3227
LG Optimus G Pro
3040
HTC One
2708
Sony Xperia Z
2173
HTC Butterfly
2143
Samsung Galaxy S III
1845
LG Optimus G
1723
LG Optimus 4X HD
1661
iPhone 5
1601
AnTuTu and Quadrant are all-inclusive tests that gage pretty much every component (CPU, GPU, RAM, storage, etc.). Both of them place the Samsung Galaxy S4 ahead of the Xperia Z, by a significant margin. The newer chipsets are obviously paying handsome dividends.
AnTuTu
Higher is better
Samsung Galaxy S4 (Octa)
26275
Samsung Galaxy S4 (S600)
24716
HTC One
22678
Sony Xperia Z
20794
LG Optimus G Pro
20056
HTC Butterfly
19513
Samsung Galaxy S III
15547
Oppo Find 5
15167
Quadrant
Higher is better
Samsung Galaxy S4 (Octa)
12446
Samsung Galaxy S4 (S600)
12376
LG Optimus G Pro
12105
HTC One
11746
Sony Xperia Z
8075
HTC One X+
7632
LG Optimus G
7439
Oppo Find 5
7111
HTC One X
5952
Samsung Galaxy Note II
5916
Samsung Galaxy S III
5450
Meizu MX 4-core
5170
Nexus 4
4567
With mobile phone screens topping FullHD resolution, GPUs are under more stress than ever. Luckily for the Galaxy S4 and the Xperia Z, the Adreno 320 is one of the fastest around. The PowerVR SGX544MP3 is also among the fastest - it's used in the Apple iPhone 5.
The GLBenchmark 2.7 test runs at 1080p resolution off-screen, meaning the actual resolution of the physical screen doesn't matter, so we can compare raw performance. The Galaxy S4 tops the charts here, beating the Xperia Z by a good 10-12fps - That's nearly 40% difference in performance and the largest we have seen in all tests so far.
GLBenchmark 2.7 Egypt (1080p off-screen)
Higher is better
Samsung Galaxy S4 (Octa)
43
Samsung Galaxy S4 (S600)
41
HTC One
37
Oppo Find 5
32
Google Nexus 4
32
Sony Xperia Z
31
Sony Xperia ZL
31
Sony Xperia SP
31
Apple iPhone 5
30
LG Optimus G Pro
30
LG Optimus G
21
Samsung Galaxy Note II
17
HTC One X
11
Epic Citadel is a tech demo for the latest Unreal Engine, which is bound to see use in real world games. We ran the test in full resolution with performance set to quality. The Samsung Galaxy S4 and Sony Xperia Z came very close in this test as both often hit the software limit of 60fps. The bottom line is both phones will run heavy games trouble-free.
Epic Citadel
Higher is better
Samsung Galaxy S4 (Octa)
59.8
Samsung Galaxy S4 (S600)
57.1
HTC One
56.4
Sony Xperia Z
55.6
LG Optimus G Pro
54.2
Nexus 4
53.9
Asus Padfone 2
53.4
LG Optimus G
52.6
Samsung Galaxy S III
41.3
Oppo Find 5
38.6
Finally, we tested the web browser performance using the stock Android browser on the Samsung Galaxy S4 and Chrome on Xperia Z as those are the default browsing options on the two.
SunSpider showed vastly superior performance from the Galaxy S4 compared to the Xperia Z and even other droids.
SunSpider
Lower is better
Samsung Galaxy S4 (Octa)
804
Samsung Galaxy S4 (S600)
810
Samsung Ativ S
891
Apple iPhone 5
915
Nokia Lumia 920
910
Samsung Galaxy Note II
972
HTC One X+
1001
LG Optimus G Pro
1011
Motorola RAZR i XT890
1059
HTC One
1124
Samsung Galaxy S III
1192
Meizu MX 4-core
1312
Sony Xperia Z
1336
LG Optimus G
1353
HTC Butterfly
1433
Nexus 4
1971
Oppo Find 5
2045
Vellamo tests HTML5 performance alongside JavaScript performance and here the Xperia Z snagged a victory. Latest-gen Galaxy Note II ended up ahead of both, but keep in mind that the new smartphones have higher resolution screens, which affects web page rendering performance.
Vellamo
Higher is better
Samsung Galaxy Note II
2418
HTC One
2382
Sony Xperia Z
2189
HTC One X (Tegra 3)
2078
Samsung Galaxy S4 (S600)
2060
Samsung Galaxy S4 (Octa)
2056
HTC Butterfly
1866
Oppo Find 5
1658
Samsung Galaxy S III
1641
LG Optimus 4X HD
1568
LG Optimus G
1522
Meizu MX 4-core
1468
Nexus 4
1310
Winner: Samsung Galaxy S4. Samsung used newer chipsets - a Snapdragon 600 clocked higher than Sony's S4 Pro and Exynos 5 Octa with a new architecture - so it's no surprise that its flagship walked to the victory here.