When worlds collide
Samsung Galaxy S4 vs. Sony Xperia Z: When worlds collide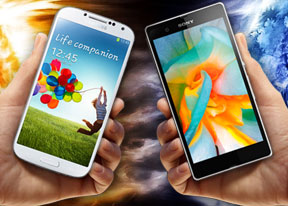 Camera interface and features
Sony Xperia Z
The camera interface on the Xperia Z consists of two panes. The right one holds four virtual buttons - a shortcut to the gallery, video and still shot shutter keys, and a primary/secondary camera toggle. On the left you get the shooting mode selection key in the top corner, followed by three customizable shortcuts. The final shortcut here opens the drawer with all available settings for the given shooting mode.
Sony has also included the Superior Auto Mode and has selected that to be default when you launch the Xperia Z camera. The difference between the Superior auto mode (up to 12MP) and regular mode (up to 13MP) with all settings set to auto is that the first tries to guess what kind of scene you are trying to capture and adjusts all image parameters accordingly. This includes color saturation, contrast, metering mode and what not. The regular auto mode only sets the exposure automatically, but lets you fiddle with the other settings if you prefer.
The good news is the Superior auto mode also tells you what it guessed so you can easily intervene if it gets it wrong. From what our experience so far shows, though, it gets things right almost every time, so unless you are a photography enthusiast or just have to have that extra megapixel of resolution, you're probably better off sticking to Superior auto.
Naturally, the Sony Xperia Z camera offers all kinds of features, including face detection, smile shutter, geo-tagging, touch capture and HDR mode. There's also the home-baked quick launch mode, which lets you select what the camera shortcut on the lockscreen does.
Besides the Superior Auto and Normal Auto modes, you also get Burst (with three levels of speed), Sweep Panorama (resulting in about 5MP picture) and manual scene selection with pre-defined settings.
The Xperia Z camcorder interface is similar to the still camera UI but has fewer settings. There are three types of auto-focus modes - single, face detection and object tracking, but even if you select the single focus mode the smartphone will enable continuous autofocus. You can manually adjust white balance and exposure values, you can also use the LED flash for video light.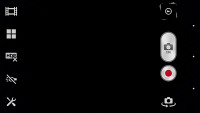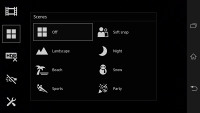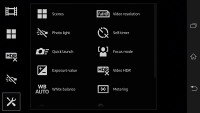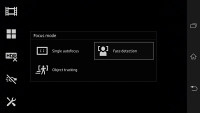 Sony Xperia Z camcorder interface
Finally, the Xperia Z offers HDR for video capture, too, allowing you to capture better footage of scenes with higher contrast.
What came as a disappointment for us is the fact that even though the Xperia Z is able to capture still shots while recording video, it only produces images with 1 megapixel of resolution. That's basically as good as no feature at all, since the individual frames are twice that resolution.
Samsung Galaxy S4
The camera interface of Samsung Galaxy S4 is a departure from the previous versions, which were based on the Galaxy S II interface. This one is based on the Galaxy Camera interface instead.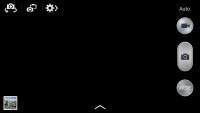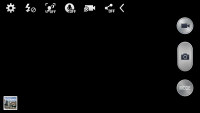 Samsung Galaxy S4 user interface
That means there are two virtual shutter keys (still and video) on the right, plus a mode button. Modes are picked from a carousel with descriptive images and text. At the bottom there's an up arrow for color effects - the cool thing is that all effects do a live preview, Samsung is really showing off the chipset's processing power here.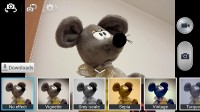 Color effects get a live preview
In the upper left corner, there are a couple of quick settings plus an arrow to reveal more options. One of the more prominent settings here is the dual shot mode, which snaps a photo with both cameras and presents them picture-in-picture style (think video call). You can move and resize the image from the front-facing camera that's taking a photo of you.
In the advanced settings you can activate Burst shot, Face detection and Image Stabilization or manually set the ISO value for the still camera. The camcorder settings include Image Stabilization and Video Resolution only. The third tab allows you to turn in/off geotagging and flash, manually set white balance and exposure values.
The worst thing about the shared camera interface that the Samsung Galaxy S4 employs is that framing 16:9 videos and 4:3 shots is hard on a single viewfinder. You either have to live without the maximum resolution for still shots or learn to frame videos in 4:3 mode and both of those options are pretty awkward.
As for the different camera modes, it's a collection of some of the best camera features on current flagships.
One of the rarest modes is 360 photo. That's basically the same as Photo Sphere - it creates a spherical panorama like you see in Google Street View. Nexus devices aside, the LG Optimus G Pro has such a mode. There's a regular panorama mode as well.
Then there's Sound & shot - it snaps a photo and records a few seconds of background audio, which really gives photos an ambience. If you prefer to have motion in your shots instead of audio, you can create cinemagraphs with the Cine Photo mode.
There's also the Eraser mode, which snaps a burst of photos and automatically detects moving objects and removes them. This is great for popular tourists' attractions as it's quite difficult to get a photo of those without at least one person walking into your shot. This is similar to Scalado based tech in Nokia Lumia phones and the HTC One.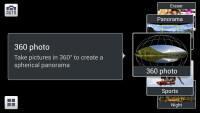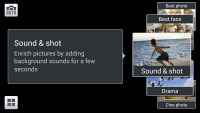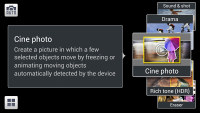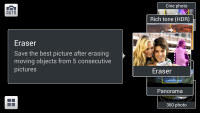 360 photo • Cine photo and Sound & shot • Eraser
Another mode is called Drama, which is basically the same as the HTC One's Sequence shot. It takes multiple photos of a moving subject and creates multiple "clones" of it.
HDR mode is available under the name Rich tone and there is a dedicated Sports mode and Night mode. You can enable auto night mode detection if you don't want to toggle it manually. There's no HDR for videos on the Galaxy S4, though.
The familiar Best Photo and Best Face are, of course, available. They snap multiple photos and pick out the best one. In the case of Best Face, each face can be adjusted individually. So is Beauty Face, which attempts automatic photo retouching to remove "facial imperfections".
Finally, the Samsung Galaxy S4 also allows you to snap 9.6MP images while recording videos.
Winner: Tie. The Sony Xperia Z settings looks better organized and makes framing easier, while the newly adopted camera UI of the Galaxy S4 takes time getting used to. The Samsung flagship however makes up for that with a number of advanced shooting modes.