Lights, Camera, Android!
Samsung Galaxy S4 zoom review: Lights, Camera, Android!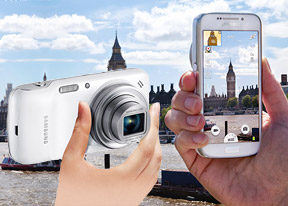 Unboxing the Galaxy S4 zoom
The Samsung Galaxy S4 zoom came in Samsung's new boxes made out of recycled materials (and they are recyclable once you're done with them). The contents are fairly standard: a compact charger and a microUSB cable to go with it, a one-piece headset (in-ear headphones, three button remote), some spare tips for the headset and manuals.
Samsung Galaxy S4 zoom 360-degree spin
The Samsung Galaxy S4 zoom measures 125.5 x 63.5 x 15.4mm, the same height and width as the S4 mini, but thicker. Obviously. The actual number doesn't tell the whole story as the device itself isn't all that thick, save for two key areas - the lens and the grip. The first is out of necessity (you can make a 10x lens only so thin) and the other's for the sake of ergonomics.
Design and handling
The Galaxy S4 zoom has two faces - that of an S4 mini on the front and a Samsung camera on the back.
The design of the S4 zoom is fundamentally the same as the Galaxy Camera's, tough Samsung has moved some things around. If you ignore the back for a second, the device is almost identical to the mini, except the volume rocker is now on the right side. This allows you to use the Zoom in the same way you would the S4 mini.
For snapping photos, the grip offers a good hold of the device and you can shoot one handed without worrying you'll drop it. Samsung's favorite hyperglazed plastic is rather slippery which isn't ideal but isn't a deal breaker either.




The brushed metal strip is a nice visual element
The arrangement of the controls is fairly comfortable, whether you use the Galaxy S4 zoom as a phone or as a camera. Not in equal amounts though - holding it horizontally by the grip is a lot better than holding it vertically with the camera lens pressing against your palm.



Samsung Galaxy S4 zoom in the hand
We noticed something odd - there's a piece of glass (or clear plastic) on the front of the lens, over the mechanical lens cover. That means you can't rely on the cover for protection from smudges and the glass can get scratched too. We hope this is some sort of reinforced glass that will be durable enough to survive in the long run though.
Anyway, to further emphasize the camera-centric nature of the device, there's a tripod mounting hole at the bottom. There's a small stopper plugging it when not in use, but since it's not attached to the camera you should be careful not to lose it. This can be used in situations when you need a steady shot (e.g. time lapse videos). The Optical Image Stabilization is usually good enough for a handheld night shot.
The Samsung Galaxy S4 zoom is quite thick and heavy compared to a modern smartphone, but still pocketable, unless you're wearing tight jeans. You might want to consider using the lanyard eyelet instead and carry the device like a regular camera.
Display
The Samsung Galaxy S4 zoom packs a 4.3" Super AMOLED screen picked up from the S4 mini parts bin. It has qHD resolution (540 x 960) and 256ppi. That's not enough to challenge higher-end devices like the Galaxy S4 or the Galaxy Camera, but reasonable in the midrange. And it's not a PenTile, but instead uses the arrangement that debuted with the Galaxy Note II.
Here's a closer look at the display: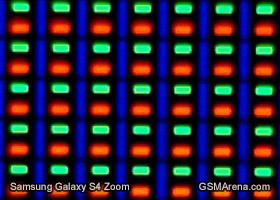 Samsung Galaxy S4 zoom display under a microscope
Super AMOLED renders highly saturated colors (if you're a fan of that) and has great colors and viewing angles. It isn't particularly bright though.
Display test
50% brightness
100% brightness
Black, cd/m2
White, cd/m2
Contrast ratio
Black, cd/m2
White, cd/m2
Contrast ratio
Samsung I9190 Galaxy S4 mini
0
166
∞
0
396
∞
Samsung I9295 Galaxy S4 Active
0.20
207
1053
0.57
594
1046
Samsung Galaxy S4 zoom
0
191
∞
0
384
∞
HTC One
0.13
205
1580
0.42
647
1541
Samsung I9505 Galaxy S4
0
201
∞
0
404
∞
Samsung Galaxy Camera
0.26
224
849
0.57
484
843
Samsung I9300 Galaxy S III
0
174
∞
0
330
∞
Sony Xperia Z
-
-
-
0.70
492
705
Nokia 808 PureView
-
-
-
0
455
∞
Nokia Lumia 920
-
-
-
0.48
513
1065
LG Optimus G
0.14
197
1445
0.33
417
1438
Apple iPhone 5
0.13
200
1490
0.48
640
1320
Sunlight legibility is important for a camera with no viewfinder as you have to rely on the screen and you'll probably be taking a lot of photos with the sun to your back. The Galaxy S4 zoom does very solidly here, bring only slightly more reflective than the best performing Samsung AMOLED screens. There are going to be very few cases when the S4 zoom display is hard to see in direct sunlight.
Sunlight contrast ratio
Nokia 808 PureView
4.698
Apple iPhone 5
3.997
Samsung I9300 Galaxy S III
3.419
Nokia Lumia 925
3.402
Samsung I9505 Galaxy S4
3.352
Samsung Omnia W
3.301
Samsung Galaxy S
3.155
Samsung Galaxy S4 mini
3.127
Samsung Galaxy S4 zoom
3.118
Nokia N9
3.069
Samsung Galaxy Note
2.970
HTC One S
2.901
Samsung Galaxy S II
2.832
Samsung Galaxy S II Plus
2.801
Huawei Ascend P1
2.655
Nokia Lumia 900
2.562
Nokia Lumia 720
2.512
HTC One
2.504
Sony Xperia Z
2.462
Samsung Galaxy S III mini
2.422
Motorola RAZR i
2.366
Samsung Galaxy Note II
2.307
Apple iPhone 4S
2.269
HTC One X
2.158
Nokia N8
2.144
Oppo Find 5
2.088
BlackBerry Z10
2.051
Apple iPhone 4
2.016
Sony Ericsson Xperia ray
1.955
Samsung Galaxy Camera
1.938
HTC Butterfly
1.873
Sony Xperia V
1.792
Sony Xperia U
1.758
LG Optimus 4X HD
1.691
HTC One V
1.685
LG Optimus Vu
1.680
HTC Desire V
1.646
LG Optimus G Pro
1.552
LG Optimus 3D
1.542
Nokia Asha 302
1.537
Nokia Lumia 610
1.432
Gigabyte GSmart G1355
1.361
HTC Desire C
1.300
LG Optimus L7
1.269
LG Optimus L9
1.227
Meizu MX
1.221
Sony Xperia E dual
1.203
Samsung Galaxy Pocket
1.180
Sony Xperia tipo
1.166
Samsung Galaxy mini 2
1.114
The display doesn't use a PenTile matrix, instead it uses the arrangement that debuted with the Galaxy Note II with three subpixels for each pixel, but the Blue one has a different shape. Anyway, the sharpness isn't on the level of 400+ ppi flagships and you can notice occasional jaggies and color halos around fine, high-contrast detail like text, but you won't see it in photos.


Samsung Galaxy S4 zoom packs a 4.3" Super AMOLED screen with qHD resolution
While 4.3" of diagonal and qHD resolution are in the midrange as far as smartphones are concerned, the display is actually pretty high-end for a point-and-shoot camera. Most cameras you'll find have 3-or-so inch screens (even the touchscreen models) and far lower resolution.