Lights, Camera, Android!
Samsung Galaxy S4 zoom review: Lights, Camera, Android!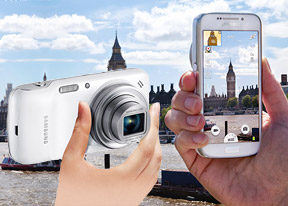 Motion gestures and Smart Screen
The Samsung Galaxy S4 zoom comes with several advanced TouchWiz-exclusive features, though not as many as a regular S4.
The familiar Smart Display features, Smart Stay and Smart Rotate, are enabled too. Stay prevents the screen from locking as long as the front-facing camera can see your face (great for reading) and Rotate uses the orientation of your face rather than accelerometer feedback to decide how to rotate the screen (the accelerometer gets this wrong if you're lying on your side).
Samsung's older motion gestures are here too. There's direct call (dial the contact whose details you're currently viewing by lifting the phone up to your face), smart alert (makes the phone vibrate when you pick it up if there are missed events), zooming and panning in the gallery, a shake of the phone to refresh the list of Bluetooth devices and muting alarms or pausing music playback by putting the phone face down.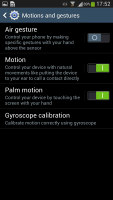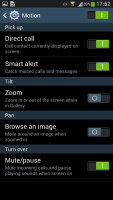 The gestures from S III and Note II are on board too
You can also pause the music player by putting your palm over the screen. A palm swipe takes a screenshot (but so does holding down the Home and Power buttons, which we find easier).
S Voice and Google Now
S Voice is Samsung's answer to Apple's Siri and is preloaded on the Galaxy S4 zoom. S Voice can be used to initiate a call, dictate text, play music, open an app, change a setting, make a memo (including voice memo), add a reminder, schedule an event, set an alarm or timer, check the weather, do a search on the internet, look for local listings (e.g. nearby restaurants) and even get an answer to a question.
S Voice does duplicate parts of Google Now, but being less search focused it tries to do more on the actual phone and it has some added features. Some of these are available outside of S Voice too, so you can set the Galaxy S4 zoom to answer a call, snooze an alarm, take a photo and what not by voice commands even when S Voice isn't running. The problem with S Voice is not nearly as fast or as accurate at recognizing your speech input as Now.
Naturally, being a Jelly Bean smartphone, the S4 Active also comes with Google Now.
Google Now integrates with your Google account and can access your daily routine, internet searches, email, etc. and give you information relevant to you.
It provides traffic information to your work or home, knows the scores of sports teams you follow, and offers the weather forecast for your location.
Google Now also has its own separate widget for the homescreen or lockscreen.
Synthetic benchmarks
The Samsung Galaxy S4 zoom packs a relatively old chipset, an Exynos 4212, which is more or less what the Galaxy S II had except that the newer part is built on a slightly better process and has 1.5GB of RAM. Other than that you get two Cortex-A9 cores clocked at 1.5GHz (this is where the new process kicks in) and a Mali-400 GPU. We're not expecting miracles on the CPU front, but the GPU should be good enough for the qHD screen.
Single-threaded performance is no match for new Krait cores, but some phones (like the Nexus 4) still struggle with performance. Multi-threaded performance is not great, as can be expected out of two relatively slow cores.
Benchmark Pi
Lower is better
Samsung Galaxy S4 (Octa)
132
Samsung Galaxy S4 (S600)
132
LG Optimus G Pro
147
HTC One
151
Sony Xperia Z
264
HTC Butterfly
266
Oppo Find 5
267
HTC One X+
280
LG Optimus G
285
Samsung Galaxy Note II
305
Samsung Galaxy S4 zoom
326
HTC One X (Tegra 3)
330
Samsung Galaxy S III
359
Nexus 4
431
Linpack
Higher is better
Samsung Galaxy S4 (Octa)
791
Samsung Galaxy S4 (S600)
788
LG Optimus G Pro
743
HTC One
646
Sony Xperia Z
630
HTC Butterfly
624
LG Optimus G
608
Oppo Find 5
593
Samsung Galaxy Note II
214.3
Nexus 4
213.5
HTC One X+
177.7
Samsung Galaxy S III
175.5
HTC One X
160.9
Samsung Galaxy S4 zoom
95.5
Geekbench 2
Higher is better
Samsung Galaxy S4 (Octa)
3324
Samsung Galaxy S4 (S600)
3227
LG Optimus G Pro
3040
HTC One
2708
Sony Xperia Z
2173
HTC Butterfly
2143
Samsung Galaxy S III
1845
LG Optimus G
1723
iPhone 5
1601
Samsung Galaxy S4 zoom
1222
The system-wide benchmarks AnTuTu and Quadrant put the Galaxy S4 zoom near the bottom, though its Quadrant score is pretty close to the Galaxy S III. It's a relatively old benchmark, the newer AnTuTu sees a bigger (but still not 2x) performance gap between the two.
AnTuTu
Higher is better
Samsung Galaxy S4 (Octa)
26275
Samsung Galaxy S4 (S600)
24716
HTC One
22678
Sony Xperia Z
20794
LG Optimus G Pro
20056
HTC Butterfly
19513
Samsung Galaxy S III
15547
Oppo Find 5
15167
Samsung Galaxy S4 zoom
10630
Quadrant
Higher is better
Samsung Galaxy S4 (Octa)
12446
Samsung Galaxy S4 (S600)
12376
LG Optimus G Pro
12105
HTC One
11746
Sony Xperia Z
8075
HTC One X+
7632
LG Optimus G
7439
Oppo Find 5
7111
HTC One X
5952
Samsung Galaxy Note II
5916
Samsung Galaxy S III
5450
Samsung Galaxy S4 zoom
4956
Nexus 4
4567
GLBenchmark 2.5 and 2.7 were run in 1080p offscreen mode - four times the physical resolution of the screen. If nothing else, this test shows the S4 zoom packs about as much GPU power as the Galaxy Note II.
Epic Citadel, which runs at screen resolution, shows that the GPU is quite enough for qHD gaming. The 56+ fps result means that framerate rarely dips below 60fps.
GLBenchmark 2.5 Egypt (1080p off-screen)
Higher is better
Samsung Galaxy S4 (Octa)
43
Samsung Galaxy S4 (S600)
41
HTC One
37
Oppo Find 5
32
Google Nexus 4
32
Sony Xperia Z
31
Sony Xperia ZL
31
Sony Xperia SP
31
Apple iPhone 5
30
LG Optimus G Pro
30
LG Optimus G
21
Samsung Galaxy Note II
17
Samsung Galaxy S4 zoom
16
HTC One X
11
GLBenchmark 2.7 T-Rex (1080p off-screen)
Higher is better
Samsung Galaxy S4 (S600)
17.1
Samsung Galaxy S4 (Octa)
17.1
Apple iPad 4
16.8
Google Nexus 10
13.9
LG Optimus G
13.9
Sony Xperia Z
13.5
Sony Xperia Tablet Z
13
Sony Xperia ZL
12.8
Samsung Galaxy Note II
4.9
Samsung Galaxy S4 zoom
4
Epic Citadel
Higher is better
Samsung Galaxy S4 (Octa)
59.8
Samsung Galaxy S4 (S600)
57.1
Samsung Galaxy S4 zoom
56.6
HTC One
56.4
Sony Xperia Z
55.6
LG Optimus G Pro
54.2
Nexus 4
53.9
Asus Padfone 2
53.4
LG Optimus G
52.6
Samsung Galaxy S III
41.3
Oppo Find 5
38.6
The Samsung Galaxy S4 zoom showed impressive performance when it comes to web browsing. Both JavaScript performance (SunSpider) and HTML5 rendering (BrowserMark 2) rival current flagships (the lower resolution helps in the latter test). Vellamo's browser test has it pretty close too.
SunSpider
Lower is better
Samsung Galaxy S4 (Octa)
804
Samsung Galaxy S4 (S600)
810
Samsung Ativ S
891
Apple iPhone 5
915
Nokia Lumia 920
910
Samsung Galaxy Note II
972
HTC One X+
1001
LG Optimus G Pro
1011
Samsung Galaxy S4 zoom
1056
Motorola RAZR i XT890
1059
HTC One
1124
Samsung Galaxy S III
1192
Sony Xperia Z
1336
LG Optimus G
1353
HTC Butterfly
1433
Nexus 4
1971
Oppo Find 5
2045
BrowserMark 2
Higher is better
LG Optimus G
2555
Samsung Galaxy S4 (S600)
2438
Samsung Galaxy S4 zoom
2401
HTC One
2262
Sony Xperia ZL
2107
Sony Xperia Z
2093
Nexus 4
1794
Nokia Lumia 920
1774
HTC Butterfly
1475
Samsung Galaxy S III
1247
Vellamo
Higher is better
Samsung Galaxy Note II
2418
HTC One
2382
Sony Xperia Z
2189
HTC One X (Tegra 3)
2078
Samsung Galaxy S4 (S600)
2060
Samsung Galaxy S4 (Octa)
2056
HTC Butterfly
1866
Samsung Galaxy S4 zoom
1721
Samsung Galaxy S III
1641
LG Optimus G
1522
Nexus 4
1310