Lights, Camera, Android!
Samsung Galaxy S4 zoom review: Lights, Camera, Android!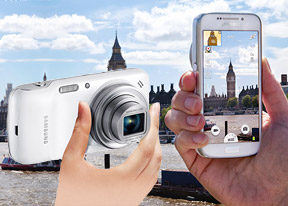 All the latest connectivity options
The Samsung Galaxy S4 zoom starts off with the basics - quad-band GSM
/GPRS/EDGE and quad-band 3G. An LTE-variant of the device will also be available for supported regions.
Samsung's latest Android flagship uses Bluetooth 4.0 alongside Wi-Fi support which includes a/b/g/n, with both 2.4GHz and 5GHz band compatibility.
The Galaxy S4 zoom allows you to share all sorts of media via NFC by simply touching the S4 and other later-generation S devices back-to-back. You can share with other NFC devices as well, but functionality is limited to what is provided by the stock Android Beam.
The AllShare DLNA functionality, which used to be a standalone application, is now more thoroughly integrated into the respective Samsung applications. To share or access content from nearby DLNA-enabled devices, you do this directly from the My Video app and the Music Player.
There's also an IR-port, which allows you to control various TV's and other devices using Samsung's WatchON app, which we'll cover below.
And finally, for wired connectivity we have the MHL 2.0 port. By all appearances it is a normal microUSB port and works as one (a charger port as well). But the MHL 2.0 port enables video output by using a MHL-to-HDMI dongle. There isn't one included in the retail box and those can be hard to come by.
Once you plug the dongle into the phone you also need to plug a charger into the additional microUSB port on the dongle and the Galaxy S4 zoom screen will be mirrored on the TV.
The MHL 2.0 port has yet another feature - it features USB On-The-Go. You'll need an adapter for that too (there isn't one in the box) but this one is fairly straightforward - you plug it into the Galaxy S4 Active and plug a standard USB cable on the other end.
Polished web browser
The Samsung Galaxy S4 zoom comes the stock Android browser, which is fast, optimized and packs a good deal of features.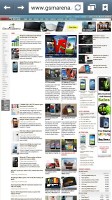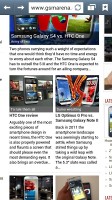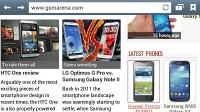 Browsing GSMArena.com on the Samsung Galaxy S4 zoom
The browser supports both multiple double tap and pinch zooming along with the two-finger tilt zoom. There are niceties such as multiple tabs, text reflow, find on page, request desktop site and so on. It even has its own separate brightness slider with an Automatic brightness toggle.
The Web browser comes with Incognito mode, which enables you to surf the web without the browser keeping track of your history or storing cookies.
Unfortunately, the Quick settings are missing, we quite liked those. Also, Flash is no longer welcome as even the stock browser has dropped support for plug-ins.
S Apps and more
The Samsung Galaxy S4 zoom features a wide array of advanced features and applications that really make it stand apart from other flagships.
One of the coolest apps is called Group Play. It shares various multimedia across multiple devices in the same room, but unlike DLNA it's interactive.
One use case is to play a music track on the Samsung Galaxy S4 zoom and use multiple phones as speakers. You can pick the role of each phone (e.g. left channel, right) all the way up to surround sound. This way you can control the music from one phone but use the loudspeakers of all.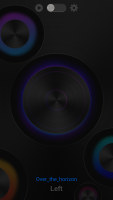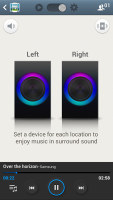 Multiple phones can turn into a multi-channel audio system
Of course, the other phones will need to support Group Play - the phones communicate over Wi-Fi (your Galaxy S4 zoom becomes a hotspot that others connect to) and the pairing is done via NFC. Manual pairing is possible too.
More useful are the options to share a picture or a document - you can have the same picture appear on everyone's phone and you can draw over it if you need to highlight a certain element of the image.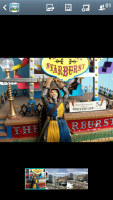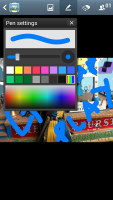 Sharing a photo and drawing over it
Finally, perhaps the coolest feature of Group Play is that it allows for multiplayer games to be played on several phones simultaneously. Of course, only supported games work - there weren't any games preloaded on our unit but you can grab some from the Play Store.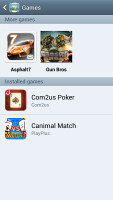 Group Play enables multiplayer games
Moving on, there's Samsung Link, another way to share content between devices. Unlike Group Play, Samsung Link is intended for just your devices - you can link the phone to a computer that is synced with Dropbox, SkyDrive or SugarSync and remotely access content on that device.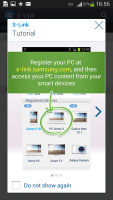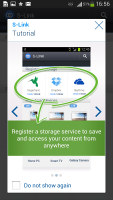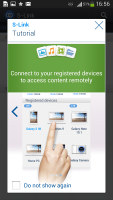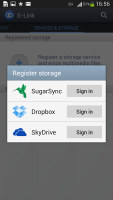 Samsung Link lets you access content from your computer remotely
S Translator will help travelers - it can translate between two languages using either typed text or by using speech recognition. It can read out the resulting translation too, if you don't think your Korean accent can cut it. S Translator supports all the widely-spoken languages - English, Chinese, Spanish, Portuguese, French, German, Italian, Japanese and, of course, Korean.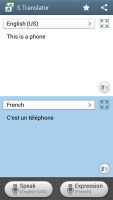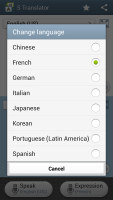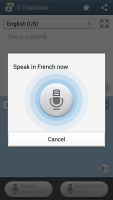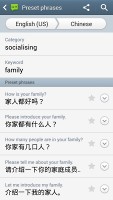 S Translator can be invaluable when traveling
Samsung WatchON is the primary app used with the built-in IR emitter on the top of the phone. The app starts out by asking your zip code and pulls up a number of TV service providers in that area.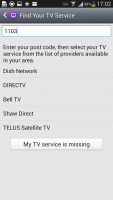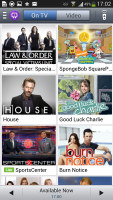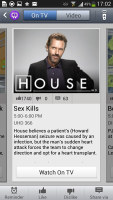 WatchON has built-in TV guide integration
This is so that the app can show you a TV guide with shows currently on or upcoming on the channels offered by the service provider. You can read a description of the show, check out its popularity in up/down votes (and vote yourself, of course) and comments. You can also set reminders for shows you want to watch.
Anyway, the key element of the app is the IR remote control functionality. The app can control TVs, DVD and Blu-ray players and streaming media players. Devices are organized by rooms.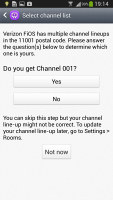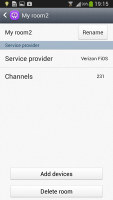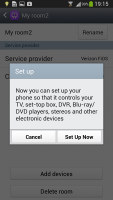 Adding a new room and a new device
One thing we really liked about the app is that it knows some home setups are messy - some let you change channels with the TV remote, others require you to use the set-top box remote for that. Same for the audio, you might be using the TV to output the sound or an AV receiver. The app will ask about your setup and present a unified remote control interface even if you have multiple hardware remotes to control all the devices.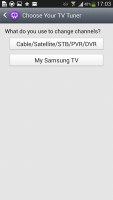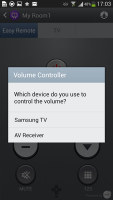 Complicated home setups can be greatly simplified
Finally, S Health is Samsung's home-brewed health and fitness tracking application. It starts off by getting you to create a profile which includes all your vital statistics, such as age/weight/gender and level of activity, plus your calorie consumption goals.
It provides a pleasant interface which gives you an at-a-glance look at your progress, as well as walking, exercise, and fitness trackers. S Health also supports a number of optional accessories, which enables it to give even more detailed info on your status.