Rumors about the Samsung Galaxy S4 Zoom have been heating up lately, but we are still not 100% sure whether that's a smatphone with a zoom lens or it's a new Galaxy Camera, which uses the S4 name merely for marketing purposes. The device was recently certified as a Samsung mobile phone by the Bluetooth certification body, but that only says you can take calls on it. It does not mean it's not the second generation Galaxy Camera.
The camera sample has surfaced on the Google+ account of someone named, Shahriar Hossain, who supposedly works for Samsung Electronics Limited in Bangladesh. The author of the photo also seems to confirm the name Galaxy S4 Zoom is tied to this model number in the comments to the snapshot.
This newly leaked camera sample has some interesting EXIF tags, which can shed some light on the truth about their maker - the camera in question.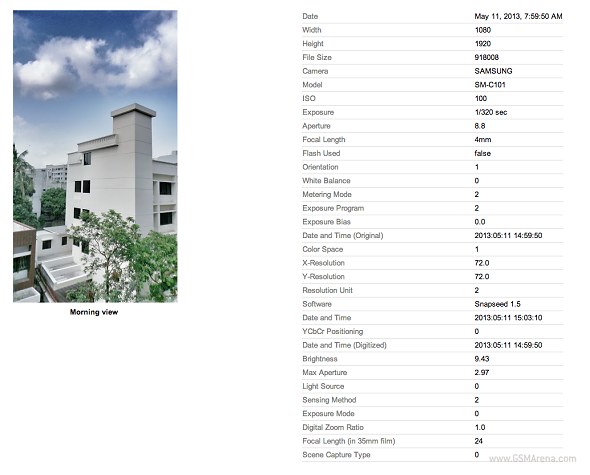 The model name of SM-C101 is the same as the one mentioned by Bluetooth SIG. The original Galaxy Camera has a model number of EK-GC100. It's quite close, as you see, and nothing like the GT/SGH/SCH/SHV/SPH model naming scheme we see with Samsung's smartphones. So that's a big point in favor of the device being a smart camera more than anything else.
As for the photographic tech specs, the EXIF tags also show us the photo has been shot at 24mm focal length (in 35mm equiv). Currently, cameraphones don't offer as wide viewing angles as this. Unfortunately, it doesn't quite tell us what sort of zoom level the lens offers.
Judging by the available numbers, our own little math of the sensor size works out to a diagonal of 1/2.5", which is quite unusual for a smartphone (too large), but considered regular among point-and-shoot digicams.
Finally, the aperture is clearly variable (as opposed to the fixed size aperture on 99.9% of all cameraphones) as the EXIF tag reports a widest aperture of F2.97, while the photo in question has been taken at F8.8.
Well, there's still time to place your bets on whether that's a camera with phone functionality or a smartphone with a zoom lens. Rumors have it that Samsung will unveil the device this June under the Galaxy S4 Zoom moniker.
Thanks for the tip, Zomer.
D
Yeah right, no lag - http://www.youtube.com/watch?v=0bDDDifo09U http://www.youtube.com/watch?v=W6pAJt7yaBY
D
It's a galaxy camera FFS. I'm sick to death of the BS that android fanboys come up with
B
First of all, before you criticize something you should at least make sure you know how to talk/type. It looks like a five year old typed your comment, which pretty much guarantees that nobody will find your opinion credible. Second, if anybody so...
ADVERTISEMENTS