The Samsung Galaxy S4 zoom has been put up for pre-order by German online retailer Cyberport.de for €499. This will most likely translate to roughly the same amount in USD for the US market, as typically mobile products heading overseas will enjoy a lower relative pricetag.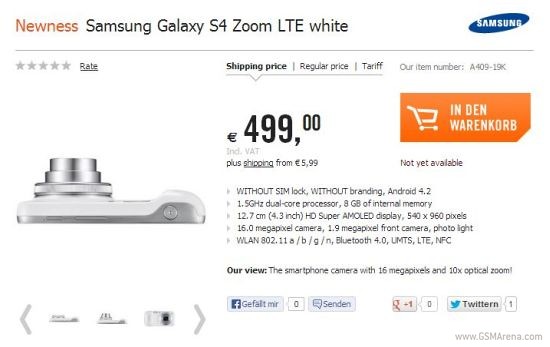 The Samsung Galaxy S4 zoom takes an unorthodox approach to cameraphones, by adding a proper digicam to the back of a smartphone. The device offers a dual-core 1.5 GHz processor with 8GB of internal storage, 1.5 GB of RAM and a 4.3-inch display of 540 x 960 pixels, all running on Android 4.2.2 Jelly Bean.
The headliner is, of course, the 16 MP camera with 10x optical zoom, OIS, and F/3.1-F/6.3 lens. At this price, the combination of dedicated camera and smartphone will likely find support in a niche market of users looking to save on both price and the number of devices they'll be carrying around.
Thanks , Vlad, for the tip!
D
Pllllz I want to know its price in Saudi Arabia (kSA)
?
Except it works great as both and people getting it understand it's not a flat phone. DUH?
?
Ok. So because in your opinion the 808 is all around better camera means this is no good. Because one other phone out of every single other is better? To which the 808 is not entirely better. This has advantages as a camera and in final product mig...
ADVERTISEMENTS