Rich connectivity has it all
The Samsung Galaxy S5 features extensive connectivity options, but do note that LTE is market dependent. Without it, the phone can do 42Mbps downlink and 5.76Mbps uplink, with it those values jump up to 150Mbps / 50Mbps.
Local connectivity also includes Wi-Fi a/b/g/n/ac support, with 2.4GHz and 5GHz band compatibility. Wi-Fi Direct and DLNA support are also available.
A feature borrowed from the iPhone (which later dropped it) is called Download booster - files over 30MB are downloaded over LTE and Wi-Fi simultaneously. This also works for native apps that have been set to use Wi-Fi only, but not for third party apps.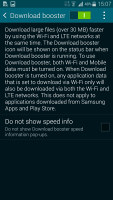 Download boosted speeds up downloads
Bluetooth 4.0 + LE is also available (it's used on all new smartwatches and other wearables), plus there's ANT+ for additional sports gadgets. NFC is available for quick pairing, with Android Beam and S Beam handling file transfers.
GPS and GLONASS receivers are available for accurate location info.
There is a microSD card slot as well, on top of the 16/32GB of inbuilt storage. All that storage can be filled quickly enough thanks to the microUSB 3.0 port. It's backward-compatible with microUSB 2.0 if you don't happen to have a USB 3.0 cable around.
The Samsung Galaxy S5 also supports USB-on-the-go, but you will need to buy an adapter for that. TV out is available too, if you have an HDMI adapter and the phone can output surround sound. Wireless screen mirroring is available too.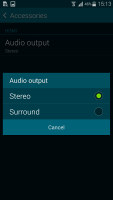 The Galaxy S5 can output surround sound
An IR blaster allows the phone to control a TV using Samsung's Smart Remote app. The app can also handle disc players, AV receivers, streaming media boxes and even air conditioners. Once you set it up, its controls will be available on the lockscreen.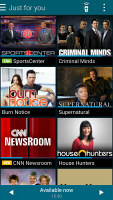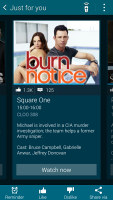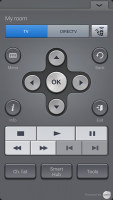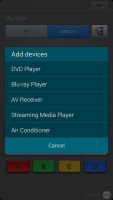 Smart Remote will tell you what's on TV and change the channel too
If you have certain Samsung or HP printers, you can wirelessly send photos, documents and other things (e.g. web pages, contact information) to be printed too.
Web browser
The Samsung Galaxy S5 comes with both the stock Android browser (customized by Samsung) and Google's Chrome. Both support Multi-window, but only the stock browser supports Air View.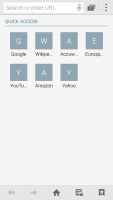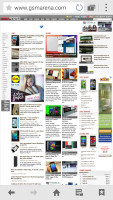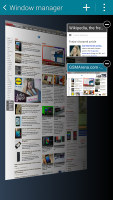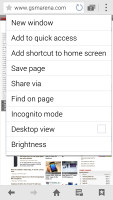 Browsing GSMArena.com on the Samsung Galaxy S5
Anyway, the interfaces of both browsers are virtually identical. Both show favorite web sites on their new tab page and can sync bookmarks and open tabs across devices. The browsers handle multiple tabs (with Incognito mode), but in Chrome you can switch between tabs by horizontal swipes from the side, which is pretty handy.
Voice input is available if you don't feel like typing up a query.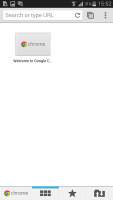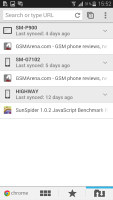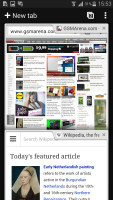 Chrome is also available out of the box
Air view, Smart scroll and Smart stay all work in the browser, the first of which lets you simply hover your finger over a web element and it will act like mouse-hover, which is great for websites not optimized for mobile devices.
Note that Chrome has an option to reduce traffic by compressing web pages on Google's servers before they are sent to the device, similar to how Opera's Turbo mode (and Opera Mini) work.
Flash is no longer welcome as even the stock browser has dropped support for plug-ins.
S Apps
The Samsung Galaxy S5 has a number of features that enhance the security of your data. There are basics like encrypting the phone and the external memory card in addition to the more selective Private mode option.
There's also Find my mobile out of the box. It has remote controls so you can reset and lock the device if you lose it and check its location on a map. Once reset, you can prevent the phone from being reactivated. The phone can send out a message the moment a new SIM card is inserted.
There's also a backup function that keeps your phone logs, messages, wallpaper and several other settings backed up in the cloud.
S Health has gotten even more advanced. The step counter is always working in the background, keeping track of how many calories you've burned. For more accurate measurements, the Galaxy S5 also features a heart rate monitor.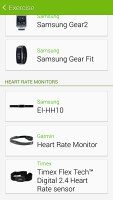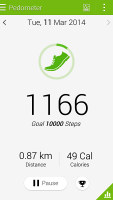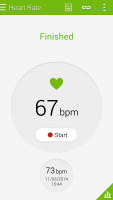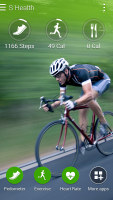 S Health tracks your exercise and heart rate
You just press the tip of your finger against the sensor (below the camera, next to the flash) and in a few seconds you see the reading. For continuous readings, you can pair the phone with a Gear smartwatch or a dedicated sensor made by Samsung, Timex or Garmin.
Besides the basic pedometer, S Health can also track running, cycling and hiking. Goals can be set based on distance, time or calories. During an exercise the app can play music and report your progress out load.
Having burned up some calories, you can tell the app what you've had to eat in great detail. The app has extensive lists of various foods and their energy value. Calories - both eaten and burned - can be tracked on graphs by hour, day and month.
You can share your workouts with friends (including photos) if you're the competitive type. You don't have to take the Galaxy S5 on a run with you either, a Gear device can take the readings, which will be synced with S Health.
While S Health is quite advanced, third party apps can integrate with it and provide even more comprehensive exercise tracking though there are none as of yet.