Standard organizer
While it wasn't preinstalled, the Polaris Office 5 is available as a free download from Samsung Apps. Just go to the Galaxy Essentials category (there you'll find other useful apps too). Anyway, Polaris has a clean interface and does both viewing and editing of Office documents.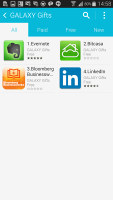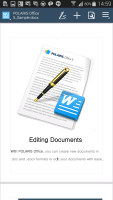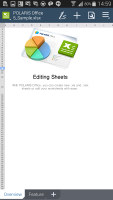 The Polaris Office editor hands Word, Excel and PowerPoint documents
The Android calendar has been replaced by S Planner (as usual). It features six different views: daily, weekly, monthly, yearly, list and tasks. For the month view, events on the selected day are listed in a panel on the right.
Adding a new event is quite straightforward and you can also set an alarm to serve as a reminder. Multiple online calendars are supported and they can be color-coded for easier recognition.
A calculator, voice recorder and a memo app are available out of the box.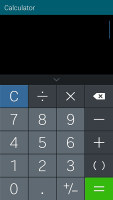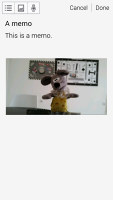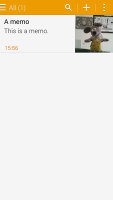 Calculator app • memo taking app
The Alarm app is quite advanced too. Each alarm has its own tone, snooze and repeat settings. It also features Smart alarm, which rings quietly, slowly turning the volume up for a less stressful wakeup. The app also features a world clock, stopwatch and a timer.
Google Maps and Navigation, where available
The Samsung Galaxy S5 has a GPS/GLONASS receiver. A-GPS can speed this up quite a bit, but requires Internet access. The barometer speeds up GPS locks even without a data connection. If rough positioning will do, Cell-ID and Wi-Fi positioning are on it. Wi-Fi positioning can work even if Wi-Fi is disabled or you can turn this off to save battery.
The Galaxy S5 comes with Google Maps and Navigation. Voice-guided navigation has become a viable solution already. The public transport option can be very useful too.
Maps show alternative routes and you can see alerts if there are any issues down the road like construction zones, traffic jams and so on. Google's Waze purchase is paying off.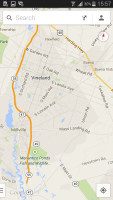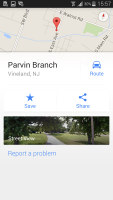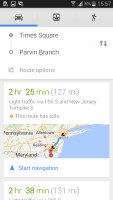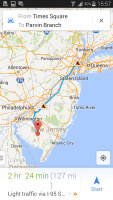 Google Maps with advanced routing options
The app also supports the Street View mode, allowing you to see the landmarks you're looking for before you set off. That makes them much easier to find when you arrive.
Google Play and Samsung Apps
The Google Play Store features several scrollable tabs - categories, featured, top paid, top free, top grossing, top new paid, top new free and trending. Apps usually have several screenshots (some even offer a demo video) so you can get an idea of what the app looks like before installing it.
Google has added a small "designed for phones" warning for apps that don't have tablet interfaces. Those can look bad on the large screen, so it's nice to be forewarned.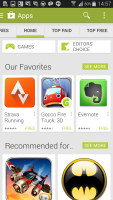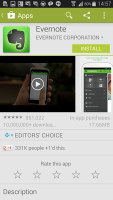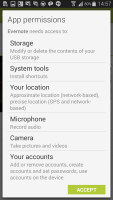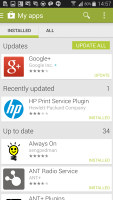 The Google Play Store will give you access to hundreds of thousands of apps
Samsung has naturally made its own Apps store available. It features largely the same type of interface as Google Play, except here you'll find far fewer apps. The good news is Samsung uses this repository to distribute some exclusive titles and some promotional offers, available only to its customers. Also, you can use your fingerprint to simplify and secure access to Samsung Apps.