An awesome display got even better
At first glance it might appear that the Samsung Galaxy S5 is the first Samsung flagship that doesn't bring a major screen update. After a 5.1" Super AMOLED of 1080p resolution and 432ppi density sounds virtually the same as the 5" 1080p Super AMOLED panel that that the Galaxy S4 employed.
But that's only half the story - while the Galaxy S5 screen is only as sharp as its predecessor (you can't tell the difference at this point), its panel is completely redesigned. It offers higher brightness and more efficient backlighting as well as lower reflectivity, which means better contrast when there are strong light sources present.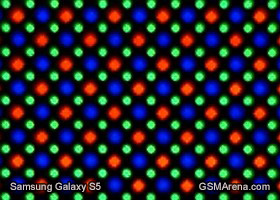 The color rendering has also been tweaked and now the Cinema mode offers as true to life colors as any other smartphone on the market. Not that the Galaxy S4 wasn't close enough for most purposes practical, but the Galaxy S5 really makes the "LCD offers more natural colors" argument useless. And, as usual, Samsung offers more saturated screen modes if you prefer your images punchy rather than accurate.
This means that Samsung has taken what was an already impressive display and made it the best on the market. It's true that unlike most of its competitors, the company still employs a PenTile matrix, rather than a conventional RGB one, but the diamond arrangement introduced last year makes sure that results in no visible artifacts and, with pixel densities north of 400ppi, you can't take away points for sharpness either. You can only spot differences if you compare two panels side by side and look from so close that your eyes hurt, which is hardly ever going to be the case.
Our test brought another confirmation of the increased brightness of the new panel.
Display test
50% brightness
100% brightness
Black, cd/m2
White, cd/m2
Contrast ratio
Black, cd/m2
White, cd/m2
Contrast ratio
Samsung Galaxy S5
0
274
∞
0
529
∞
Samsung Galaxy S4
0
201
∞
0
404
∞
HTC One (M8)
0.20
245
1219
0.46
577
1256
LG G2
0.10
149
1522
0.45
667
1495
HTC Butterfly S
0.15
165
1117
0.43
451
1044
Oppo Find 5
0.17
176
1123
0.51
565
1107
Apple iPhone 5
0.13
200
1490
0.48
640
1320
Strangely enough, the sunlight legibility, while top-notch on its own, was only a little better than what we saw from the Galaxy S4. We were expecting an achievement near the very top of our chart, but the Galaxy S5 came slightly lower than that.
Sunlight contrast ratio
Nokia 808 PureView
4.698
Apple iPhone 5
3.997
Samsung Galaxy Note 3
3.997
Samsung Galaxy S5
3.549
Samsung I9300 Galaxy S III
3.419
Nokia Lumia 925
3.402
Samsung I9505 Galaxy S4
3.352
Samsung Omnia W
3.301
Samsung Galaxy S
3.155
Samsung Galaxy S4 mini
3.127
Samsung Galaxy S4 zoom
3.118
Nokia N9
3.069
Samsung Galaxy Note
2.970
Sony Xperia Z1
2.950
HTC One S
2.901
BlackBerry Q10
2.856
Samsung Galaxy S II
2.832
Samsung Galaxy S II Plus
2.801
BlackBerry Z30
2.790
Huawei Ascend P1
2.655
Sony Xperia ZR
2.672
Nokia Lumia 900
2.562
HTC One Max
2.537
Nokia Lumia 720
2.512
HTC One
2.504
Sony Xperia Z
2.462
Samsung Galaxy S III mini
2.422
HTC One (M8)
2.371
Motorola RAZR i
2.366
Samsung Galaxy Note II
2.307
Apple iPhone 4S
2.269
HTC Desire 600 dual sim
2.262
LG Nexus 5
2.228
HTC One X
2.158
Nokia N8
2.144
Oppo Find 5
2.088
BlackBerry Z10
2.051
Apple iPhone 4
2.016
HTC One mini
2.003
LG G2
1.976
Sony Ericsson Xperia ray
1.955
Samsung Galaxy Camera
1.938
LG G Pro 2
1.922
HTC Butterfly
1.873
Huawei Ascend P6
1.865
Sony Xperia V
1.792
Sony Xperia U
1.758
Meizu MX3
1.754
LG Optimus 4X HD
1.691
HTC One V
1.685
BlackBerry Q5
1.682
LG Optimus Vu
1.680
LG Optimus GJ
1.666
HTC Desire V
1.646
Samsung Galaxy Ace 3
1.622
Sony Xperia Z Ultra
1.578
Samsung Galaxy Core
1.563
LG Optimus G Pro
1.552
LG Optimus 3D
1.542
Samsung Galaxy Core LTE
1.542
Nokia Asha 302
1.537
Sony Xperia M
1.473
Nokia Lumia 610
1.432
Samsung Galaxy Grand Neo
1.393
Gigabyte GSmart G1355
1.361
Samsung Galaxy Grand
1.321
HTC Desire C
1.300
Nokia Asha 501
1.270
LG Optimus L7
1.269
LG Optimus L9
1.227
Meizu MX
1.221
Sony Xperia E dual
1.203
Samsung Galaxy Pocket
1.180
Sony Xperia tipo
1.166
Samsung Galaxy mini 2
1.114
Battery life
The Galaxy S5 screen isn't much bigger than that of its processor (5.1″ vs. 5″), but it is brighter. The Snapdragon 801 chipset should also offer a big performance boost over the Snapdragon 600 of last year, but there are worries that this comes at the price of higher power consumption. Will the 200 mAh larger battery (2,800mAh vs 2,600mAh) make up for that?
Samsung has brought a new Ultra Power Saving mode, which disables most functionality and shows a simplified black and white homescreen, leveraging on the AMOLED screen. Yet, those fall outside the scoop of our dedicated battery life test as they limit the functionality of the smartphone severely and are generally for emergency use only.
As it turns out, however, the Galaxy doesn't need any such tricks to deliver excellent battery life - the smartphone posted an impressive endurance rating of 72h, handily beating the achievement of its predecessor. In the individual tests, the new Samsung flagship beat the Galaxy S4 by three hours more of talking and two hours more of web browsing, but scored an hour less for video playback. Still, considering that the screen is notably brighter at 50%, it really shows that Samsung has really improved its efficiency.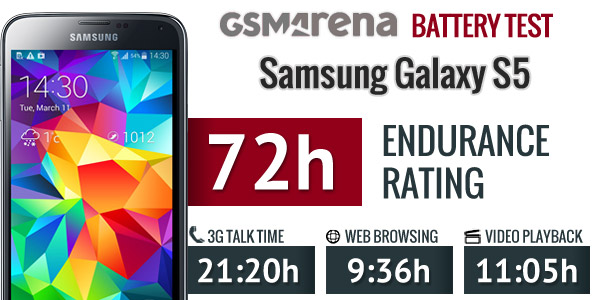 Update: We retested the phone after the Android 5.0 Lollipop update and it showed definite improvement. You can find more details here.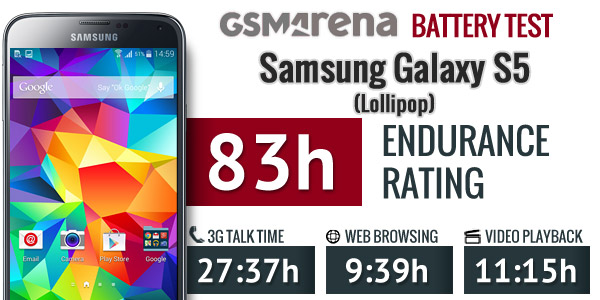 Note that while it's not included in the scorecard above, battery life power draw has a place in the endurance rating equation.
You can out more details on the Galaxy S5 battery life over on our blog. Info on the test itself is available here.