Smart gallery
The gallery on the Samsung Galaxy S5 can be viewed by time or by album and filtered by several categories. Event is the basic view, which groups photos based on time and location, but it's the other modes that caught our interest.
The gallery can automatically filter all photos that have people in them, but it can do the same for pets, flowers, cars, scenery and even food. If you're the type to share what you're having for lunch on social networks, you'll be pleased to hear the app handles Facebook, Dropbox and Picasa out of the box.
Pinch zoom will change the size of the thumbnails and can also open and close individual photos. Batch operations are supported and that includes not just copy/delete but also image rotation.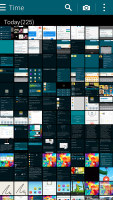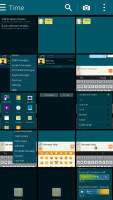 Pinch zoom controls the thumbnail size
The single photo view has several shortcuts for sharing (via an app or over DLNA). The Quick Connect button in the notification area will scan for all ways you can share something in the Gallery with nearby devices.
You can easily edit images right in the Gallery itself. The new Studio option is quite powerful and can do anything from basic editing and photo collages to creating and trimming videos. It also handles the post-processing of Shot & more photos.
The Gallery also supports highly customizable slideshows.
Desktop-like file manager
The My Files app organizes your files into categories - Images, Videos, Music, Documents, Downloaded apps, Recent files and even Dropbox files. The My Files app can move, copy, lock and rename files in bulk, even send multiple files to another phone. You can ZIP multiple files to be sent easier.
Feature rich, user-friendly music player
The TouchWiz music player on the Galaxy S5 is jam-packed with features and supports a wide variety of file formats, including FLAC.
Music is sorted by several categories and you can hide some categories you don't need. Folder view is available and so is scanning for DLNA servers (Quick Connect helps with this).
There's also the Music square - the phone scans your music library rating each track in terms of tempo (Exciting or Calm) and emotion (Passionate or Joyful). It can then load a playlist matching your chosen tempo and mood. The emotion axis in the graph can be switched to Age, which makes it easy to automatically create a playlist of classics or contemporary hits.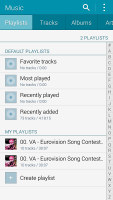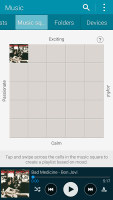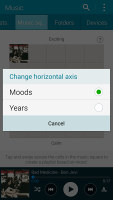 Browsing the music library • Samsung Music square
The Now playing screen gives you the usual options: timescroll, playback controls, an AllShare shortcut. A coverflow-like list of album art lets you know what the next song will be and is an easy way to skip right to it. The music player will also try to find the lyrics for the song you're listening to.
Samsung has enabled several audio-enhancement features. The SoundAlive equalizer presets are cleverly organized into a square similar to the Music Square. The presets balance between Treble and Bass, Vocals and Instrumental. You can also just tap the Auto toggle or enable a Tube amp effect, 7.1 channel virtualization, along with Studio, Club and Concert Hall effects.
The advanced equalizer view gives you a proper seven band equalizer you can tune manually and enable additional effects like 3D, Bass and Clarity.
The list of audio features doesn't end there. Smart volume will keep the sound level consistent across tracks, while Adapt sound tests the performance of your headphones and tunes the equalizer based on that.
While listening to a song you can find music controls in the notification area and the lockscreen.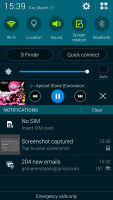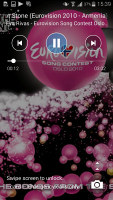 Music controls in the notification area and the lockscreen
Video player lacks support for key codecs
The video player on the Samsung Galaxy S5 handles files from the local storage and DLNA-compatible devices. Chapter preview lets you jump to a specific scene.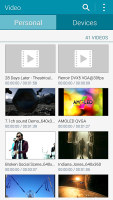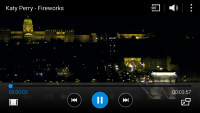 Browsing the video collection • watching a video
Codec support is not great, however. Many videos we tried resulted in an "audio codec not supported" message and even some basic video codecs don't work (i.e. DivX). MKV, AVI (XviD) and MP4 videos do play, but anything beyond MP3 or AAC sound is a no go.
If subtitles are available, the video player will automatically find and load them. You can also manually load subtitles if the video and subtitle file names don't match.
You can change the zoom mode (100%, fit to screen width and without affecting the videos aspect ratio) and there's a pinch zoom too, in case you want to get close to a specific part of the action. Instead of zooming in, you can zoom out and turn the video into a floating window with the familiar Pop Up Play feature.
The same SoundAlive audio-enhancing technology from the music player is available here too. There are additional settings for the brightness, playback speed and playing the audio over Bluetooth (if you have wireless speakers).
Splendid audio quality
The Samsung Galaxy S5 audio output is certainly among the cleanest we have ever seen a smartphone produce. Posting excellent scores top to bottom in the first part of our test, the Samsung flagship only let its stereo crosstalk spike a bit in the second one. That's some of the most accurate audio reproduction you can find on the market and one that should be good enough for even the most demanding audiophiles.
On the other hand volume levels, while good, are not quite among the best we've encountered. The Samsung Galaxy S5 is still going to be loud enough for the majority of users, but the HTC One (M8) holds a lead in that department.
| | | | | | | |
| --- | --- | --- | --- | --- | --- | --- |
| Test | Frequency response | Noise level | Dynamic range | THD | IMD + Noise | Stereo crosstalk |
| Samsung Galaxy S5 | +0.02, -0.08 | -96.3 | 93.3 | 0.0017 | 0.0089 | -95.2 |
| Samsung Galaxy S5 (headphones attached) | +0.01, -0.08 | -96.3 | 93.3 | 0.0095 | 0.018 | -61.9 |
| Samsung Galaxy S4 | +0.03, -0.08 | -95.9 | 93.2 | 0.0030 | 0.0092 | -96.4 |
| Samsung Galaxy S4 (headphones attached) | +0.03, -0.08 | -96.0 | 93.3 | 0.0031 | 0.089 | -77.5 |
| HTC One (M8) | +0.04, -0.10 | -95.4 | 93.4 | 0.0012 | 0.010 | -93.2 |
| HTC One (M8) (headphones attached) | +0.04, -0.08 | -94.9 | 93.9 | 0.0014 | 0.018 | -79.7 |
| HTC One | +0.11, -0.14 | -92.4 | 91.2 | 0.0012 | 0.013 | -92.4 |
| HTC One (headphones attached) | +0.16, -0.07 | -92.1 | 90.9 | 0.014 | 0.055 | -70.8 |
| LG G2 | +0.03, -0.28 | -91.9 | 91.9 | 0.0097 | 0.011 | -91.3 |
| LG G2 (headphones attached) | +0.07, -0.03 | -91.5 | 91.8 | 0.037 | 0.041 | -54.3 |
| Sony Xperia Z1 | +0.09, -0.01 | -91.8 | 92.0 | 0.0063 | 0.012 | -89.9 |
| Sony Xperia Z1 (headphones attached) | +0.01, -0.15 | -91.7 | 91.7 | 0.098 | 0.049 | -45.6 |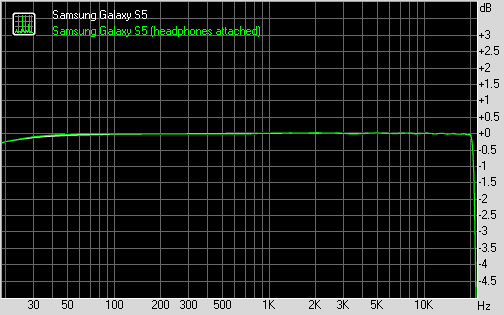 Samsung Galaxy S5 frequency response
You can learn more about the whole testing process here.