Combat ready
Samsung Galaxy S5 Active review: Combat ready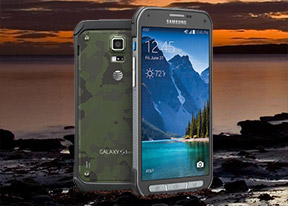 As the Northern hemisphere enters the summer season, it's the second year in a row that Samsung releases a rugged version of its incumbent flagship. This time around, it is a toughened take on an already IP certified device, so they went through the roof with military-grade protection against all kinds of extremities. At least for the time being, AT&T can call the Samsung Galaxy S5 Active its own.





Samsung Galaxy S5 Active for AT&T official photos
The Samsung Galaxy S5 Active requires a lot less compromises than its predecessor. As capable as it was, the Samsung Galaxy S4 Active lacked the highly-praised Super AMOLED unit of its civilian sibling. It also packed a lower resolution camera (8MP as opposed to 13MP), thus denying its users two of Samsung's staples.
In contrast, the newcomer features the exact same specs as the already well-known Samsung Galaxy S5. The only things missing are the microUSB 3.0 port and the fingerprint sensor. It has made way for more rugged navigation keys. And they're hardware buttons again, like on the previous generation.
Key features
MIL-STD-810G certification for salt, dust, humidity, rain, vibration, solar radiation, transport and thermal shock resistance
IP67 certification for dust and water resistance
5.1" 16M-color 1080p Super AMOLED with Gorilla Glass 3
Android OS v4.4.2 KitKat with TouchWiz UI
Quad-core 2.5 GHz Krait 400 CPU, Adreno 330 GPU; Qualcomm Snapdragon 801 chipset; 2GB of RAM
16MP camera; LED flash; 2160p@30fps video recording
2 MP front-facing camera, 1080p video recording
16GB of built-in storage, expandable via the microSD card slot
Heart-rate monitor
IR gesture sensor for Air gestures
Barometer, showing the elevation and air pressure
Active noise cancellation with dedicated mic
2,800mAh removable battery
Main disadvantages
No OIS in the camera
No fingerprint sensor (Galaxy S5 has it)
No microUSB 3.0 (Galaxy S5 has it)
Rear-mounted mono speaker
Poor video codec support out of box
Design is a bit too cluttered
Only available in the United States for AT&T at the moment
At a quick glance, the Samsung Galaxy S5 Active is everything we expect it to be - a toughened up version of the SM-G900. The gorgeous 5.1" Super AMOLED display is on board and so is the 16MP camera capable of 4K video recording.
The beefed up dust and shock resistance surely is a welcome sight too. The same goes for the shortcut button on the device which can be utilized as a camera key.
On the negative side, the S5 Active suffers from mostly the same niggles as its regular sibling. They include poor video codec support out of the box, lack of OIS in the camera, and the presence of a single mono speaker.
Pundits will also point at the lack of fingerprint sensor, though we reckon that its absence is offset by the presence of more comfortable and sturdier, navigation buttons - ones you can press even with safety or work gloves on. The limited availability of the device is surely an issue too, though we are certain that a globally available version is quite likely.




Samsung Galaxy S5 Active live photos
As always, we are going to kick the review off with unboxing, followed by our take on the design and build. Head over to the next page to find out what the S5 Active is like in the flesh.
R
Do you have available lcd touch screen replacement for Samsung Galaxy s5 active
P
I had one, but now it has a problem of screen saver. But i cant find it here in Malawi. But am still in love with it. I will definitely need one.
B
I can't get an s5active in Ontario...😣