Even though the Galaxy S5 comes with IP67 certification for dust and water resistance, Samsung hasn't given up the plans of releasing a more element-resistant Active version. The tougher version of the company's flagship isn't official just yet, but the traces of the smartphone are all over the place.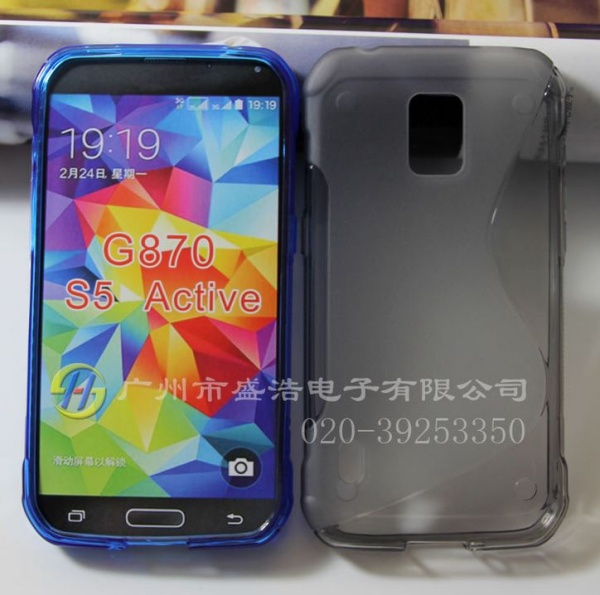 Today a leaked case designed for the Galaxy S5 Active reveals a few interesting details about the design of the upcoming smartphone. It appears that the Galaxy S5 Active will stay closer to the design of its predecessor, rather than take after the Galaxy S5. As you can probably remember, the S4 Active sported four screw caps on the back and it looks like the S5 Active will also feature them. The position of these in the newer model seems to be slightly altered and the speaker grilles are now vertically placed.
However, in terms of performance, the Galaxy S5 Active is expected to be a perfect match for the Galaxy S5 flagship. The upcoming rugged smartphone has been confirmed to pack a Snapdragon 801 chipset complete with 2GB of RAM. The Active and the regular Galaxy S5 units are also said to have identical cameras - 16 megapixels at the back and 2 megapixels at the front.
We are hoping that Samsung will make the Galaxy S5 Active official soon, but in the meantime it would be nice if we can get to see a photo of an actual unit to get a better idea of what the Galaxy S5 Active will look like.
D
Do you know what water proof means? It means that it is protected from water no matter how long. Z, Z1, Z1C, ZU, and Z2 are all water proof for a certain amount of time and depth, which means it's water resistant.
?
Anonymous 2014-05-19 06:12 You are wrong. The LCD is much better than Amoled. The LCD display is the only reason why I'm waiting for S5 Active. I hate that almost all flagship Samsung phones have the crap Amoled display.
?
Why is there an active if the S5 is the water resistant one now anyway? And while retaining a better Amoled. Is it an LCD with higher IP rating?