Samsung's flagship smartphone, the Galaxy S5 will be available from Virgin Mobile, starting from May 19. The Sprint owned prepaid carrier hasn't revealed any pricing details yet, but we know that the device costs $650 on Sprint, Virgin's parent company.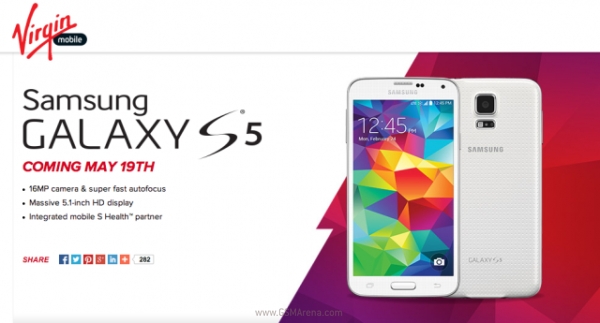 Virgin Mobile's contract-free tariff starts from $35 a month and goes all the way up to $55 a month for unlimited data, messaging and minutes. You can check out the source link below to know more about the tariff plans.
Meanwhile, you can check out our detailed Galaxy S5 review, to get the full scoop of the smartphone.
?
RE: "Virgin Mobile have had this since the Launch date" Don't know what you mean by "this." If you mean the Galazy 5, no, they havent. If you mean the "unlimted" data/text plan, yes, they have. $35 bucks a month ...
?
actually this phone would go from 4g to 2g
?
Virgin Mobile have had this since the Launch date