In a move that will hardly surprise anyone, Samsung has expanded its Galaxy S5 lineup with the addition of a dual-SIM version. What made our eyebrows rise is the fact that the company chose to do so quietly and without even a press release.
Anyway, the Samsung Galaxy S5 dual-SIM has a model designation G9009D and is just launching on China Telecom. The smartphone is priced at CNY5,299 ($850) and will launch alongside the other variants on April 11. It comes with support for CDMA2000 on one of its SIM slots and GSM on the other, but no LTE radio.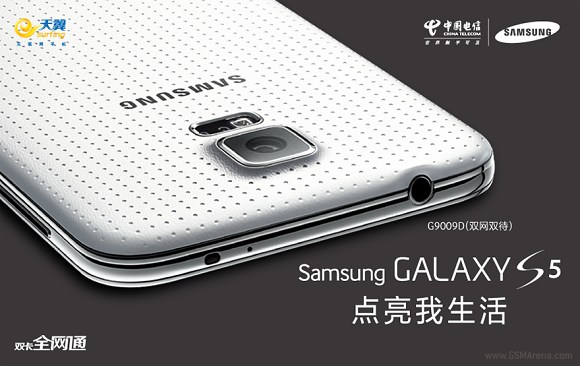 Other than and the 1.5g of extra weight, the Samsung Galaxy S5 G9009D is identical to its international sibling. From the Snapdragon 801 chipset through the 5.1" 1080p Super AMOLED screen to the 16MP camera, IP67 certification and 8.1mm waistline - the two are on par.
The battery of the new Samsung Galaxy S5 version has the same 2,800 mah capacity though with the strain of an extra radio, it might last a bit shorter. Samsung hasn't provided the official numbers, so we can't know for sure what kind of difference to expect.
Unfortunately, the Samsung Galaxy S5 G9009D is only available to China Telecom subscribers at this point and there's no saying if it will be hitting other countries or at least Chinese carriers any time soon.
Thanks for the tip, Adrian!
S
Is this available in srilanka
m
when it will be available in Pakistan?
D
Does this Telecom phone work with international 3G standards? Does it have Google Play or is it stuck with Chinese app stores and the Samsung app store? I have used the Telecom Note 3 dual-sim phone and it only works with China Telecom's da...
ADVERTISEMENTS