Filter this under non-surprising developments, but reports from Korea are saying that the Samsung Galaxy S5 has enjoyed quite some success on launch day. The new flagship has managed to set a new record for the company for launch day sales beating the achievement of its predecessor by over 30%.
In some European markets the sales of the Galaxy S5 have surpassed those of the Galaxy S4 more than twice, Samsung says. The number would have been even higher had the new smartphone stock not depleted in many places. In places like Paris, Amsterdam and London hundreds of people had gathered in front of the Samsung flagship stores ahead of opening, waiting impatiently to get their hands on the latest flagship.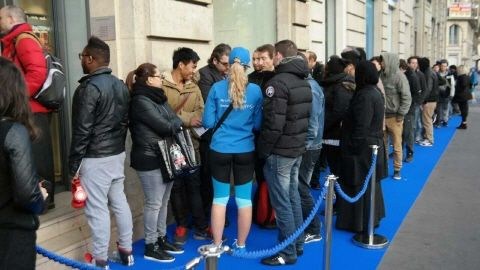 The Samsung Galaxy S5 launched in 125 countries on Friday, making this the largest-scale launch the Korean company has ever pulled. It will rollout to 25 more markets in the next few days bringing the total number to a round 150. Pricing for the SIM-free units start at $699 in the US and around 599 in most of Europe and Asia. Naturally Samsung is also partnering with a huge number of carriers, which offer the handset at a subsidized price.
We've already spent some quality time with the Galaxy S5 and we shared all our impressions in a detailed review. Those still wondering whether or not forking out the cash for the smartphone is worth it should definitely check it out.
?
I'm happy to hear that S5 sells will not be as the company expectation, don't rush to defend samsung fan boys I owened sam products from the s3 to s4 to note 10.1 to the galaxy gear but that's it. I had high expectations to the s5 from the rumors but...
?
As expected, and proven time and time again, Samsung lied. Check out the real figures here, by a Korean newspaper no less: http://english.etnews.com/communication/2944364_1300.html Disappointing sales, less than both SGS3 and SGS4 launch.
J
nothin extraordinary for the price ur paying, too hyped thts it !
ADVERTISEMENTS