The Samsung Galaxy S5 launches globally tomorrow and you'll have an update waiting for your when you open up the box. The update is available now and weighs in at 30MB.
It will push the software version to XXU1ANCE and is just a stability update, all features remain unchanged.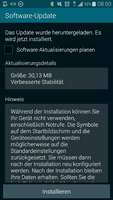 Samsung Galaxy S5 XXU1ANCE update
Note that while the Galaxy S5 officially goes on sale tomorrow, carriers in South Korea jumped the gun and started selling early to dodge a government-imposed sales ban. So if you have one, go to About > Updates to download the update.
Source (in German)
k
Can someone please tell me if mine is updated. Im with verizon and mine has XXU1ANCG I keep checking but there is no update and i cant find any info on this. Thanks.
M
I lost count of the amount of Samsung owners complaining about lag after the update. If it's not lag, the apps crash 95% of the time.