The Samsung Galaxy S5 has reached the land of the rising sun – the flagship went on sale on the country's biggest carrier, NTT DoCoMo. This launch also debuts a new color, Sweet Pink, in addition to the standard Charcoal Black and Shimmering White (the Copper Gold and Electric Blue are not available though).
Anyway, the Samsung Galaxy S5 SC-04F is virtually the same as the international version, except for some country and carrier-specific additions. Those are mostly in the connectivity section with Xi LTE (150Mbps downlink), VoLTE (voice over LTE networks), FOMA, 1Seg and NOTTV (mobile TV standards).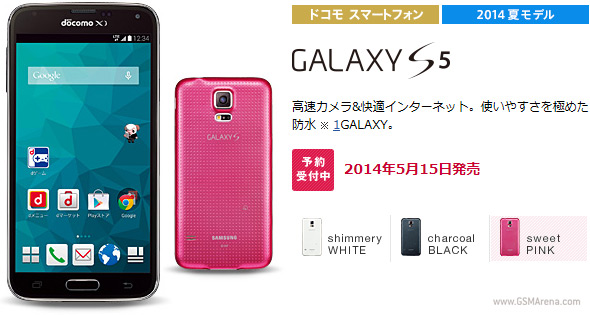 The SC-04F also features fast and quick charging – they require dedicated chargers, but they can put 1,200mAh and 1,800mAh in the battery respectively in just an hour. The international Galaxy S5 doesn't have this feature.
Anyway, the phone will be available tomorrow, May 15, but you can pre-order it right now from NTT DoCoMo's web site. Samsung says the pink version will be exclusive to Japan, which is bad news for everyone that wants one but lives elsewhere.
By the way, NTT DoCoMo also launched the Sony Xperia A2 today.
S
Samsung era is coming to an end
V
I didn't get what Samsung doing. The front panel still in black(mean the phone still in black). Only the back case change to pink. They can just release more color back cover for consumer to choose. Why create pink box option with different packaging...