The Samsung Galaxy S5 mini has been rumored for a long time and we've encountered its SM-G800 model number a few times. This time it's right on Samsung's official web site (the Finnish portal in particular).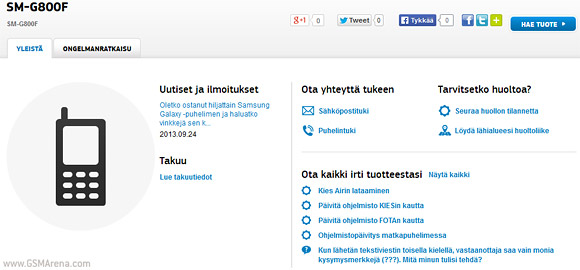 Unfortunately, the web page appears to be just a placeholder at the moment with no additional info. The Galaxy S5 mini is rumored to come with a 4.5" 720p screen, Snapdragon 400 chipset and an 8MP camera.
The Galaxy S5 mini will be water-resistant with an IP67 rating, just like it's bigger sibling.
There's also an SM-G750 in the works, currently known under the Galaxy S5 Neo moniker. This one seems to be a higher end model - a 5.1" 720p phone with a 2.3GHz CPU - despite the lower model number.
Source (in Finnish)
t
Galaxy s 5 mini by far the worst phone I have owned. Audio is so low on TX that no one can hear me so I have to use speaker all the time. Signal in fringe areas is poor on calls and data even worse. Screen cracked after two weeks. I have never broken...
M
So is their a mini or isn't there
J
What... 5.1" and only (720)p screen!!.No thanks. =(