Leather and steel
Samsung Galaxy S5 vs. HTC One (M8): Leather and steel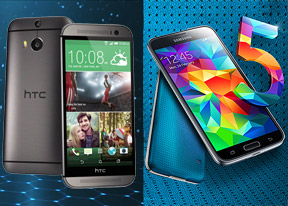 Introduction
HTC has made some of the best-looking smartphones in recent history while Samsung has some of the best-selling ones. That's very much true for the HTC flagship and yet to be seen about the Samsung Galaxy S5, but the clash is no less exciting, being one of design philosophy, in both hardware and software.
We've reviewed both phones individually, now it's time for a head-to-head comparison. We've distilled the specs differences to get you up to speed, but those will hardly tell the whole story. For example, the Galaxy S5 has the bigger battery but the endurance ratings for both phones are nearly identical. Anyway - here's the cheat sheet.
Samsung Galaxy S5 over HTC One (M8)
IP67-certified water resistant body
Slightly bigger screen - 5.1" vs. 5"
16MP vs. 4MP still photos, 2160p vs. 1080p video capture
Faster processor of European and US versions- Krait 400 2.5GHz vs. Krait 400 2.3GHz
Fingerprint scanner
Heart rate sensor, barometer
microUSB 3.0 vs. microUSB 2.0
Bigger battery - 2,800mAh vs. 2,600mAh
Lighter - 145g vs. 160g, thinner - 8.1mm vs. 9.4mm
HTC One (M8) over Samsung Galaxy S5
Metal unibody
Dual rear cameras for image effects
Dual LED, dual-tone flash
Front stereo speakers with built-in amps
Camera sensor - 2µm pixels vs. 1.12µm pixels
5MP front-facing camera vs. 2MP front-facing camera
FM radio
The camera comparison is even more misleading - Samsung's ISOCELL camera has four times as many pixels as HTC's UltraPixel camera. But the difference in pixel size is around three times in favor of HTC. And this is before we account for details like flash, a second camera on the HTC and more.
This year Samsung pulled out all the stops with the Galaxy S5. It goes after Sony with a water-proof body, Sony again with the high-res, large sensor camera, Apple with the fingerprint scanner and rounds it off with a heart rate sensor and Snapdragon 801 chipset. Plus, it's the usual throw-it-at-the-wall-and-see-what-sticks approach to software - and in TouchWiz a lot of staff sticks.





Samsung Galaxy S5 vs. HTC One (M8)
The One (M8) is more of an evolution from 2013's HTC One. It improves on the metal unibody design (which is easier said than done), ups the screen size significantly and builds on last year's UltraPixel camera and Zoe with a secondary camera that's there solely to enable new effects. There is one step back here though, the OIS has been dropped but there's a stronger flash to compensate in low-light shots.
Design will be the most difficult difference to quantify, but that's what we'll start with.
y
I want to what's the quality of main(secondary) camera of htc M8
G
The phone is very good, how much is it