Life in the fast lane
Samsung Galaxy S5 vs LG G2: Life in the fast lane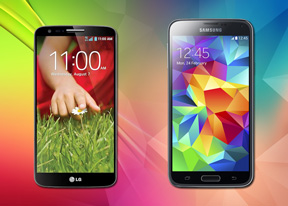 Introduction
This has been going on for a while now but, as both makers are keener than ever to outdo each other in the race to the Android top, their flagships are only getting more and more alike. The biggest difference is now in the timing, which is also part of the game - and that's what's made it actually more interesting to watch. The two rival Korean flagships are travelling in different orbits - only to meet on one's way down and another's way up.
Back when it launched, the LG G2 was the embodiment of LG's determination to better the Samsung Galaxy S4 in every way possible. The HTC One and the Sony Xperia Z were reduced to collateral damage - the eyes of the LG G2 set on the main target alone.
Fast-forward a few quarters, and the G2 is on its way ... out. We wouldn't say down unless it's down in history as one of the best things to come out of LG's handheld labs for quite a while. And it sure is going to try and cash in one last time, especially now that it's still in perfectly good shape and the new crop of flagships are charging big buck.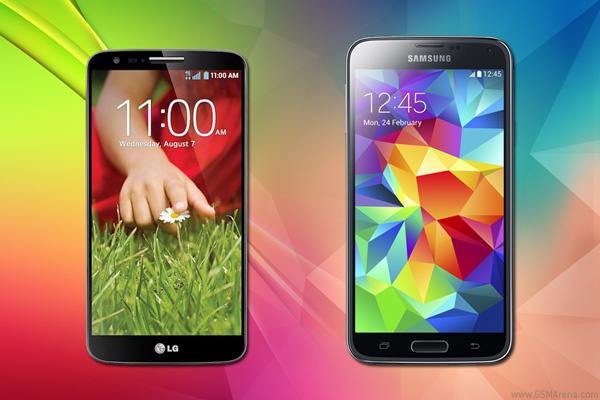 On the way in, or up, or whatever you think fits, the Galaxy S5 has leapt ahead of its predecessor with water resistance, a superior camera, slightly bigger screen, a fingerprint scanner, beefier battery, the new Snapdragon 801 chipset and 4K video recording among other things. That means the LG G2 is, at least in some departments, lagging behind as well.
Samsung Galaxy S5 over LG G2:
Snapdragon 801 over Snapdragon 800
16 MP 1/2.6" camera over 13 MP 1/3.06"
Faster, phase-detect autofocus
2160p video recording over 1080p
MicroSD card slot
IP67-certified for water and dust resistance
Fingerprint scanner
Heart-rate sensor
Thinner - 8.1 mm over 8.9 mm
Wireless charging (varies by market)
LG G2 over Samsung Galaxy S5
Bigger display: 5.2" over 5.1"
Smaller and lighter body
Optical image stabilization
FM Radio
Bigger battery - 3000mAh over 2800mAh
Much cheaper
The Samsung Galaxy S5 has the advantage of time. The tables have turned and it's now the LG flagship's turn to be outsmarted. Without being a dramatic step forward, the chipset is a tad faster than the older generation. The camera is a serious improvement though, with a much bigger sensor, higher resolution, the world's first phase-detect autofocus in a smartphone and the stellar 2160p video recording. The microSD card is consistently a point in Samsung's favor and water resistance is a nice touch. The heart rate monitor may not be appreciated by everyone but the latest TouchWiz UI has received a fresh coat of paint under Android KitKat, while keeping the impressive feature set.
One would think that such a long list of pros spells a walkover for the Galaxy S5 but we wouldn't be so sure. LG's creative design and excellent ergonomics are still an important asset against an opponent whose styling is a major source of controversy. The G2 is slightly thicker but only just - and it's got a bigger screen to show for it. The impressively slim bezels secure the G2's lead in terms of screen per surface ratio.
The G2 is a solid cameraphone too and one of the few to offer optical image stabilization. We'll be testing how well the digital variety compares to OIS in our camera comparison. Then there's the higher battery capacity, which will also be put to the test now that both contenders are running KitKat. Ultimately though, the G2's biggest advantage comes down to money. The flagship has been out for a while and goes for half the S5's price.





The LG G2 vs. Samsung Galaxy S5 vs. Samsung Galaxy Note 3
But there's more to flagship phones than just numbers and specs. How we choose a phone is a combination of things, some of which impossible to put a price on. Sometimes we'll do the math, and if we're lucky there's chemistry.
But luck will have nothing to do with anything when you're choosing between Samsung's and LG's - which for some stands for the best in Android. Tough call - but that's how we like them. Let's get started, shall we.
l
love my g2 no matter if 5 iss tronger lg g2 gives to me all i need plus battery performace wich is more importan than a few tweaks