Introduction
So, a couple of weeks' break and the Galaxy S5 is ready for the next round. And it's only getting harder for the Samsung flagship - who would've thought we'd say this ahead of a head-to-head involving a Chinese smartphone? Oh well, Samsung of all makers should know it's windy at the top.
Oppo on the other hand emerged from obscurity into unexpected brilliance in just a couple of generations. Innovation backed up by performance used to be a surprise, it's now anticipation. Hardly a shock then that the Oppo Find 7a is standing up to probably the best flagship on the market, that has a few wins under its belt already, sustaining only minor scratches.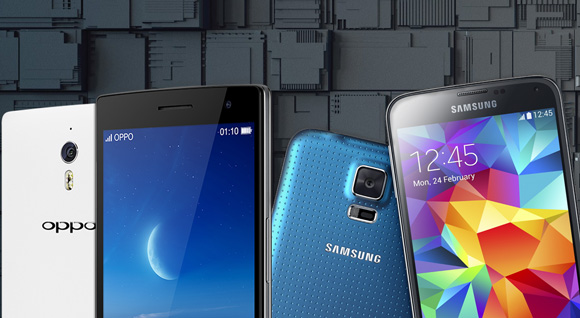 So, five generations of refining standard-setting gadget upon gadget against a newcomer - and the worse half of a pair of flagships at that. Before we continue, a side note is more than needed. The Oppo Find 7a has the same display and body size, imaging credentials, connectivity set, and software features as the superior Oppo Find 7, except for a lower screen resolution (1080p vs. QHD), and a tiny bit of less processing power - but is less expensive.
Yet, if there's so much as a hint of underestimating the Find 7a, the Galaxy S5 might have another thing coming. Let's check out the playing field.
Samsung Galaxy S5 over the Oppo Find 7a
More compact and lighter
IP67 certified for dust and water resistance
Higher-res camera with bigger sensor - 16 MP 1/2.6" over 13 MP 1/3.06"
Faster phase-detection autofocus (just 0.3s to lock)
32GB storage option
Android 4.4 KitKat over Android 4.3 Jelly Bean
Snapdragon 801 AC over AB - higher CPU and GPU clock, RAM controller clock
Heart-rate and fingerprint scanners
Infrared port for TV and appliance remote control
Wi-Fi a/ac support
Micro USB 3.0 over Micro USB 2.0
Oppo Find 7a over the Samsung Galaxy S5
Bigger display - 5.5" over 5.1"
Higher resolution front facing camera - 5 MP over 2 MP
50MP Super Zoom camera shooting mode
Cheaper price tag
Fast charging: 0% to 75% takes 30 minutes
The Galaxy S5 has put together a serious list of advantages against the Find 7a, being the specs monster that it is. But Oppo's Find 7a has a few things going for it too. The camera trick is not to be sniffed at for sure - yet it's the bigger screen real estate for less money that may ultimately lure users away from the familiar brand.





Samsung Galaxy S5 and Oppo Find 7a
As always, it's a matter of what you like and what you need - and how much you're willing to spend. The Oppo Find 7a certainly looks like a bargain but the Samsung is the safer bet. Whether you're here to root for the underdog or want to see exactly what you're getting for your hard-earned cash, we'd like to think you're at the right place. Is the Oppo Find 7a's camera as good as the Galaxy S5's? Is the screen? Which one is better for movie watching?
We're on it. Next up: design and handling.
s
To me s5 is best for it's stylish desigh,faster performence camera and offcource for the brand value.
D
Knox is a user interface with lock that storing the videos, images or other documents for safety method and no one can access specially the kids. like pc they have Adminstrator and Guest section.