Other apps
Both contenders come with full-blown Office editors. Samsung uses Polaris Office 5 (you need to download it for free from Samsung Apps), while Oppo went with Kingsoft Office. Both apps can sync docs with the cloud, though Kingsoft offers Google Drive, Box and Drobpox, while Polaris only handles Dropbox.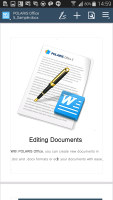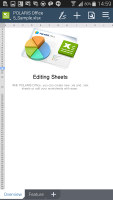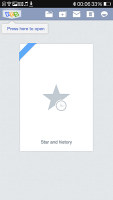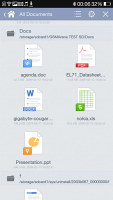 Polaris Office 5 • Kingsoft Office
One option we really appreciate on the Oppo Find 7a is the built-in Backup & restore support. There's an app that backs up data, apps and settings locally (you can schedule backups too). O-Cloud backs up contacts and texts to the cloud and can find your phone if you misplace it.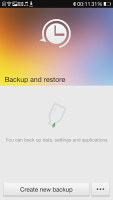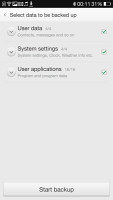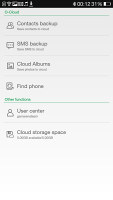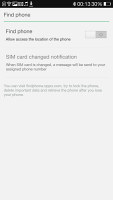 Backup and restore works with local memory • O-Cloud backs up to the cloud
Galaxy S5's cloud backup option allows you to send phone logs, messages (SMS and MMS), emails plus some settings to Dropbox for safe keeping. Samsung also offers an alternative to Android's Device manager that can find your device, make it ring and erase your data.
The Oppo Find 7a packs more helpful tools, including Permission monitor that lets you check which apps have access to, say, your location. Block and Holiday mode can filter your calls to block spam but also not bother you with work calls when you're sipping drinks at the beach.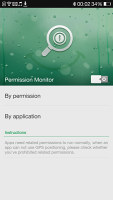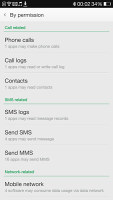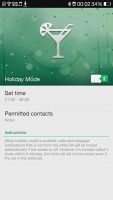 Checking permissions • blocking unwanted calls
If it's a foreign beach, Data Saving can forbid apps to use data in the background. Restricting background data is a standard Android feature, but most people probably don't know where it is in the settings and it doesn't work on an app by app basis.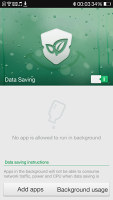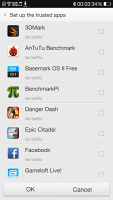 Keeping background data usage in check
The System Update app handles firmware updates for the Find 7a by looking for new software online or installing a locally downloaded file.
Samsung put call filtering in the settings with Blocking mode, which blocks calls and silences alarms and notifications during preset hours, only people on the Allowed contacts list can get through to you. The phone and messaging apps have their own spam filters and blocking specific numbers.
A potential live saver is Samsung's Safety assistance feature - tapping the Power key three times fast will send out a help message to your primary contacts. This feature can also display location-based alerts for weather, environmental and geological alerts and put the phone in a power saving mode in case of a blackout.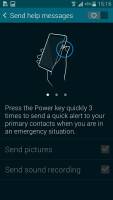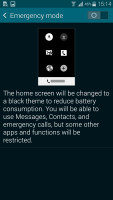 Tap the power key three times if you need help • Emergency mode can be vital in the event of a blackout
The power saving mode is available separately too. It can switch the display to greyscale, which makes things more legible even at low brightness. Ultra power saving mode goes to extremes - it goes to black and white mode and limits the phone's functionality to the basics (calls, messages, email, web browsing). No apps can be run in this mode, but 10% battery charge will last you 24 hours in standby mode.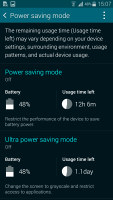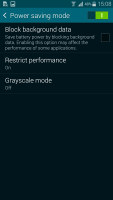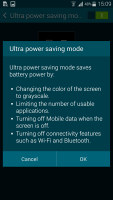 Ultra power saving mode goes to great lengths to stretch the remaining battery charge
The Oppo Find 7a has a power saving mode too, but that limits itself to dimming the display and disabling power-hungry features like GPS, Wi-Fi, Bluetooth and network data.
Samsung is strongly promoting Galaxy S5's place in your healthy lifestyle. The S Health app has been around for a while, but the latest iteration is better than what you can get from the Play Store and it has the added advantage of an on-board heart rate monitor. It can connect to other exercise sensors via Bluetooth 4.0 or ANT+ and they don't have to be Samsung-made (though you will enjoy better integration with a Gear smartwatch).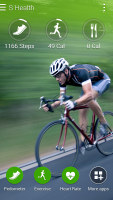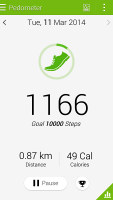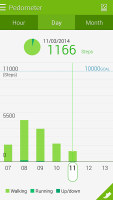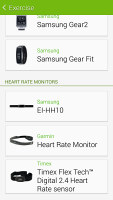 S Health covers all sorts of exercises and works with additional sensors
The Samsung Galaxy S5 has an IR blaster on top and comes with the Smart Remote app with which you can control TVs, disc players, AV receivers and streaming boxes, even air conditioners.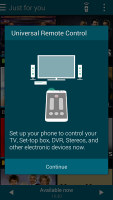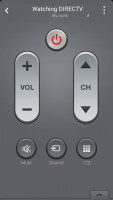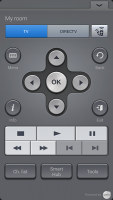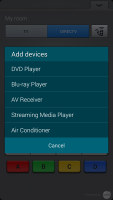 Controlling equipment at home with the IR blaster
Another cool option is to wirelessly print documents and photos on certain Samsung and HP printers.
A feature of questionable use is Download booster that speeds up the Internet connection for native apps (it doesn't work for downloaded apps) by combining the Galaxy S5's LTE and Wi-Fi connections.
Winner: Samsung Galaxy S5. While a lot of functionality between the phones is duplicated via apps or buried settings menus, the more advanced power saving options and the IR remote control are expected out of a 2014 flagship.
That said, Oppo's tools to update the phone and handle troublesome apps (either because of permissions or background data usage) are appreciated. The on-device backup option is quite valuable too.