Galleries
Both phones have custom galleries, though Samsung put a lot more new features in. The TouchWiz gallery on the Galaxy S5 handles cloud albums (Facebook, Dropbox and Picasa), FTP servers and DLNA devices are also supported.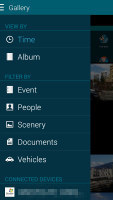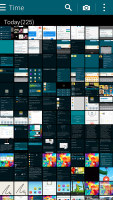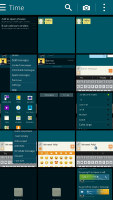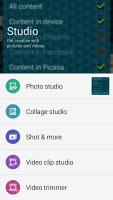 The TouchWiz gallery automatically sorts photos by content and features advanced editing options
It can also automatically sort photos based on their content - photos of people, scenery, documents, food, vehicles and more. The Event sorting option groups photos based on the time and location they were taken in.
Oppo's gallery can also sort photos based on time but that's about it. The Find 7a gallery has a Cloud albums tab, but this works only with a custom, Amazon-backed solution rather than popular cloud services and social networks.
The standard Android photo editing options are available on both phones, but Samsung also adds batch image rotation, photo collage creation and a video editor. The Oppo Find 7a lacks the batch operation and video editing options, but can create collages too.
Winner: Samsung Galaxy S5. Most people will be too lazy to organize photos into categories, so having the gallery app do it automatically is great. Good support for cloud albums is a must.
Music player
Oppo put a lot more work into the music player than the gallery and added Waves MaxxAudio effects plus Dirac HD Audio tech (this one works only with headphones). Waves has three presets - Music, Movie and Game - and you can create a fully customized setup.
With the Oppo Find 7a, audio geeks get to play with a 10-band equalizer, High and Low pass filters, plus four additional sliders - Megabass, Transparent treble, Reinforced volume and Clear voice. Dirac effect only has an on/off option and nothing to tweak.
The music player can download and display lyrics for songs, but lacks DLNA integration, similar to the gallery.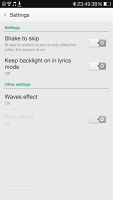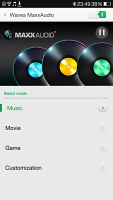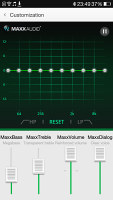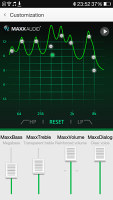 Waves and Dirac effects • Highly customizable Waves MaxxAudio equalizer
The Galaxy S5 relies on Samsung tech for the audio. SoundAlive has a simple interface with presets for the equalizer, plus additional effects (tube amp, 7.1 channel virtualization) but you can go into a 7-band equalizer too.
Adapt Sound will guide you through the process of tuning the equalizer to your specific set of headphones, you just have to listen to a series of beeps and hit Yes or No depending on whether you can hear them or not. Smart Volume will equalize the sound between tracks.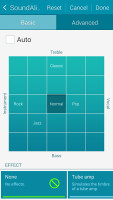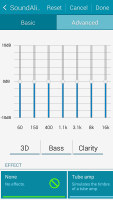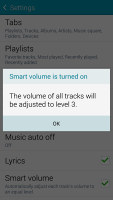 The Galaxy S5 makes things easier with simple, automated features
The TouchWiz music player can build automatic playlists based on mood and tempo, plus it features lyrics mode and DLNA support (hit the Quick Connect button in the notification area to scan for devices).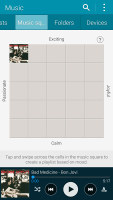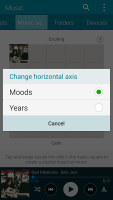 Automatically generating a playlist
Neither phone offers an FM radio.
Winner: Tie. The Oppo Find 7a has more options to play with, which is great for audiophiles, but the Samsung Galaxy S5 caters to the other end of the spectrum with Adapt Sound. Not everyone knows what a Low Pass filter does and should to enjoy quality audio.
Both phones support the common audio formats (including FLAC), but if you use DLNA at home then the Galaxy S5 has a leg up.
Video players
The Oppo Find 7a has excellent video codec support handling all common formats. Where it ran into issues was audio codecs, failing on AC3-encoded video files. The Samsung Galaxy S5 doesn't support DivX, but XviD AVIs does work as do MKV and MP4 files. It too cannot play multi-channel audio (so you're stuck with MP3 and AAC).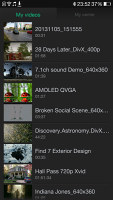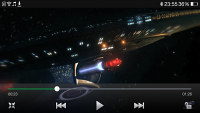 A simple, but fairly capable video player on the 7a
Both video players have the option to view the video in a small, floating window. The Galaxy S5 can also put the video player on half of the screen using Multi Window and you can zoom into a video while it's playing.
Both players have subtitle support, but again the Galaxy S5 has a slight advantage - it lets you manually pick the subtitle file. While Oppo's music player had a good deal of audio tuning options, the video player has none. Samsung, however, has extended SoundAlive to its video player too.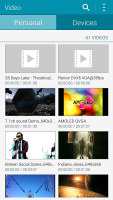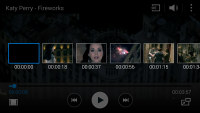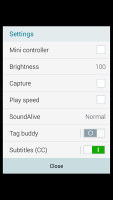 Samsung's video player has more settings for subtitles and audio
The DLNA advantage of Samsung's flagship extends to the video player too. The Oppo Find 7a TV-out over Wi-Fi but that's a different standard - it just mirrors what's on the phone's screen onto a supported TV. The Galaxy S5 has this option too.
DLNA instead lets you control which device is the source and which the player, so you can use the Galaxy S5 as a remote to stream a video from your PC to your TV without touching either device. You might run into issues with subtitles with DLNA though.
Note that you can use DLNA on the Oppo Find 7a, but you need to go through the file manager called Files for that.
Winner: Samsung Galaxy S5. Proper subtitle support and audio enhancing features make a difference when watching videos on the phone and DLNA makes it much easier to control your media setup at home.
The Oppo Find 7a did offer a better codec support, but not multi-channel audio. Also, you can always grab a third-party video player form the Play Store that supports all the codecs you need.
Audio quality
The Oppo Find 7a isn't a bad performer when it comes to audio quality, and it stays pretty close to the Samsung Galaxy S5 in the first part of our test. The two are practically tie when it comes to volume levels too, so for purposes practical those two are identical when used with an active external amplifier.
Plug in a pair of headphones, however, and you can see the Galaxy S5 deliver another flawless performance, while the Find 7a falters. The very high stereo crosstalk of the Oppo smartphone in what we consider the more important part of the test, makes this an easy victory for the Samsung flagship.
| | | | | | | |
| --- | --- | --- | --- | --- | --- | --- |
| Test | Frequency response | Noise level | Dynamic range | THD | IMD + Noise | Stereo crosstalk |
| Oppo Find 7a | +0.03, -0.16 | -92.7 | 92.6 | 0.0057 | 0.072 | -92.0 |
| Oppo Find 7a (headphones attached) | +0.05, -0.07 | -91.5 | 92.7 | 0.0042 | 0.054 | -15.7 |
| Samsung Galaxy S5 | +0.02, -0.08 | -96.3 | 93.3 | 0.0017 | 0.0089 | -95.2 |
| Samsung Galaxy S5 (headphones attached) | +0.01, -0.08 | -96.3 | 93.3 | 0.0095 | 0.018 | -61.9 |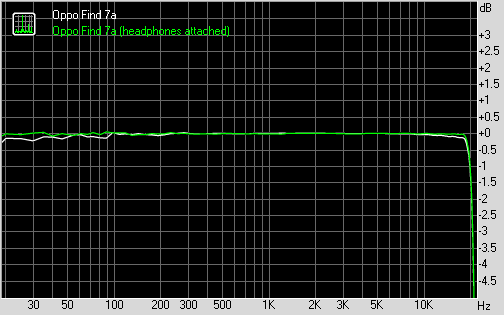 Oppo Find 7a frequency response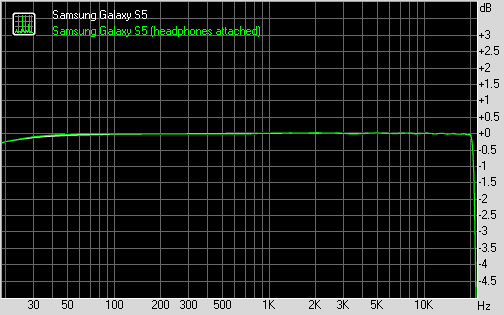 Samsung Galaxy S5 frequency response
You can learn more about the tested parameters and the whole testing process here.
Winner: Samsung Galaxy S5. The Oppo Find 7a went off to a promising start, but failed to impress where it mattered most, while the Galaxy S5 aced both parts of the test.
Loudspeaker
Both phones are fairly basic when it comes to on-boad speakers - a single speaker on the back. The Oppo Find 7a managed to stand out here with a fairly loud speaker, noticably louder than the Galaxy S5 especially when it comes to music. That said, we would have liked some finer-grained control as even the quietest setting is rather loud.
| | | | | |
| --- | --- | --- | --- | --- |
| Speakerphone test | Voice, dB | Pink noise/ Music, dB | Ringing phone, dB | Overal score |
| LG G2 | 65.7 | 62.2 | 66.2 | Below Average |
| Sony Xperia Z1 (xLOUD) | 65.5 | 62.0 | 65.8 | Below average |
| Apple iPhone 5s | 68.7 | 66.3 | 69.2 | Average |
| Nokia Lumia 1020 | 69.8 | 66.6 | 72.5 | Good |
| Samsung Galaxy S5 | 66.9 | 66.6 | 75.7 | Good |
| HTC One | 69.3 | 66.6 | 75.9 | Good |
| Samsung Galaxy S4 | 70.6 | 66.2 | 77.3 | Good |
| Samsung Galaxy Note 3 | 70.5 | 66.6 | 78.0 | Good |
| Oppo Find 7a | 71.3 | 72.5 | 75.7 | Very Good |
| Oppo N1 | 73.7 | 67.7 | 78.7 | Very Good |
| LG Optimus G | 74.6 | 71.3 | 82.7 | Excellent |
Winner: Oppo Find 7a. We don't know if it's the water-proofing that muffled some of the Galaxy S5 loudness (judging by the Galaxy S4 that's not the case), but the Oppo Find 7a scored a clear victory here.