Camera features
The two flagships are quite proud of their cameras in different ways. The cameras are certainly a big part of the package both companies are trying to sell to potential buyers.
Samsung made its own image sensors - a fairly large 1/2.6" ISOCELL sensor with 16MP resolution. It sits behind an f/2.2 lens. The sensor has a 16:9 aspect too, photos can be viewed on the phone's screen and on a HDTV without any letterboxing.
Oppo went with a widely used sensor by Sony - a 13MP back-side illuminated sensor that's 1/3.06" big. This sensor has nearly 35% less surface area than the Samsung's but it also has fewer pixels to host.
If you want to view Oppo Find 7a photos without letterboxing on any modern day 16:9 screen, you'll have to crop about 25% of the pixels from the 13MP photos.
Oppo enabled a special software mode that produces 50MP images called Ultra HD. It's a software trick, but as we found in the review of the Find 7a, it can be useful for zooming in on objects in the distance. It compared reasonably well against the Nokia Lumia 1020 and its raw 38MP resolution.
The Oppo has more tricks up the 7a's sleeve - the slow shutter speed mode (up to 32s for creative light streak effects), cinemagraphs, audio photo (Samsung's Sound & shot basically) and the ability to produce RAW files.





Slow Shutter camera samples - 4s, 8s, 16s, 16s
Samsung is the leader of the "more features, more better" charge and it piles on a large number of software tricks of its own. It doesn't have the 50MP or the RAW options, but it adds Eraser (remove moving objects), Drama shot (capture moving objects several times in one shot), Virtual tour (like panorama, but you can look around) and Selective focus (simulates a shallow depth of field).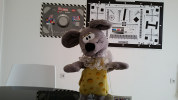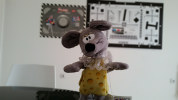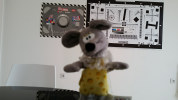 Selective focus: all in focus • near focus • far focus
Naturally, both phones have HDR and panorama modes, we'll test those in the image quality chapter.
The Oppo Find 7a does have a leg up on its South Korean opponent in the selfie department - it's equipped with a quite good 5MP front-facing shooter, while the Samsung settles for a regular 2MP camera. Both front cameras can shoot 1080p video though.
Speaking of video, both smartphone flagships are endowed with a powerful Snapdragon 801 chipset and can record 2160p video (also known as UHD and inaccurately as 4K). At lower resolutions, the two phones also offer high framerate options - 1080p @ 60fps and 720p @ 120fps.
While the Galaxy S5 lost the photo selfie fight, it does win the video selfie one. The Dual Video mode allows it to record what its two cameras are seeing - basically it would superimpose the frontal feed of your mug on anything your back camera sees.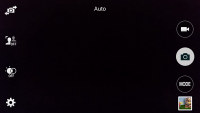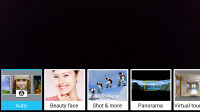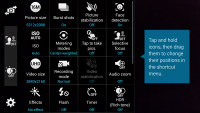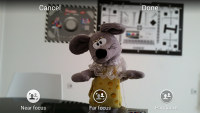 Samsung Galaxy S5 camera interface
Winner: Oppo Find 7a. Budding photography enthusiasts will have a lot of fun experimenting with the long shutter speeds and learning about processing RAW files. The Find 7a also offers a better front-facing camera (no dual video though) and the Ultra HD mode has its uses. In all other aspects, the Oppo is on par with the Samsung, at least on paper.
The Samsung Galaxy S5 does promise a better sensor, which could lead to a win in the next two chapters, but it doesn't have enough standout features to score it a win here or at least get a draw.