Droid gladiators
Samsung Galaxy S5 vs Sony Xperia Z2: Droid gladiators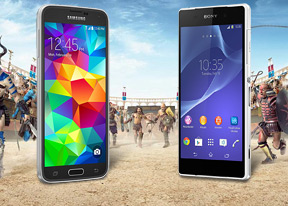 User interface
The Samsung Galaxy S5 and Sony Xperia Z2 both launch with Android 4.4.2 KitKat out of the box with a number of software tweaks by each parent company. As usual, Sony's skin is lighter while Samsung is typically modding stock Android head to toe.
Samsung is into biometric sensors this generation and the fingerprint sensor on the Home key is a highlight. This enables a secure lockscreen that isn't based on passwords or patterns, instead you swipe a finger down the key. In case it fails (it happens when your fingers are wet, for example), then it falls back to a passcode so there's no danger of getting locked out.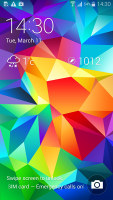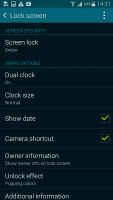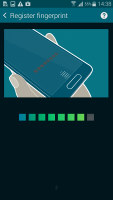 The TouchWiz lockscreen is enhanced by the fingerprint scanner
Sony stayed closer to the vanilla lockscreen, the only real change is the camera shortcut at the bottom. The Xperia Z2 lockscreen supports widgets (one per pane), while the Samsung screen only shows notifications.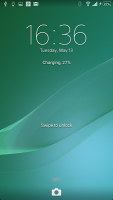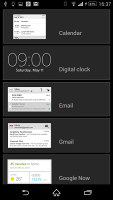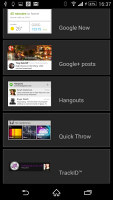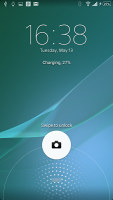 Near-stock lockscreen on the Xperia Z2
The Sony home screen is also very vanilla - you start with 5 panes and you can add or remove panes. One Sony addition is Themes, which pack a wallpaper and matching color highlights for UI elements.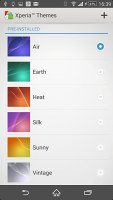 Themes make for quick and easy customization
Samsung's homescreen looks fairly standard except the My Magazine feature replaces one of the homescreen panes. It's a news reader that will pull news and content from multiple sources in several categories and your social networking accounts.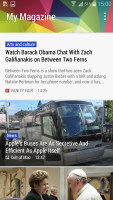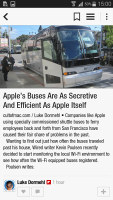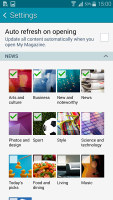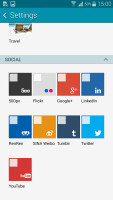 My Magazine melds social networking with news reading
Sony has Socialife, which is an app instead. It merges Facebook and Twitter accounts with news sources, but doesn't take up an entire homescreen pane.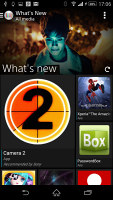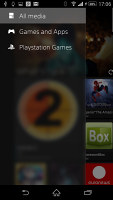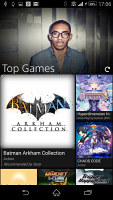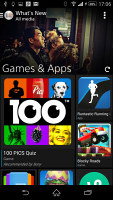 What's new is Sony's answer to Samsung's My Magazine and HTC's Blinkfeed
In contrast with the minimalist lockscreen, Samsung stuffed the notification area with features. Some of them we like - the quick toggles and brightness slider are used often enough to warrant a place here. The S Finder and Quick Connect buttons are debatable.
Another like that pops up here is Recommended apps. It's a response to certain events, e.g. plugging in a pair of headphones brings out shortcuts for multimedia apps.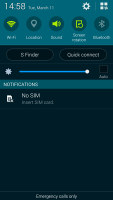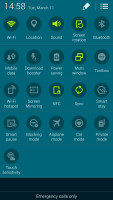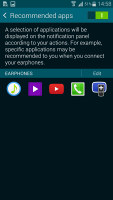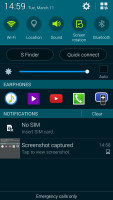 A somewhat cluttered TouchWiz notification area • Recommended apps
Sony's notification area looks more stock but Sony did put tabs on it to separate the notifications from the toggles. The toggles themselves include some Sony additions like the Stamina mode.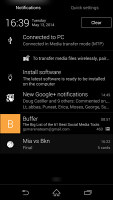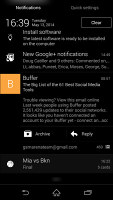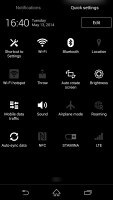 Xperia's cleaner notification area differs only slightly from vanilla Android
The fingerprint sensor on the Samsung Galaxy S5 isn't limited to the lockscreen - in the co-called Private mode, it secures files (photos, videos, documents) in an encrypted part of the phone's storage. They are only visible when Private mode is on, which takes a swipe of a finger.
The sensor can also secure payments with PayPal. You can set up to three fingers to be recognized, so you can share the phone with someone and let them access Private mode and PayPal payments or keep those to yourself.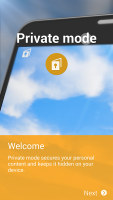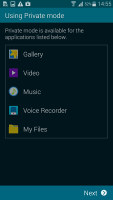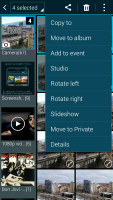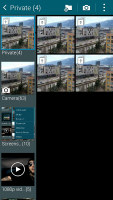 Activating private mode • moving photos to the secure storage
For multitasking, Samsung pushes its Multi Window feature that puts two apps side by side. You can copy and paste text between them or snap a screenshot in one and use it in the other. Apps that go well together can be grouped into a single shortcut for added convenience.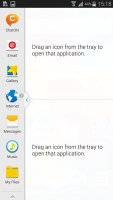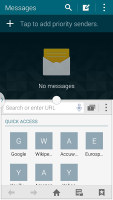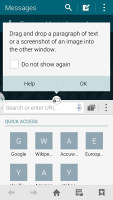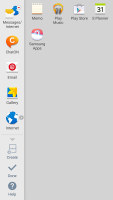 Multi Window runs two apps side by side
Sony has its own multitasking feature, Small Apps. Instead of splitting the screen, Small apps live in small windows that can be moved around or minimized to a tiny icon. Like Multi Window, you need an app that specifically supports the multitasking feature, but Sony's solution can turn widgets into Small apps.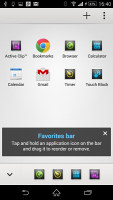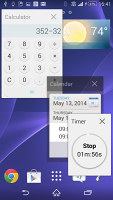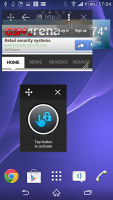 Small apps put helpful tools in floating windows
The two approaches are not really compatible. Samsung's approach assumes both apps are equal, while Sony's has one main app and one utility app.
Winner: Samsung Galaxy S5. We know TouchWiz has its vocal detractors, but no one can deny its wealth of features and a good deal of those are pretty helpful in your day-to-day operations. The Xperia Z2 is right up there with it, but the fingerprint scanner enables an extra lockscreen option and secure storage. Multi Window is more elaborate than Small apps too.