The triathlete
Samsung Galaxy S6 Active review: The triathlete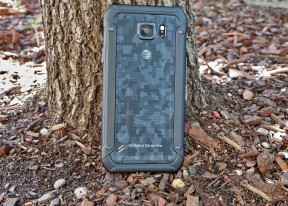 Display
Samsung Galaxy S6 Active features the same 5.1" QHD Super AMOLED display as the regular Galaxy S6. With 577ppi, the screen is among the sharpest in the business.
Samsung has again went for the diamond-shaped PenTile matrix, although given the sheer number of pixels the sub-pixel arrangement will hardly affect the perceivable sharpness of the screen.
Here's how the layout looks under a microscope. The diamond-shaped PenTile uses OLED sub-pixels of different sizes as each color has different levels of power efficiency and longevity. Sub-pixel rendering is employed to properly distribute each of the primary colors.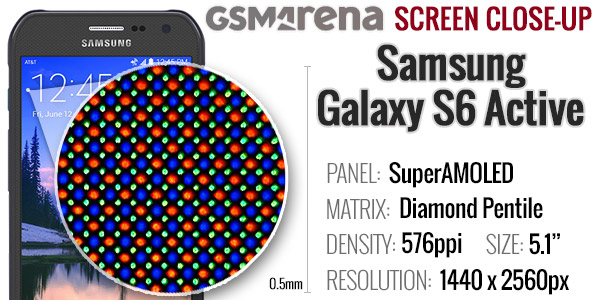 The default screen mode comes to underline the Super AMOLED panel's key strength, high contrast, by producing overly saturated colors that make every image look like it's about to pop out of the frame. Yet if you are a professional that requires the color accuracy or simply dislike the unrealistic images, the professional photo mode gets colors as true to life as possible.





One of the best smartphone displays around
The Samsung AMOLED panels have been improving with each new generation and this latest effort is further proof of that. Giving you a choice between saturation and accuracy, and comfortably beating its rivals at either end is an impressive achievement, but with the inherent AMOLED strengths in the equation, you get arguably the most impressive screen in the market.
Yep, the practically infinite native contrast and the low reflectivity that makes sure you enjoy most of it in brighter environments are still here, alongside the impeccable viewing angles. There isn't much else one can wish for.
Samsung Galaxy S6 Active has a practically unlimited contrast ratio, as it's capable of displaying black by simply turning off individual pixels. AMOLEDs light up only the parts of the screen that display a color different than black.
The Super AMOLED panel on the Galaxy S6 isn't particularly bright, especially compared to some LCDs, but it can go higher than the Galaxy Note 4.
Auto Brightness mode can push the brightness higher than manually adjusting the brightness slider allows. The feature is customary for Galaxy smartphones with AMOLED screens.
Battery life
Samsung Galaxy S6 Active features a non-removable 3,500mAh battery. The unit is almost 40% larger than the 2,550mAh solution found in the regular Samsung Galaxy S6, so we had hefty expectations for the device before putting it through our battery test.
With endurance rating of 109 hours, Samsung Galaxy S6 Active more than exceeded our expectations. The Korean giant's rugged flagship edged out the current battery test champion Nokia Lumia 1520 for the top position in our chart!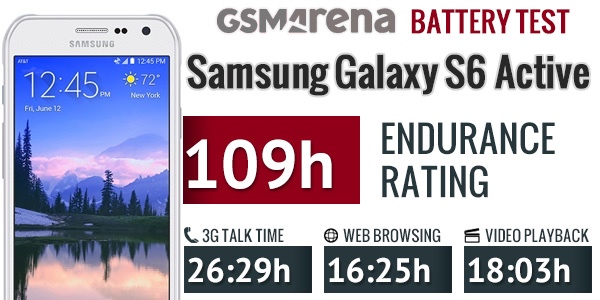 This means that Samsung Galaxy S6 Active can easily make it through four days of usage if you opt for an hour each of telephony, web browsing, and video playback every day. None of the current flagship smartphones can match what the Galaxy S6 Active has to offer in terms of battery performance - Motorola Droid Turbo is the closest rival with endurance rating of 90 hours.
By combining an energy-sipping 14nm Exynos chipset and Super AMOLED display with massive battery, the manufacturer has truly hit the jackpot in terms of battery endurance. Even more impressively, the waistline of Samsung Galaxy Active has remained at a manageable 8.6mm.
Connectivity
The Samsung Galaxy S6 Active is armed to the teeth in connectivity terms. The mandatory 2G/3G/4G LTE is present with Cat. 6 downlinks thanks to Samsung's latest Exynos 7420 chipset. This gives you download speeds of up to 300Mbps, with 50Mbps worth of uploads. If you missed it in the specs section, the Galaxy S6 Active uses nano-SIM cards.
In terms of local connectivity, there's dual-band Wi-Fi a/b/g/n/ac, so you can make the best of your home's Internet connection. DLNA is supported in multimedia apps for sharing content across compatible devices.
Speaking of, the Galaxy S6 Active makes it easy to share the Wi-Fi hotspot info with nearby devices (detected via Bluetooth) using the Quick Connect feature. This saves you the trouble of typing in the Wi-Fi password.
Bluetooth has been bumped up to version 4.1. There aren't any easily noticeable changes since 4.0 but, among the more important ones, Low Energy mode is now supported for connecting to smart watches and some sport sensors. ANT+ is available for such sensors too, so the Galaxy S6 Active will happily talk to whatever sports sensor you have.
NFC is on board for quick pairing and sharing and there's an IR blaster for controlling home appliances. Samsung's default app mostly handles your AV setup, but third party apps can be used for a wider range of devices.
The Samsung Galaxy S6 Active features a microUSB 2.0 port. It's slower at transferring data than the USB 3.0 port used in a few Samsung devices, but it has a standard size plug and it offers Quick Charge 2.0 and MHL 3.0. With the right adapter, you get 2160p@30fps output so you can watch videos you shot with the phone in their full resolution. There's 7.1 surround sound output, if the video player supports it (the pre-installed one does not).
Finally, there's a GPS/GLONASS SatNav receiver on board. GPS alone is enough on its own but GLONASS provides extra precision, especially in dense urban settings as it also uses Russian satellites.