Case maker OBLIQ sent us its latest case designs from the Slim Meta series and has confirmed the thickness of the Samsung Galaxy S6 will be 6.9mm. With the cases on, the phone will measure 9.5mm thick, which isn't all that bad.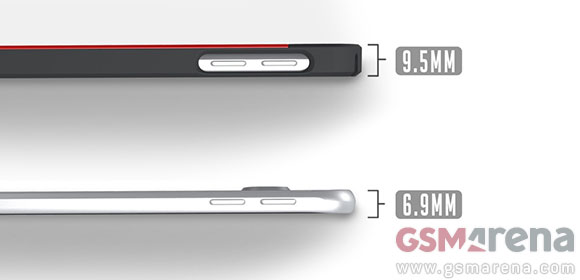 The case design features cutouts for the camera, LED flash and heart rate monitor as well as cutouts for the antennas on top and bottom. The back is done in number of colors including gold, red and dark grey.
Naturally, there are a lot more cases that have leaked in the past further showing the phone. The Galaxy S6 with its metal frame will measure 143.3 x 70.8 x 6.9mm and will be IP67-certified. Furthermore, Samsung is expected to make TouchWiz a lot more lighter with less features.
Internally, Samsung is set to use its new Exynos 7 Octa chipset and equip the Galaxy S6 with a 2,600mAh battery. The phone would also feature a 5.1-inch QHD Super AMOLED touchscreen and 3GB of RAM - both things that have been rumored before. The rear camera will apparently be a 16 MP unit with OIS, and not the 20 MP one that's made the rounds up until now.
The big unveil of the company's upcoming flagship is scheduled for March 1.
?
Wow. People with brains still exist. Now is their wifi thing both wifi and bluetooth?
b
first of all, my wife and daughter have the iphone 5s, while they are not bad looking they don't perform like my galaxy S 3. they complain about lag and wifi cutting out constantly, most likely due to IOS8. iphones break if you look at them wrong and...
?
No! What they were saying is that 7.3mm is thicker than 6.9mm therefor there is more room. And on top fo that there is a difference. Sony's is in top left above display. So they can use the thickness of the whole device. Samsung's is behind t...