Final words
With the Galaxy Note Edge, Samsung was offering a cutting edge device to early adopters - what should have been a prototype became a retail product. The Samsung Galaxy S6 edge is on a similar path though this time its mass market destiny is not under question.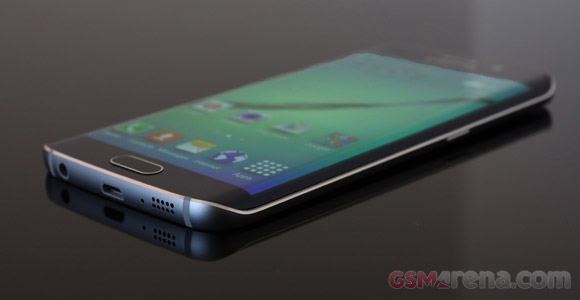 If rumored production numbers are to be believed, the company is predicting something like a 3:1 ratio of the number of flat and curved Galaxy S6 units, which will be sold. Early adopters should be happy - if you want something no one else has, the Galaxy S6 edge will gladly deliver.
The Galaxy Note Edge comes close, though asymmetry and beauty don't always mix - a curve on both sides definitely looks better. Outside the night clock, the added software features around the curve of the Galaxy S6 edge are a mixed bags, borderline gimmicky, but perhaps third-party devs will come up with new ideas.
In every other respect, the Galaxy S6 edge was as good as its regular sibling. The shares some unique features like the only 14nm chipset in mass production, which enabled great performance and good battery life. That's on a smaller battery and feeding a sharper, brighter display - one of the best in its class.
Samsung's UFC 2.0 storage offered a worthwhile improvement in speed, though the decision to drop the microSD card slot remains controversial. 32GB is enough for many, but we don't like going backwards in features as the flagship generations progress.
Two other regressions are the sealed battery and the water resistance. Those differ in importance, depending on whether you've ever changed a battery or taken the phone for a swim.
The addition of wireless charging is great though, such a high volume device will help popularize the technology. The Galaxy S6 edge supports two standards, Qi and PMA, which is necessary until a universal standard emerges.
The new software has much improved looks and themes let you personalize it if even the new TouchWiz looks are not up to your liking. The Samsung apps have been simplified while keeping most of their advanced features, though ideally the Microsoft apps could have been uninstallable. The private mode is great and the fingerprint-based site login is very helpful too. The multitasking options are more intuitive than ever and should see increased use.
Key test findings
The curved sides improve the look and add marginal improvements to the UI
Excellent build quality, premium finish, very good grip, size easily pocketable.
Best in-class Quad HD Super AMOLED display with the highest pixel-per-inch density to date. Its contrast ratio, viewing angles, and sunlight legibility are all chart-toppers.
Battery life is above average, outperforms Galaxy S5 on browser and video endurance
TouchWiz has gotten leaner and more customizable (theme downloads), less features, but also less clutter
Excellent overall performance, probably the fastest Android smartphone around; fast storage too
The loudspeaker sounds better than the Good rating it got
Excellent multimedia package out of the box
Solid audio quality
16MP main camera is among the best in terms of resolved detail, noise and sharpness, as well as features, but our test charts show that the Galaxy Note 4 is still ever so slightly better
Video quality is excellent both in 2160p and 1080p resolution, but again, the Galaxy Note 4 video feed is marginally sharper
Of course, all the advantages of Galaxy S6 edge also apply to the regular Samsung Galaxy S6. Instead of paying for the curved screen, you can instead put the extra cash (around €150) towards more storage. This will let you record more 2160p videos (1GB of storage is under 3 minutes of video), carry plenty of high-quality multimedia (and don't stream) or play a lot of games.
The thicker metal rim improves the grip though you'll be missing out on the unique design. S6 edge aside, the Galaxy S6 is still the best-looking Galaxy S flagship to date.
The Samsung Galaxy Note Edge has only half the screen curves, but it has useful software features not available on the Galaxy S6 edge including easier multitasking and handy tools. The Note Edge camera comes quite close to Samsung's latest camera (OIS included), plus you get a larger 5.6" QHD screen, a microSD card slot and a battery that's removable.
The Galaxy Alpha was the first metal-clad challenger from Samsung to target the iPhone, but now the S6 duo takes over. The Galaxy S6 edge in particular has a build that can make iPhone 6 owners jealous. The Apple chipset chews through any game and many games launch on iOS first. The iPhone 6 also has a great fingerprint sensor even if the software doesn't use it as extensively as Samsung's apps.
The 8MP/1080p camera while very good, still lags behind Samsung's latest shooter.
Curved sides are one use of flexible OLED displays, another is to arc the whole display and make the entire phone flexible. That's the aptly-named LG G Flex2. It has a 5.5" P-OLED display with 1080p resolution and a 3,000mAh battery, both flexible - to a certain extent.
The G Flex2 has a 13MP camera with OIS and 2160p video, a Snapdragon 810 chipset running Android 5.0 Lollipop. It's back has a rare self-healing coating - and the minor scratches disappear off the back within minutes. Well, if the Galaxy S6 edge appeals to you with its uniqueness, the LG G Flex2 has that in spades.
If it's the metal build instead, you can try the HTC One M9. It has a new 20.7MP camera with 2160p video, though we found some issues with it in our review (especially in the dark). It's all metal though with a new, attractive dual-tone design and its audio quality with headphones is perfect, plus it has the acclaimed BoomSound stereo speakers.
It too is powered by a Snapdragon 810 chipset though its 5" 1080p screen is an aging part.
So far in this generation of flagships the Samsung Galaxy S6 edge is the one to beat. Samsung finally realized that perceived value is as important as the cold hard facts of actual system performance. Speaking of, Samsung upgraded basically every component of its top dog while others (HTC, Apple) are still bundling tried and true parts.
The Samsung Galaxy S6 edge hardware is further ahead of its competition than its predecessors ever have and it has the looks to match its brains too. That would certainly be a rather high ball for the rest of the competition to catch, but eventually, it would be its exorbitant price tag that will make sure it doesn't reach world domination.