Video camera
There's no dedicated video mode because most settings work for videos too. Even Pro mode, though you can't adjust the settings during recording and the autofocus will override your setting as soon as the video starts.
Anyway, the Samsung Galaxy S6 edge, just like the Galaxy S6, tops out at 2160p resolution, but it can also do 1080p at both 30fps and 60fps and 720p video at up to 120fps (that's handled by the Slow Motion mode). The front camera shoots only at 30fps, but goes over 1080p - it maxes out at QHD video to match the phone's screen.
HDR and color effects are available for video, though 2160p disables them, taking pictures while shooting video, the tracking autofocus and the additional software stabilization.
The 2160p videos are shot at the usual 48Mpbs total bitrate, all videos from the Galaxy S6 have 256Kbps/48kHz audio. The videos nail 30fps and a still frame has a good enough quality to pass for an 8MP photo. The videos are sharp, have practically no noise and accurate colors, good dynamic range too.
The 2160p videos can't make use of the digital image stabilization but the optical one is quite good on its own.
Moving on to 1080p at 30fps, we drop to 17Mbps bitrate. The quality remains very high and there's as much detail as possible at this resolution. There's HDR mode at 1080p, which brings in more detail in the shadows and improves the highlights. The HDR effect is barely noticeable though. In this mode both the OIS and the digital image stabilization are available.
Digital stabilizations is available in addition to the optical stabilization. It does a great job at accounting for and removing every shake or stuttering. The 1080p stabilized videos (at 30fps), even though a bit softer, are very impressive - the walking shake has been removed completely.
And here us a 4K video, which relies on the optical stabilization only.
We're not done with 1080p, the Galaxy S6 can go up to 60fps. This takes up more storage (28Mbps bitrate) and causes a slight drop in sharpness, but it's worth it for the smoother motion. 30fps has inherent limitations when shooting fast-moving objects and while 4K UHD TVs are still fairly rare (but quickly growing in popularity), practically all TVs can handle 60fps. Digital image stabilization is not available in this mode.
Finally, in Slow motion mode the camera goes back up to 48Mbps but is now shooting 720p @ 120fps. Videos are actually recorded at 120fps, but you can edit them on the phone - trim beginning and end and choose between half, quarter and eighth playback speed. Here's how it looks when we drop to 30fps (playing at a quarter of real time speed).
As usual, you can check the untouched 2160p@30fps video sample, 1080p@60fps video and a 1080p@30fps video sample straight off the device.
If you want to compare still frames from the videos, our Video quality comparison tool makes that easy. Here's how the Samsung Galaxy S6 edge compares against other 2160p shooters.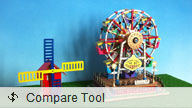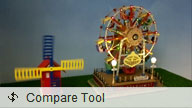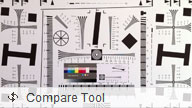 Samsung Galaxy S6 edge 4K in our Video comparison tool
And here's another similar comparison, but this time for the 1080p video.