The Android 5.1.1 Lollipop update for the reigning Samsung flagship Galaxy S6 has been in the news for quite some time. It has taken it a week since it was officially confirmed, and has now debuted in France.
The OTA update weighs in at 623MB, which isn't all that large, when you have in mind that it brings along a new OS version and not just minor fixes. It does come with a few of those, though the changelog doesn't list them specifically.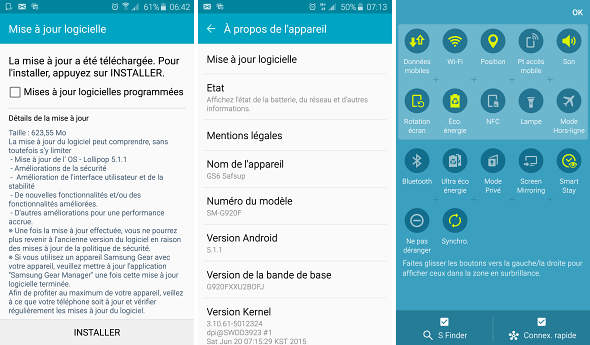 What you will notice is the option to rid yourself from the Quick Connect and S Finder buttons in the notification shade for a less cluttered look. Another welcome feature is the ability to arrange the apps in the app drawer alphabetically, which was present in other Samsung models, but was missing on the Galaxy S6 original TouchWiz build.
The users in France state that the RAM management issue, which some Galaxy S6 users reported, hasn't been fixed. Though the phone boots at 58% RAM utilization, a few minutes later it ramps up to 85%, so it's hopefully the next firmware iteration that sees the issue addressed.
With the update already out there, you should expect it to start appearing in other parts of the world in the coming days and weeks.
S
hi Shashank I got my phone imported from korea, and I am unable to install the update. it is getting downloaded but its not getting installed. did u face any issue with the installation?
U
By the time i update into 5.1.1 My galaxy s6 is getting hang and if u notice the notification sound come again again for same msg u have to see the notification for stop the sound
W
This is the absolute worst software update I have ever experienced. I installed the 5.1.1 and now my S6 Edge is running very warm all the time and the battery get drained from 100% to 0% with 3 hours of very lite usage.
ADVERTISEMENTS