Korean newspaper ETNews has outed a report citing a Samsung insider, who claims the company is going to use a next-gen NAND flash storage in the upcoming Galaxy S6. The storage technology in question is called UFS 2.0, which stands for Universal Flash Storage.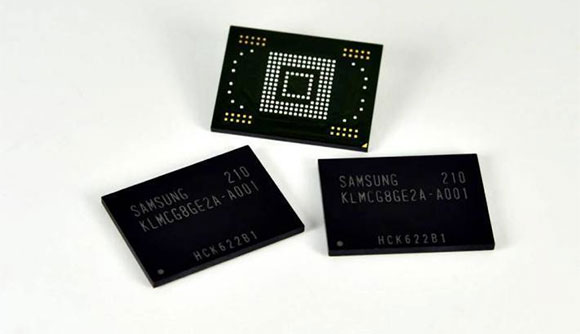 UFS can reach SSD-like transfer speeds, but is cheap to manufacture like eMMC memory chips. In fact, it's three times faster than eMMC memory with a transfer speed of up to 1.2GB/s. Power consumption is lower than eMMC storage, which won't lead to battery drains or overheating. Recent UFS 2.0 technology development has lead to half the power consumption of eMMC 5.0, the source says.
The standard is established under the Joint Electron Device Engineering Council (JEDEC) initiative by Samsung, Nokia and Micron in 2007. Toshiba and SK Hynix are also involved in the development of the UFS 2.0 memory. Samsung is expected to start mass producing the new NAND flash storage in the coming weeks.
However, Samsung isn't alone doing this. Xiaomi is also reported to use UFS 2.0 NAND memory in its upcoming products. Samsung is very conscious of the advancements its Chinese rival is making. The company is now third behind Samsung and Apple is market share as per IDC's Q3 2014 report though that has reportedly changed now that Lenovo finally formally acquired Motorola.
Samsung is also going to slowly replace its SD and microSD cards with UFS tech inside in addition to smartphones. The first of them is very likely to be the Galaxy S6 followed by the Galaxy Note 5.
"UFS is an important element for our smart phone business next year. We will start the application centering on flagship smart phones," the source inside Samsung shares. "However, we cannot disclose any details because the time of a new smart phone release next year and specifications of this new model have not been finalized."
C
My G.Note is downloading Apps directly to my SD card.. Well You should use Newer devices then..
D
I've never had any issues with my apps that are installed on my SD card. Then again my phone is rooted.
?
You couldn't be more wrong. I use AppMgr III to install apps to my micro sd card. Now some apps lose some of their functions, but it tells you what features will be missing before you move the app to the sd card.
ADVERTISEMENTS